The Black Dog Blog
Chateau Morrisette is among the oldest and largest wineries in Virginia. Previous to the Covid-19 pandemic we also operated an award-winning restaurant with a 95% recommendation rate on OpenTable. With fresh vintages, flavors, and events at the winery, restaurant, vineyard, and festival field throughout the year, we will keep you abreast of all the great happenings and the people who make up Chateau Morrisette Winery and Restaurant in this blog and through our Facebook, Instagram, Twitter, and Pinterest sites.


VISITING THE BLUE RIDGE PARKWAY OF VIRGINIA
The Blue Ridge Parkway is known as "America's Favorite Drive." It spans 469 miles, connecting Cherokee, North Carolina with Rock Fish Gap, Virginia. Each mile along the way is marked with a Mile Post (MP) number to help visitors find just what they are looking for as they meander through the Appalachian Highlands. Located just north of the Parkway's center, Chateau Morrisette can be found between MP 171 and 172 in beautiful Floyd County, Virginia. It's a must-stop when traveling along Virginia's Plateau. Guests enjoy fine dining in a casual setting as well as first class wines produced by one of Virginia's oldest and largest wineries. A visit to the Blue Ridge Parkway is phenomenal any time of year, but it is especially spectacular from early October through mid November when the deciduous trees are changing colors and dropping their leaves before winter takes hold.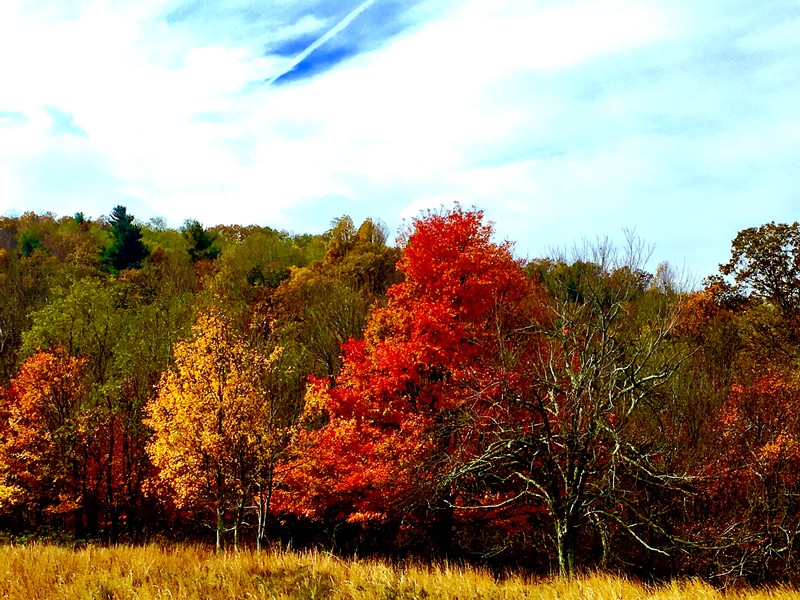 Fall Foliage Along the Blue Ridge Parkway
Leaves begin to change color at higher elevations in early October. The intensity of color is determined by many factors, including the amount of rainfall, the average temperature, and the amount of wind in a particular area. For areas above 3500 feet, the peak time is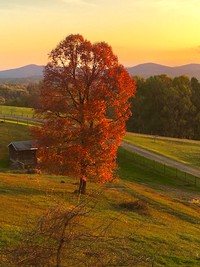 predicted to be around October 12-15, 2018. As the elevation decreases, the peak color change works it way down the mountains over time. Floyd County, home to Chateau Morrisette Winery and Restaurant, spans an elevation between 2000 and 4000 feet which means the ideal time to visit for fall color will be from October 12th through the end of the month. Again, this could change based on weather patterns in September. For the most up to date information, check out the Virginia Fall Foliage Report from the Virginia Department of Forestry. Click here for Fall Foliage Report.

The Blue Ridge Parkway area around Chateau Morrisette is known as the Rocky Knob. Throughout this region, visitors are treated to the changing colors of a variety of trees, including hickories, maples, oaks, tulip trees, locust, basswoods, and even a stand of big tooth aspens. Mountain laurel and goldenrod are also abundant all along the Parkway. In late September and early October, the stands of goldenrod turn bright yellow to announce the beginning of fall. Maple trees are next to turn showing bright red and orange leaves. The rest will follow shortly afterwards.

Another good source for up-to-date information about fall foliage is the Blue Ridge Mountain Life Fall Foliage Forecast and Guide on Blue Ridge Mountain Life. For up-to-date weather along the Blue Ridge Parkway, click here for the Blue Rige Parkway Weather website.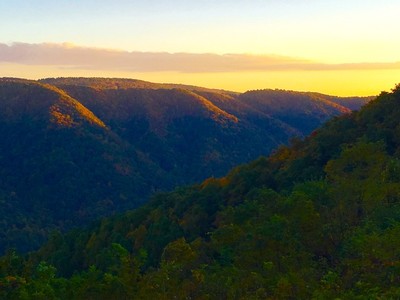 Special Ways to View the Autumn Color
BY CAR
Driving the Blue Ridge Parkway is just one way visitors can take in the breathtaking colors of autumn. Floyd County, Virginia is home to about 40 miles of Blue Ridge Parkway along its southern border. Within the county, visitors will find many opportunities to stop the car and step into the fresh mountain air. Along the stretch through Floyd County, there are numerous scenic overlooks, with two of the favorites being The Saddle Overlook (MP167.5) and the Rock Castle Gorge Overlook (MP 168). Additionally, the Rocky Knob and Smart View Recreation Areas along with Mabry Mill are all great places to stop, explore, and stretch your legs.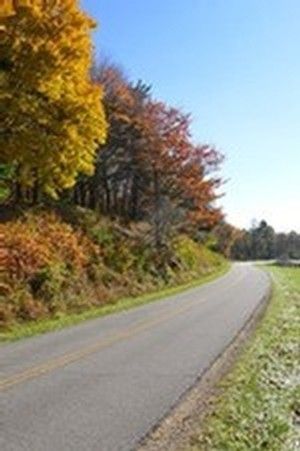 For those feeling a bit more adventurous, there are a number of backroads just off the Blue Ridge Parkway. Most of these roads connect to other roads but don't be afraid, you can always retrace your path if you get lost. County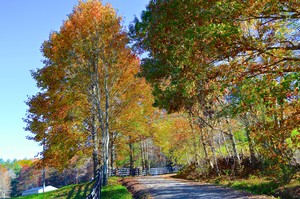 maps are available at the Floyd Visitor Center.
Exploring the scenic backroads allows visitors to discover those special places known only to locals and to experience fall color in all its rural splendor. Some roads are paved and some are gravel, but both promise an experience not to be forgotten. Pictured left is Emanuel Road, connecting Black Ridge (726) with Conners Grove (799). It's unpaved and pristine. Another unpaved treasure is Fairview Church Road, connecting Black Ridge Road (726) with Parkway Lane (SR 8).
If paved roads are more to your liking, wind across Floyd County on Franklin Pike from the Blue Ridge Parkway to Route 221. Or take Route 8 South from the Parkway to Stuart and circle back up the mountain on US 58, where you will not want to miss Lover's Leap at the top of the mountain. For a good map of paved backroads of Floyd, Patrick, Franklin, and Carroll Counties, check out The Jagged Edge of Virginia. This site offers loop rides for cars and motorcycles that provide some of the most spectacular vistas of the entire region. Chateau Morrisette is a great starting point and ending point for any mountain adventure. It's located only 300 yards from the Parkway itself and is known as the most decadent overlook on the Parkway!

ON FOOT OR BY BIKE
Hiking and walking trails abound throughout the Blue Ridge Parkway National Park. From a simple quarter mile stroll around Mabry Mill to a strenuous 10.9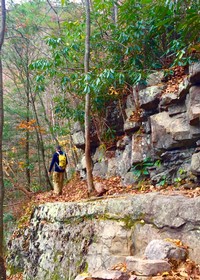 loop hike through the Rock Castle Gorge, there is a trail for everyone to enjoy. Hiking areas include the Rocky Knob Recreation Area with three trails that can also be mixed and matched for the desired distance.
The Picnic Trail is an easy one mile loop starting at the Rocky Knob Visitors Center. For a little more distance, try The Black Ridge Trail at 3 miles, looping from the Rocky Knob Visitors Center. And for the dedicated hiker, the Rock Castle Gorge Trail is a 10.9 mile hike that offers long distance vistas, a boulder field, waterfalls and streams, and spectacular fall foliage from a variety of trees. Information about these hikes are available on the Blue Ridge Parkway app or on the National Park Service website.

14.5 miles north on the Blue Ridge Parkway in Floyd County, visitors will find the Smart View Recreation Area. This is a lovely place to picnic or to enjoy the 2.6 mile loop hike with its panoramic view of the Piedmont below. If you want to see Floyd County's highest peak, drive over to the Buffalo Mountain Nature Preserve. A short one mile hike up Buffalo Moutain gives visitors a vast overview of the entire region from 3,971 feet above sea level and an unsurpassed view of the ocean of fall color in the valley below.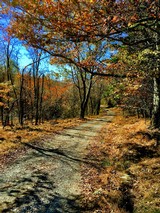 For something a little different, take a walk around Chateau Morrisette's estate. Sitting atop 38 acres, Chateau Morrisette's behind-the-scenes is waiting to be discovered. From almost anywhere on the estate, you will encounter scenic vistas unlike any other. The international restaurant dining platform Open Table named Chateau Morrisette as having one of the top 100 restaurant views in America. It's just that awesome! You might want to grab a bottle of wine and a couple of glasses and take a stroll with someone special down to the vineyard. It's about one-half mile along a shaded, gravel road (shown left). Once there, visitors discover over 13 acres of recently harvested grape vines, with views across the southwestern mountain slope. Find your spot among the vines and enjoy some wine away from all the others. It's a piece of heaven. Oh, and if you see a grape we left behind, it's all yours!

And if biking is more aligned with your interest, there are plenty of opportunities for that as well. People come from all over the world to bike along the Blue Ridge Parkway. It's the perfect opportunity to take your time, climb at your own pace, and enjoy the beautiful colors of autumn. The downhill ride is a lot of fun too! Biking along the backroads is also a worthy venture. There are a number of routes waiting to be explored. Cycle Floyd has rides from 2.6 miles to 27 miles already mapped out to make autumn biking as simple and as beautiful as possible. You can pick up a printed map at the Floyd Visitor Center or download it from the Cycle Floyd website.

STANDING STILL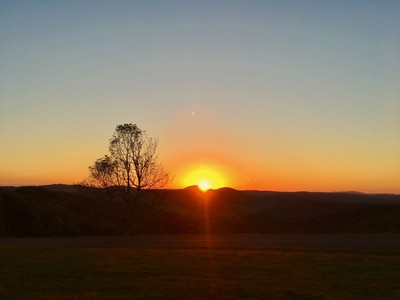 Fall colors are not limited to the trees. If you have the time, don't miss an autumn sunrise or sunset from the Blue Ridge Parkway. The color of the sky is resplendent in deep oranges, reds, and purples. It's a photographer's dream come true. Find an open pasture with silhouetted livestock to take the perfect photograph. The morning and evening light makes the trees shimmer in rich colors, the grasses a faint autumn green, and the shadows long and sinuous.

Perhaps you just want to sit back, relax, and take in the sunset. The Chateau Morrisette Restaurant has outdoor seating looking to the northwest and providing incredible views of the autumn sunsets. Open for dinner on Friday and Saturday evenings, Chateau Morrisette is the perfect location to enjoy some wine and a meal while watching the sun set over the mountains and valleys below. If the weather should be too cool to sit outside, then take a seat by the window and enjoy the warmth of the fireside dining rooms.

In early October, the sun will set around 7pm with twilight lighting thirty minutes on either side of the sunset. By the end of the month, the sun will set around 6:25pm. To check the times for sunrise and sunset in October, visit Sunrise-Sunset for times all along the Blue Ridge Parkway.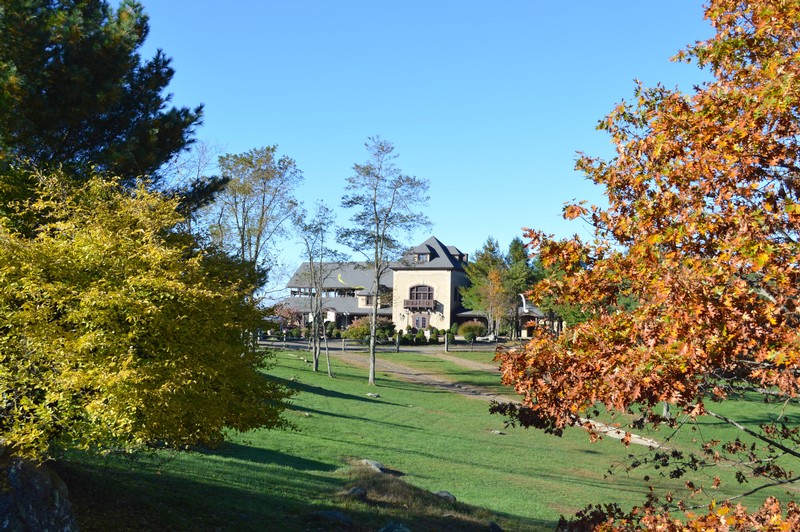 CHATEAU MORRISETTE IN THE FALL
During the month of October, thousands of visitors will travel the Blue Ridge Parkway to enjoy leaf peeping and all the fall foliage. Chateau Morrisette provides as oasis along the way where visitors can stop in, take a break, get something to eat, use the rest room, tour the wine cellar, and enjoy some wine while taking in our fifty mile view across the valley. Both the winery and the restaurant are open every day of the month. The Restaurant serves lunch from 11-2 Monday through Thursday, 11-4 Friday and Saturday, and brunch from 11-3 on Sunday. Dinner is offered Friday and Saturday from 5PM until 9PM. The Winery is open for tours, tastings, and shopping Monday through Thursday from 10AM-5PM, Friday and Saturday from 10AM-6PM, and Sunday from 11AM-5PM. Live music and a light food service is offered every Sunday on the Winery Courtyard. Chateau Morrisette is pet friendly.

While we hope you will enjoy a meal at Chateau Morrisette, we also allow you to bring a picnic with you. NO OUTSIDE ALCOHOL ALLOWED by Virginia law. There are three private gazebos available first come first served and a limited number of tables and chairs are provided under the tent on the courtyard. Or you can bring a blanket and find a secluded place on the estate to enjoy your meal. But hey, it's much easier just to make a reservation in the restaurant and let Chateau do all the work. Here's some links you might find helpful:

Wine Tastings and Tours take place everyday in our Tasting Room


Restaurant Menus change seasonally. Take a look at all of our menus, lunch, dinner, brunch, dessert, even the current wine list!

Restaurant Hours also change seasonally. June through October is prime season along the Blue Ridge Parkway.

Reservations are important to make sure you're not waiting too long for a seat. While not required, they are strongly recommended. You may also make reservations by calling +1-540-593-2865.

Sunday Sounds is our live music offering every Sunday. Enjoy a variety of genres from jazz to blues to folk and Appalachian Roots music.

Nearby Attractions abound. Historic sites, outdoor recreation, and other wineries just to name a few.

Lodging accommodations are varied and in high demand during fall foliage season along the Blue Ridge Parkway. Book early.

Directions to find Chateau Morrisette Winery and Restaurant.


Enjoy your visit to the Blue Ridge Parkway of Virginia and we hope you will include Chateau Morrisette while you're here.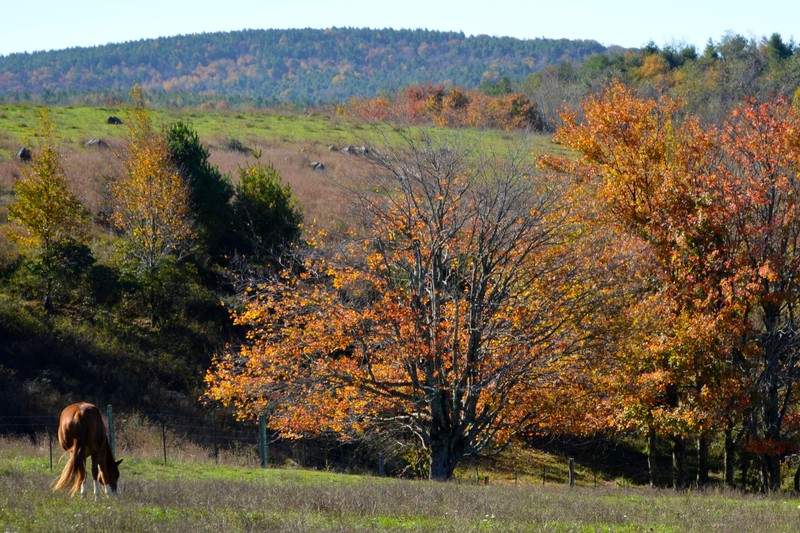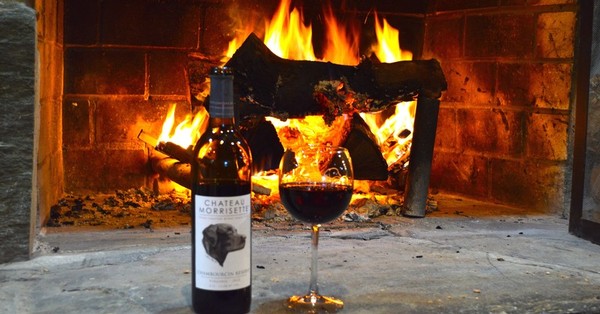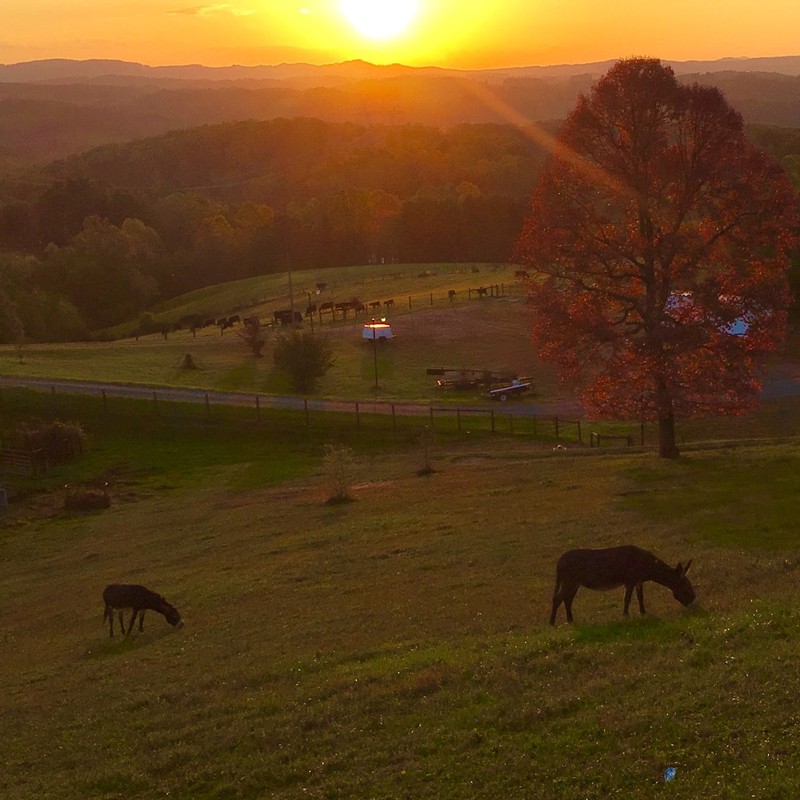 Photography ©Keith Toler, ©Shannon Atkins, ©Chateau Morrisette
Used with Permission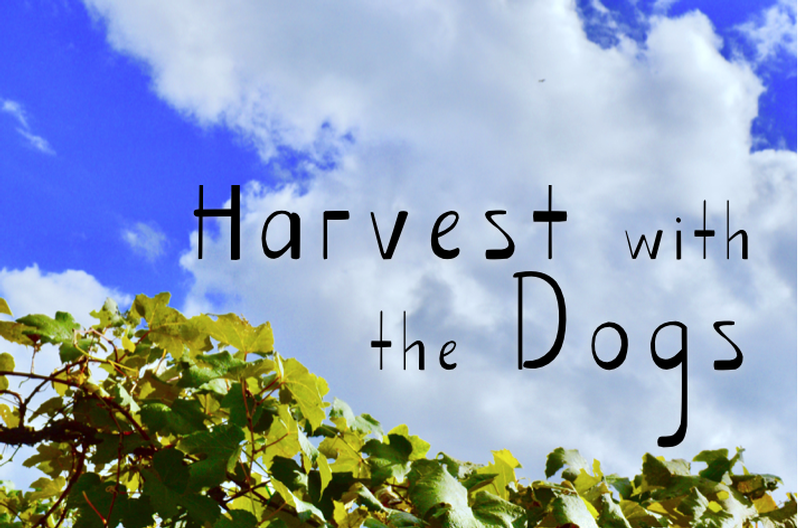 Harvest with the Dogs is a one of a kind vineyard experience hosted by Chateau Morrisette Winery. Spend an afternoon in the Blue Ridge Mountains of Virginia learning to harvest and process grapes. You'll have a lot of fun and some excellent food and wine while you learn.

Your adventure begins with a wagon ride from the winery down to the Vineyard. Once there, you'll meet with our owner, David Morrisette and our Vineyard Manager, Steve VanSutphin. After a short orientation, you'll be given cutters and a lug and pointed in the direction of the vines to be harvested. Spend about a hour or less harvesting grapes with your own two hands. Once the grapes are cut, you'll travel by wagon back to the winery where you will meet with our Winemaker, Jason Crolley. Jason will teach you how to crush the grapes, process them, and make the wine.

So while it may sound like hard work, you will have plenty of time to relax over lunch hosted in the vineyard, a glass or two of your favorite Chateau Morrisette wine, and even a tasting of a wine in process on your tour of the cellar with Jason. Once complete, you'll have an opportunity (if you want) to step back in time and experience the ancient way of processing grapes by climbing into a barrel and stomping them with your own two feet. Your adventure concludes with a complimentary wine tasting in our tasting room and a t-shirt of your choice. It will be a day to remember!

Harvest with the Dogs takes place on Saturday, September 15th at 10AM or 1PM and on Sunday, September 16th at 1PM. Participation is limited to 32 people per session. Tickets are $75 per person and include lunch, wine, wine tastings, tour, t-shirt, and your vineyard harvest experience. It happens rain or shine so be sure to dress comfortably and appropriately for the weather. Get tickets early before they sell out.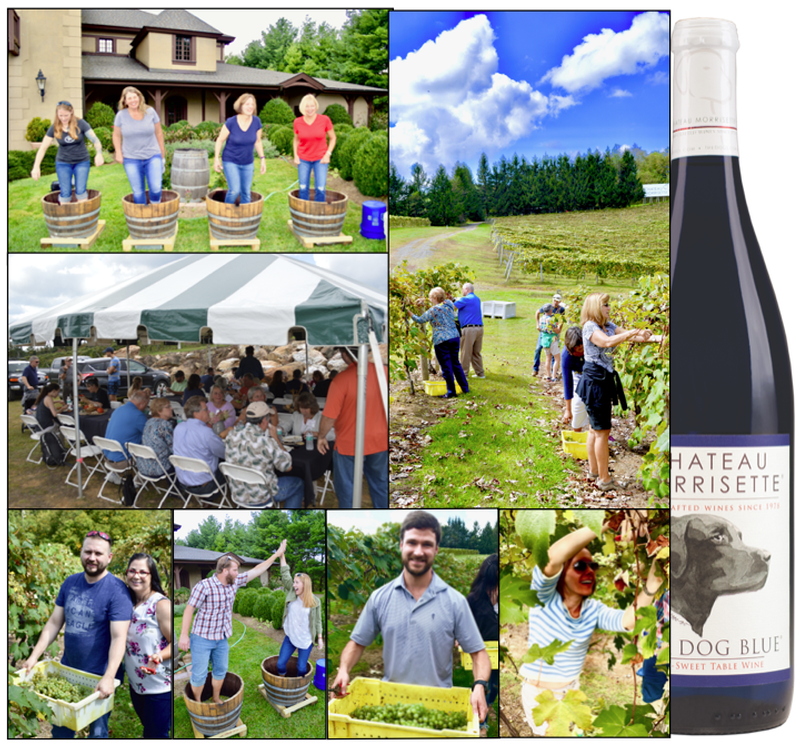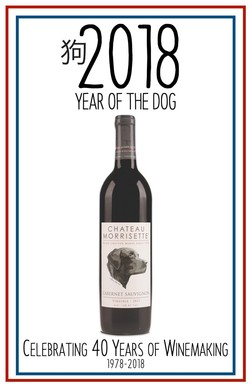 YEAR OF THE DOG MARCH WINE SALE
As part of Chateau Morrisette's year long 40th anniversary celebration, the winery will make two of our most distinctive varietals available for a limited time at 40% off. Viognier and Merlot normally retail for $33.99 and $28.99 respectively. During the month of March, these wines will be available for $20.39 and $17.39 in our Tasting Room and in the Restaurant. Online, the wines are slightly higher at $20.99 and $17.99. Chateau Morrisette can now ship to 32 states all across the country.
About these wines:
Merlot
Tasting Notes
Aromas of fresh cherries, dark chocolate, and a hint of white pepper. Soft and approachable on the palate, with a refreshing acidity, cherry notes, and a touch of dark chocolate.

Awards
Bronze Medal: 2016 San Francisco Chronicle International Wine Competition • Bronze Medal: 2016 Finger Lakes International Wine Competition

Production Notes
100% Virginia

Food Pairing Notes
Pairs well with most tomato-based Italian dishes or even with simple hamburgers off the grill. For a sweeter experience, try with your favorite dark chocolate.

Production
This Merlot was grown in eastern Virginia and our cellar crew still remembers this specific lot of fruit because it was of such high quality. The fermentation took place in open top stainless steel fermenters with two to three pump overs daily. Post press and malolactic fermentation it went to barrel for 14 months for aging prior to bottling.
Viognier
Tasting Notes
Aroma: tropical fruit and apricot. Palate: softly tannic, honeysuckle and passionfruit. Finish: lingering
Ratings
2015 Vintage: 88 Points - San Diego International Wine Competition

Awards
Gold Medal: 2017 Savor Virginia Wine Classic • Silver Medal: 2017 Virginia State Fair Wine Competition • Silver Medal: 2016 San Diego International Wine Competition • Bronze Medal: Wines of the South Competition

Vineyard Notes
The Viognier fruit used to make this wine was grown in Tyro, VA.

Production Notes
After pressing, this wine was first inoculated with a non-saccharomyces yeast strain to promote intense aromatics. Subsequently, it was inoculated with a standard saccharomyces strain to complete its cool, slow fermentation.

Winemaker Notes
Our 2016 Viognier offers a perfumed nose of tropical fruit and apricot which is complimented by a softly tannic palate reminiscent of honeysuckle and passionfruit. All of these wonderful flavors linger on the palate.

Food Pairing Notes
grilled seafood topped with peach salsa


Savor our annual Winemaker's Dinner, five courses of delectable dishes specially paired with a wine for each course. Our winemaker will interpret the wine pairings, talk about new wines in the cellar, and entertain any wine questions you may have. Bring friends or make new ones in a fine wine and dining experience at Chateau Morrisette.
Dinner service begins 6p. $95 per person includes wine, tax, and gratuity. Prepaid reservations required. No refunds for this event.

MENU
Viognier (pre-seating)
Appalachian Cheese (Galax, VA)
cranberry & red onion marmalade, pickles, crostini
Vin Gris
Cornmeal Fried Oyster
fennel, spinach, preserved lemon
Chardonnay
Pan-seared Sea Scallop
lemon risotto, crispy shallot
Chambourcin
Roasted Tomato & Red Pepper Soup
focaccia panzanella, radish, microgreens
Petit Verdot
Grilled Duck Breast & Leg Confit
quinoa, turnip, grapefruit, charred greens
Barrel Aged Cider
Dessert to be determined
Vegetarian alternatives available with at least seven days notice.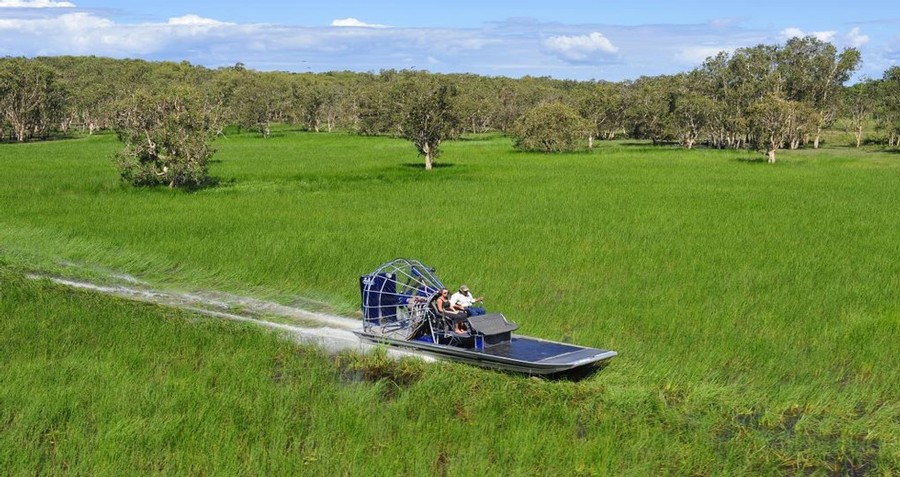 Discovery Lunches Focus on Australia
Join us Thursday, September 7th at noon for an exciting luncheon presentation by Big Five Tours and Expeditions along with a specially prepared menu featuring foods found throughout Australia prepared by Chateau Morrisette's own Culinary Team. Space is limited. $32.00 per person. Reservations and pre-payment required. Non-refundable. Lunch is served promptly at noon. Presentation begins at 1PM. The event will end by 2PM. Menu will be posted closer to day of event.
Big Five is a premium and luxury tour operator in business for 44 years offering fully customized and private journeys to Africa, Asia, Latin America, Australia and New Zealand. We create custom-designed itineraries based on the traveler's interests. Our guests travel in comfort, style and safety and our goal is that you experience the best a destination has to offer. We promise a journey of a lifetime…every time!
Australia captivates from the very first encounter. It has cosmopolitan cities, the great stoic Outback, stunning marine reserves, and a wealth of diversity in its UNESCO World Heritage Sites. From old, family vineyards of Hunter Valley to the remarkable island of Tasmania, from lush old-world rainforests to unique railway journeys, a cornucopia of extravagant scenery and cultural encounters are all layered one upon the next on a brilliant canvas. Big Five has sought out partners who share our vision of a sustainable future that still allows our guests to explore off the tourist track, in keeping with our motto…We Don't Tell Stories Better, We Tell Better Stories®

Chateau Morrisette Winery Announces Spring and Summer 2017 Events
Floyd, V.A., April 4, 2017 – Located along Virginia's scenic Blue Ridge Parkway, Chateau Morrisette Winery announces fresh seasonal events, including Discovery Lunches, dog-friendly baseball in partnership with the Salem Red Sox and yoga at the winery. Annual favorites, such as the Spring Open House, Winemaker's Dinner, Sunday Sounds and the highly-anticipated Americana and beach music festivals round out the offering.
What's New at Chateau Morrisette Winery
Updog Yoga at the Vineyard, April 22, 2017, 10 a.m. – 11 a.m.
Enjoy yoga with a twist! Updog Wellness and Fitness' Natalie Johnson leads an all level yoga flow practice with the Blue Ridge Mountains as a backdrop. Simply meet at the winery. For those 21 and over, a refreshing glass of wine awaits after the session.
Salem Red Sox: Bark in the Park, April 27, June 3 and 14, July 13 and August 12, 2017
As presenting sponsor of Bark in the Park, Chateau Morrisette invites animal lovers to pet-friendly baseball games in Salem, VA. One hundred percent of each pet's $5 admission is donated to local shelters and SPCAs. In the park's premium hospitality and picnic areas, enjoy select Chateau Morrisette wines at all home games this season.
Discovery Lunches, May 4, June 1 and July 6, 2017, noon – 2 p.m.
Discover the sumptuous flavors of world cuisine with Discovery Lunches in collaboration with Away to Go travel and featuring presentations from Uniworld River Cruises, SeaDreams Travel and others. Prix fixe mutli-course meals have menus inspired by Africa, Eastern Europe and more. Reservations and pre-payment are required.
Highly-Anticipated Spring and Summer Events
Annual Spring Open House and Wine Sale, April 29 – 30, 2017, 11 a.m. – 4 p.m.
New this year, enjoy courtesy tractor tours of the vineyard during spring open
house weekend. Visitors will be treated to complimentary hors d'oeuvres and wine tastings, live music and 20 percent off bottles and 30 percent off cases of wine.
-more-
Page 2/Chateau Morrisette Winery
Annual Winemaker's Dinner, May 28, 2017, 6 p.m. – 8 p.m.
The winery's annual Winemaker's Dinner at The Restaurant at Chateau Morrisette is hosted by special guest, Winemaker and Enologist Brian Smyth, who will discuss wine pairings and new wines in development. The event includes a delicious prix fixe, multi-course meal with hand-selected wine pairings. Reservations are required.
Sunday Sounds Music Series, June 4, 2017, through October 29, 2017, noon – 4 p.m.
Enjoy award-winning wines, breathtaking views and free eclectic Sunday Sounds music in the courtyard. Jazz music from Lew Woodall, Highlands Jazz and others is featured every first Sunday. Ragtop, Zuzu Welsh Band, Virginia Blue and others round out the diverse lineup.
Crooked Road Homecoming: Whitetop Mountain, June 11, 2017, 1 p.m. – 4 p.m.
During this special free Sunday Sounds concert in the winery courtyard, Chateau Morrisette Winery joins the Crooked Road's Mountains of Music Homecoming by hosting the Whitetop Mountain Band, the internationally-known ambassadors of Appalachian string music.
The Black Dog Americana Music Festival, July 8, 2017, noon to 5 p.m.
Enjoy Beth McKee's stirring New Orleans rhythm and blues and the riveting brass sounds of Austin soul ensemble Mingo Fishtrap at the Nancy Morrisette Festival Field. During the event, purchase wine or beer, food, art and crafts. Purchase advance discounted tickets online or at regular price at the gate. Admission includes all day wine tastings and entertainment; parking is free.
The Black Dog Beach Music Festival, August 12, 2017, noon to 5 p.m.
Featuring The Entertainers with performances from Steve Owens and Summertime and the Dancing Chicken Band, the annual beach music festival is held at the Nancy Morrisette Festival Field. This Blue Ridge Mountain favorite features wine, beer and food for sale and arts and craft vendors. Purchase advance discounted tickets online or for regular price at the gate.
About Chateau Morrisette
Chateau Morrisette is a picturesque day trip from Roanoke, Charlottesville, Blacksburg, Christiansburg or the Piedmont Triad or a great weekend away from Washington, D.C., Richmond, Hampton Roads, Raleigh/Durham, Charlotte, Knoxville or Charleston, W.V. Wine tastings start at $10 per person. For more information, visit www.thedogs.com, call (540) 593-2865 or follow us on Facebook.
####
View it on the wire at (http://www.prnewswire.com/news-releases/chateau-morrisette-winery-announces-spring-and-summer-2017-events-300433734.html


On Saturday, March 25, 2017, Chateau Morrisette Restaurant features the talents of Sous Chef, Ricky Caviness at our Spring Chef's Dinner. The dinner features a set menu of five courses, each paired with a different Chateau Morrisette wine. The evening begins at 5:30 with a light reception. Seating will be promptly at 6:00 PM. Our Sous Chef has planned every detail of the evening's meal, procurring foods from local farms and working with Chateau Morrisette's gardener to ensure estate grown winter micro greens will also be available. The menu is as follows:
Smoked fois gras paté, rye croustade, fresh homestead buttermilk cheese, wine gelée, garden lettuces
Paired with 2016 Vin Gris
Heritage pork and dried fruit conserve roulade, brussel sprout confetti, Carolina gold rice fritter, estate vinegar gastrique
Paired with 2014 Chambourcin
Pecan smoked Sunburst Farms trout, farro verde with plumped golden raisins, guanciale braised Tuscan kale
Paired with 2014 Chardonnay Reserve
Whiskey-aged ribeye, sweet potatoes anna, butter braised asparagus, heritage mushroom jus with crispy cippolini
Paired with 2013 Petit Verdot
Dark Chocolate Soufflé Tart, ancho marshmallow, brown sugar sticky pecans and sweet potato butter, frozen tangerine parfait, roasted white chocolate, pimenton, vanilla bean and cinnamon sugar churro chip
Paired with 2012 Heritage
The cost of the meal is $95.00 per person and includes food, wine pairings, taxes and gratuity. Other wines may be purchased at menu prices. The dinner lasts approximately 2.5 hours. Each course is introduced by the Chef. Seating is limited to 56 guests. There are no refunds for unused tickets.

Tickets for the evening meal may be purchased in advance on the website www.thedogs.com or by clicking this link - 2017 Spring Chef's Dinner Tickets.




Wondering What to Do for Your Valentine this Year?
Chateau Morrisette has the answer!

WINE AND CHOCOLATE EVENT
Indulge in select Chateau Morrisette wines paired with sweet and savory chocolates and chocolate tinged amuse-bouches prepared by our culinary team and by select local and single-origin chocolatiers. Our Winemaker Brian Smyth will interpret the pairings with guests. Seatings available at 1PM and 5PM, Saturday, February 11th and at 2PM on Sunday , February 12th. The Wine and Chocolate Pairing takes place in the William Morrisette Room located above the Tasting Room at Chateau Morrisette.
$48 per person, includes wines, chocolates, taxes, and gratuities. Each seating is limited to 45 guests. Advanced reservations and pre-payment required. Event tickets may be purchased at THEDOGS.COM or by calling 540.593.DOGS.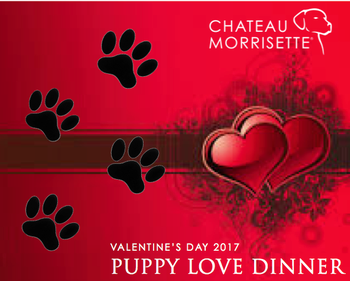 PUPPY LOVE VALENTINE'S DAY DINNER
Join us for a special, three-course, prix fixe menu with options for each course. Dinner seatings offered Tuesday, February 14th from 4PM through 8PM.
$99 per couple. Does not include wine, tax or gratuity. Ask your server about our special wine pairing option. Reservations are strongly recommended. Walk-ins are seated at the discretion of the manager based on service availability.

The Menu

First Course (Select 1)
Warm Salad of Blue Cheese stuffed Radicchio, Pomegranate Molasses, House Bacon Dust (GF) (MV)
Hearts Of Palm and Crab Fondue with Benne Seed Lavosh
Fried Gulf Oysters, Shaved Beets, Saffron Pickled Fennel, Horseradish Crema
Heirloom Radish Salad, Fresh Buttermilk Cheese, Brown Butter Vinaigrette, Preserved Lemon, Parsley (V)

Main Course (Select 1)
Roasted Painted Hills Beef Coulotte, Marrow Broth, Wild Mushroom, House Worcestershire, Duck Fat Roasted Fingerling Potatoes, Fermented Baby Carrots (GF)
Joyce Farms Chicken with Three Day Mole Sauce, Root Vegetable "Salsa", Smoky Sweet Potatoes (GF)
Seared Scallops, Bentons Ham, Blood Orange Gastrique, Parsnip Puree, Charred Tuscan Kale (GF)
Roasted Squash Ravioli, Grilled Mushroom Hash, Brown Butter and Grana Padano Broth, Crispy Sage. (V)

Desserts (Select 1)
Dark Chocolate "Cloud 9" Cake, High Road Coconut Sorbet, Passionfruit Caramel & Spicy Crunch
"Petits Bisous d'Amour" - Collection of Handmade Bite Size Petits Fours
Sugar & Spice Beignets, High Road Balsamic Fig Ice Cream, Cabernet Dulce
MAKE IT AN OVERNIGHT GETAWAY
Our Winter Wonderland Travel Package makes a great Valentine's Day Gift. Choose from over twenty preferred lodging partners. The package includes an $85 lodging voucher, an $85 Chateau Morrisette Gift Card which may be used in our Restaurant or our Tasting Room, a standard wine tasting for two with souvenir glasses, and a 20% off coupon for use in the Tasting Room. The package cost is $190.00.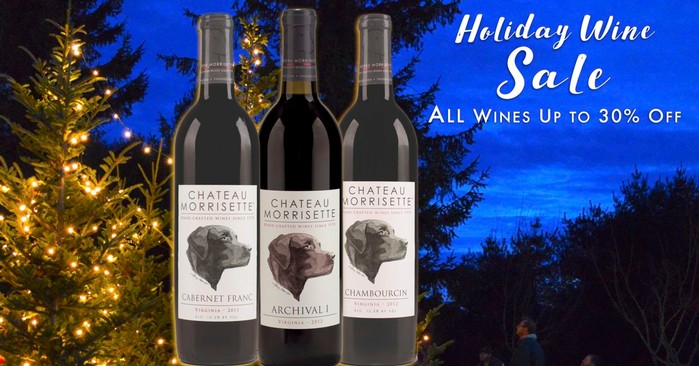 Looking for that perfect holiday gift for someone special or for a person who has been kind to you during the year? Look no further than Chateau Morrisette. Shopping in our Tasting Room or online has never been easier. Visit our Tasting Room Gift Shop for unique gift items like engraved wine boxes, apparel emblazoned with the Chateau Morrisette logo or one of our dogs, cork holders and cork art, locally made cutting boards and cheese knives, wine stoppers, cocktail napkins, and so much more. Visit our website and order wine or Morrisette Farms® food items to be shipped directly to you or to your gift recipient. We are legally able to ship wine to 32 states and the District of Columbia. We can ship Morrisette Farms®, gift cards, travel packages and other non-alcohol items anywhere in the country. You can read all about shipping by clicking on our Frequently Asked Questions (FAQ) on Shipping.
Wine Makes the Perfect Christmas Gift. Holiday Wine Sale Begins Black Friday.

Chateau Morrisette® wines are perfect for any palate. If that special person enjoys red wines, then consider one of our newest dry red varietal wines like 2014 Chambourcin or Cabernet Franc. There is still a limited supply of our very popular 2013 Cabernet Sauvignon, Merlot and Petit Verdot. If you're looking for a blended wine, don't overlook 2012 Archival I, 5 Red Grapes®, or our most popular off-dry wine The Black Dog®.

If white wines are more to your liking, then there are an equal number of delicious options from which to choose. Our latest Petit Manseng 2015 recieved 89 points at the San Diego International Wine Competition and a Platinum Award from Virginia Wine Lovers. Petit Manseng is a hybrid grape that grows very well in Virginia. Other white wine varietal grapes include Chardonnay, Chardonnay Reserve, Viognier and Vidal Blanc. If blended wines are more suited to your palate, don't miss the 2014 Nouveau Chien, also made with Petit Manseng, and the semi-sweet Our Dog Blue®. For something totally decadent, try our ice-style dessert wine, Frosty Dog®.

There is also a variety of Chateau Morrisette® sweet wines, including Sweet Mountain Laurel® and Red Mountain Laurel®, both made with grapes that do well at high elevation and are grown on the estate. The Orchard Series wines are very popular too. These sweet fruit wines include Blackberry, Cherry Wine, Sweet Mountain Apple, made with 100% Virginia apples, and our Farmhouse Sangria Red, made from a base of delicious Merlot wine.

Just in time for Christmas, these wines are made even sweeter by our Holiday Wine Sale. Beginning November 25th (Black Friday) and running through New Years Eve (December 31), all Chateau Morrisette® wines are offered at 20% off bottles and 30% off cases. You may purchase as much as you want from our Tasting Room but individual state laws determine how much we can ship to you. Please see our Shipping FAQs for specific information.
Still Not Sure What to Get? Try One of Our Sampler Packs.
A Chateau Morrisette Sampler pack is the ideal Christmas gift. It includes four bottles of wine and you can even add a gift message to the order. There is a sampler pack for every taste and every budget - sampler packs are marked down 10% everyday and 20% during the sale. Think that special someone might like some sweet red wines, try the Sweet Red Sampler Pack which retails for $49.96 before the sale price. Want sweet white wines, we've got you covered with the Sweet White Sampler Pack also at $49.96. If you're feeling experimental, try the Orchard Series Sampler Pack at $47.96 before the sale discount. Next up on the palate scale would be our dry wine samplers. The Dry White Sampler Pack goes from semi-sweet to very dry and retails for $72.96 before the sale. There's also a Dry Red Sampler Pack at $78.96 retail and includes an off-dry wine, two blends and a Cabernet Sauvignon. For the wine aficionado, aka the wine snob, the Top Tier Sampler is the perfect gift. It retails for $135.96 and includes some of our very best red and white wines.
Want To Give A Memory? Give the Gift of Travel.
Travel makes a wonderful gift. Everyone needs to get away for a long weekend or even a few days mid-week. Why not give the gift a travel with a Chateau Morrisette® Getaway Package. Choose a package that's just right for the season. Each travel gift recipient will receive vouchers for lodging for use with one of our preferred lodging partners along with a Chateau Morrisette® Gift Card, a wine tasting for two, and a coupon for 20% off purchases made in the Tasting Room Gift Shop, including wine. Our most popular package is our Winter Wonderland Package offering travel during the slower times when the mountains are chilly and there's time to relax by the fire. There is a Mountain Blooms Package for spring, a Summer Sunsets Package, and an Autumn Harvest Package too. Packages range from $190 to $199 each.

Everyone Likes to Eat. Morrisette Farms® Makes a Great Gift.

Morrisette Farms® offers a gourmet selection of pasta sauces, bruchetta, salsas and salad dressings. We ship Morrisette Farms® food items to all 50 states. Items include Spicy Sun Dried Tomato Bruschetta with Chianti, Black Bean and Corn Salsa, Creamy Parmesan Vodka Pasta Sauce, Herb Marinara with Malbec, Gorgonzola with Pear Dressing, just to name a few. You could make it a truly exceptional gift by pairing a favorite wine with one or two of these delicious food offerings.

Still Undecided? There's Alway a Chateau Morrisette® Gift Card.

Chateau Morrisette offers gift cards in the amount you want to spend. Let that special person on your Christmas list select a gift that's just right for them. Gift cards may be redeemed in the Chateau Morrisette® Tasting Room or in the Chateau Morrisette® Restaurant.
You know you want to
Sign Up For Our Newsletter
Keep up to date on the latest wine releases, events, and promotions.