The Black Dog Blog
Chateau Morrisette is among the oldest and largest wineries in Virginia. We also operate an award-winning restaurant with a 95% recommendation rate on OpenTable. With fresh vintages, flavors, and events at the winery, restaurant, vineyard, and festival field throughout the year, we will keep you abreast of all the great happenings and the people who make up Chateau Morrisette Winery and Restaurant in this blog and through our Facebook, Instagram, Twitter, and Pinterest sites.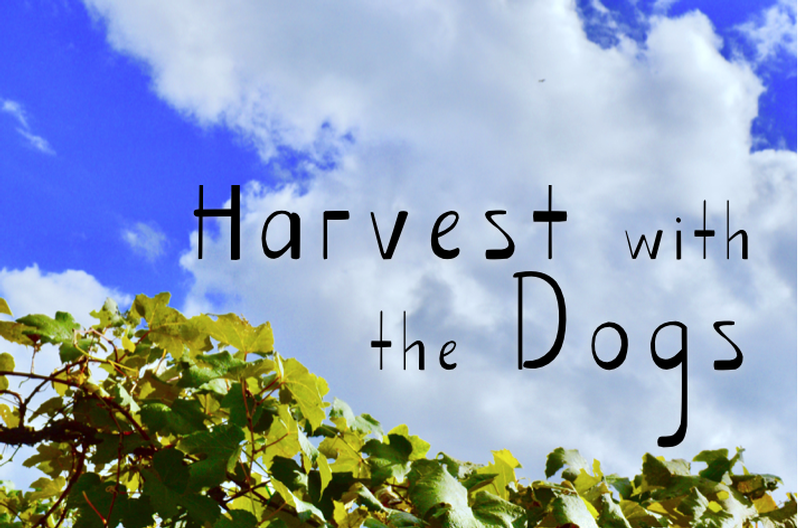 Harvest with the Dogs is a one of a kind vineyard experience hosted by Chateau Morrisette Winery. Spend an afternoon in the Blue Ridge Mountains of Virginia learning to harvest and process grapes. You'll have a lot of fun and some excellent food and wine while you learn.

Your adventure begins with a wagon ride from the winery down to the Vineyard. Once there, you'll meet with our owner, David Morrisette and our Vineyard Manager, Steve VanSutphin. After a short orientation, you'll be given cutters and a lug and pointed in the direction of the vines to be harvested. Spend about a hour or less harvesting grapes with your own two hands. Once the grapes are cut, you'll travel by wagon back to the winery where you will meet with our Winemaker, Jason Crolley. Jason will teach you how to crush the grapes, process them, and make the wine.

So while it may sound like hard work, you will have plenty of time to relax over lunch hosted in the vineyard, a glass or two of your favorite Chateau Morrisette wine, and even a tasting of a wine in process on your tour of the cellar with Jason. Once complete, you'll have an opportunity (if you want) to step back in time and experience the ancient way of processing grapes by climbing into a barrel and stomping them with your own two feet. Your adventure concludes with a complimentary wine tasting in our tasting room and a t-shirt of your choice. It will be a day to remember!

Harvest with the Dogs takes place on Saturday, September 15th at 10AM or 1PM and on Sunday, September 16th at 1PM. Participation is limited to 32 people per session. Tickets are $75 per person and include lunch, wine, wine tastings, tour, t-shirt, and your vineyard harvest experience. It happens rain or shine so be sure to dress comfortably and appropriately for the weather. Get tickets early before they sell out.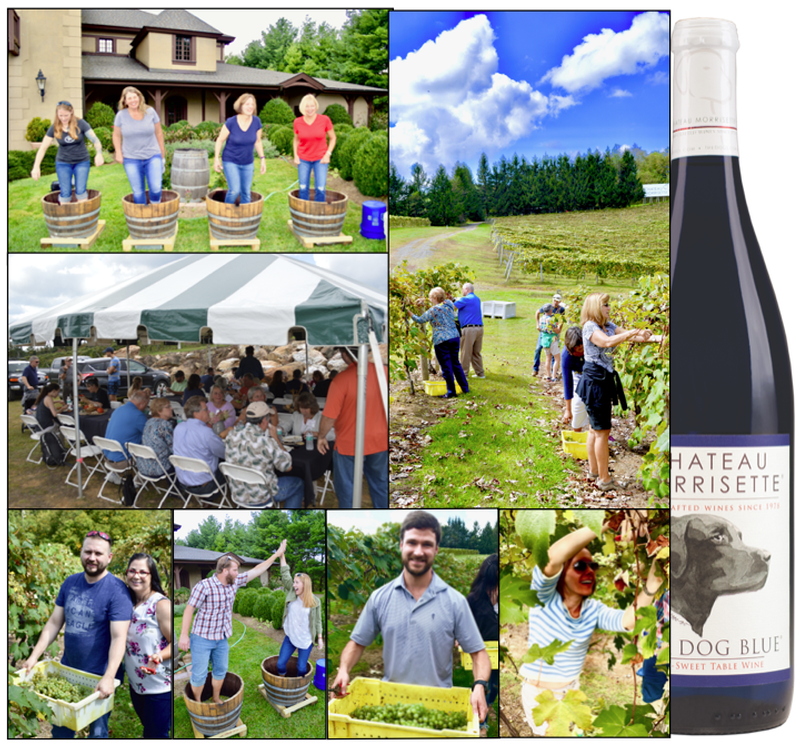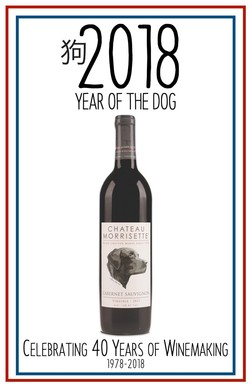 YEAR OF THE DOG MARCH WINE SALE
As part of Chateau Morrisette's year long 40th anniversary celebration, the winery will make two of our most distinctive varietals available for a limited time at 40% off. Viognier and Merlot normally retail for $33.99 and $28.99 respectively. During the month of March, these wines will be available for $20.39 and $17.39 in our Tasting Room and in the Restaurant. Online, the wines are slightly higher at $20.99 and $17.99. Chateau Morrisette can now ship to 32 states all across the country.
About these wines:
Merlot
Tasting Notes
Aromas of fresh cherries, dark chocolate, and a hint of white pepper. Soft and approachable on the palate, with a refreshing acidity, cherry notes, and a touch of dark chocolate.

Awards
Bronze Medal: 2016 San Francisco Chronicle International Wine Competition • Bronze Medal: 2016 Finger Lakes International Wine Competition

Production Notes
100% Virginia

Food Pairing Notes
Pairs well with most tomato-based Italian dishes or even with simple hamburgers off the grill. For a sweeter experience, try with your favorite dark chocolate.

Production
This Merlot was grown in eastern Virginia and our cellar crew still remembers this specific lot of fruit because it was of such high quality. The fermentation took place in open top stainless steel fermenters with two to three pump overs daily. Post press and malolactic fermentation it went to barrel for 14 months for aging prior to bottling.
Viognier
Tasting Notes
Aroma: tropical fruit and apricot. Palate: softly tannic, honeysuckle and passionfruit. Finish: lingering
Ratings
2015 Vintage: 88 Points - San Diego International Wine Competition

Awards
Gold Medal: 2017 Savor Virginia Wine Classic • Silver Medal: 2017 Virginia State Fair Wine Competition • Silver Medal: 2016 San Diego International Wine Competition • Bronze Medal: Wines of the South Competition

Vineyard Notes
The Viognier fruit used to make this wine was grown in Tyro, VA.

Production Notes
After pressing, this wine was first inoculated with a non-saccharomyces yeast strain to promote intense aromatics. Subsequently, it was inoculated with a standard saccharomyces strain to complete its cool, slow fermentation.

Winemaker Notes
Our 2016 Viognier offers a perfumed nose of tropical fruit and apricot which is complimented by a softly tannic palate reminiscent of honeysuckle and passionfruit. All of these wonderful flavors linger on the palate.

Food Pairing Notes
grilled seafood topped with peach salsa


Results are in for the Harvest Challenge, 2016 Harvest Challenge, 2016 was a smashing success! The field of entries that were included: Hawaii to New York, down to New Zealand, and all parts in between. Our judges were truly some of the very best from all across the United States. We are pleased to announce the official results for the Harvest Challenge, 2016.Your standings are listed below. This judging promotes "wine to purchase for the Holidays!"
Wine Appellation Designation Price Award
2013 Chateau Morrisette Archival II Virginia Barrel Aged $19.99 Silver
NV Chateau Morrisette Chai Spiced Hard Cider Virginia $2.99 Silver
2014 Chateau Morrisette Chambourcin Virginia $19.99 Silver
NV Chateau Morrisette Cherry Ginger Hard Cider Virginia $2.99 Silver
NV Chateau Morrisette Hard Cider Virginia Barrel Fermented $2.99 Silver
NV Chateau Morrisette Sweet Mountain Laurel American $9.99 Silver
The awarded Best of Show winner was : Brian Arden Winery, Rose of Cabernet Franc, 2015 Napa CA Top wines received Best of Class by Category, Best AVA, and ultimately the Best of Show. The Brian Arden's Rose of Cabernet Franc was a stunning example of the "perfect" Rose. We wish to express our appreciation for your support of our wine competitions. Your medal should arrive in about six (6) weeks. We are very enthusiastic about the success of the Harvest Challenge, 2016 and look forward to seeing your entries next year Cheers! Wine Competitions Management & Productions

Wines of the South Competition is conducted by the Institute of Agriculture at the University of Tennessee. This year, there were 302 entries into the competition the judges awarded medals to 272 of these wines. Chateau Morrisette received medals for all six wines entered into the competition.

Sweet Mountain Laurel received Concordnace Gold which means all judged awarded this wine with a gold medal standing in it's catagory.

Our Dog Blue® received a Gold Medal.

Cherry Wine received a Gold Medal.

The Black Dog® received a Silver Medal.
2013 Cabernet Sauvignon received a Silver Medal.

2015 Viognier recieved a Bronze Medal.

Samples of these wines are available when visiting the Tasting Room.

CLICK HERE TO WATCH NEWS SEGMENT.
FLOYD (WSLS 10) – When it comes to the Virginia wine industry, the glass is half full. Virginia wine and cider sales reached a new record high as w [WINE] ine sales increased by 2 percent from last year and nearly 26 percent from five years ago.
Meanwhile, cider sales saw an impressive 200 percent growth within the last year.
Last year, Virginia wineries sold more than a half million cases; 10 percent of which were made at Chateau Morrisette.
Keith Toler, Director of Marketing at Chateau Morrisette says the trend reflected in their business.
"We also see growth here at Chateau Morrisette, so we knew we were part of that trend," Toler said.
[Three new flavors of cider launch this weekend.]
Three new flavors of cider launch this weekend.
Brian Smyth is behind all 29 flavors of wine there.
He said the Virginia wine industry has changed since he left the U.S. to train as a winemaker.
"When I left, there were just under 200 wineries. Now there is just under 300, which is a huge increase in just a short number of years," Smyth said.
He says with more competition, comes better wine and new opportunities to stand out.
"For us at Chateau Morrisette, that means that we are trying to diversify our products."
They have the capabilities, so he says it only made sense to start making one of the most in-demand drinks.
"The growth in the cider industry, as well as the craft beer industry, has just been explosive across the country," Toler said.
The cider business is doing so well in fact, that Chateau Morrisette has decided to incorporate it into their business. This weekend, they are launching their first line of cider.
[CIDER] The line includes three flavors, one regular and two inspired by current wines.
"You see what's happening right here in our region with new breweries coming in, new cideries coming in so we wanted to be part of that. We wanted to be part of that growth and part of that excitement. And that's why we decided to test the waters with ciders," Toler said.
We got an exclusive look at the first batch of ciderworks.
Ultimately, it will be up to the customers this weekend if these recipes will make the cut for mass distributions.

This one was fun. We are winemakers. That means for most of the wines we make, our ingredient list includes grapes, yeast, sugar, and a few other additives we use in tiny amounts. Then, there were ciders! We were tasked with making three different flavors of cider and it was a blast! We decided from the onset to use all Virginia grown apples and real spices you are familiar with and can pronounce (except Cardamom perhaps, but if you've never had it, you should try it). We worked with Wades Orchards in Woolwine, VA; Silver Creek Orchards in Tyro, VA; and Murray's Cider Co. in Roanoke, VA to grow the apples and press them to juice as our grape presses are not suited to processing apples. Next, we brought our freshly pressed juice to our winery in Floyd, VA where we fermented humble apple juice into incredible, delicious hard apple cider.

The barrel-aged cider was fermented and aged in barrel and its pure, clean, understated simplicity speaks for itself. I think you will agree.
And then, there were the flavors. We started with Chai Spiced cider. Our lab is typically full of complicated equipment and

chemicals we use to analyze grapes and wines. However, when we were working on cider, we brought in whole vanilla beans, whole cardamom pods, whole cloves, whole peppercorns, cinnamon sticks, and ginger juice to meticulously trial our own blend of Chai until it was everything we hoped it would be. At this stage, we made a small batch of Chai Spiced cider and subjected the beta blend to the ultimate test—our scrupulous wives… They were unequivocally impressed with the cider, which gave us the poise to confidently move forward commercially.

Next, was the third cider. We wanted to make something original, yet approachable. We started playing with the idea of adding our own Cherry Wine to the apple cider and, while we liked it, it wasn't interesting. It was too close to the Cherry Wine, so went back to the drawing board and almost threw out the idea altogether. Then, we had a flash of inspiration. What if we could elevate the Cherry cider to something more with just a simple, novel use of ginger? Preliminary trials were promising. Subsequent trials were more than promising. You get the concentrated flavors and aromas of cherry and apple with just enough ginger to intrigue your palate with the flavor, but not enough to get the heat ginger can bring in excess. We moved forward with the idea and the final product is something that all of us at the winery are all especially proud of.
Currently, this is a small-scale release to trial the different flavors we've developed in the tasting room before we scale up to broader distribution. If you like these and want us to keep making them, you have to let us know! If you haven't tried them yet, come to the winery, try them, and please tell the associate pouring for you which cider is your favorite (all three is an acceptable answer). Ciders will only be tasted on certain days at certain times. Please check the website for more information.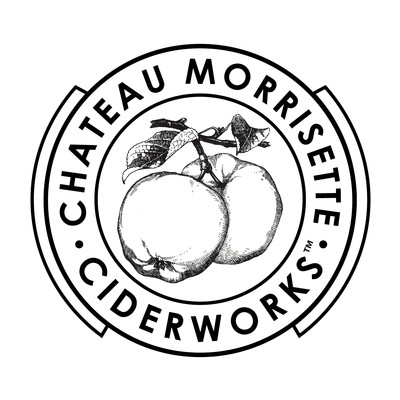 Mark Squires reviews Chateau Morrisette's 2015 Petit Manseng for Wine Advocate.
The 2015 Petit Manseng actually has 10% Chardonel and 3% Viognier added. It comes in with 32 grams per liter of residual sugar and 13% alcohol. This was not here in time for our large focus article on Petit Manseng (April 2016), but as always, coverage is ongoing. The debut release for this brand, this is a nice first effort in a drier style. Only modestly concentrated, mingling a touch of grapefruit with peach, this is a tight and focused wine on first pour, but it does open and become more expressive with air. It also tails off a bit on the finish at that point. It always tastes great, though. This is a great style to use as a food wine with some cheeses, but it is tasty enough, light enough and fresh enough so that it will work better on its own in summer heat.
Rating: 87 points
Price: $29
Drink Date: 2015 - 2022
Reviewed by: Mark Squires
Date tasted: 13th Apr 2016
Source: 225, The Wine Advocate

Chateau Morrisette
2015 Viognier

Bottled: February 2015
Winemaker's notes: May 2016
Our 2015 Viognier offers melon and apricot on the nose which is complimented by a rich palate reminiscent of honeysuckle and peaches. The Viognier fruit used to make this wine was grown in Tyro, VA. The fruit was whole cluster pressed to minimize skin contact in order to reduce the astringent character Viognier can suffer from. After cold settling, the wine was inoculated in tank and subsequently transferred to barrel for fermentation. After fermentation, the wine was racked and continued to age in barrel until December 2015.
Pair with grilled seafood topped with peach salsa and you won't be disappointed. Enjoy now or lay down for 3-5 years.
Serving recommendations: 50-55°F

Laboratory specifications:
Alcohol:
13.0%
pH:
3.52
Titratable acidity:
6.2 g/L
Residual sugars:
0.3%

The Vineyard Manager Steve VanSutphin and I just visited with some of our nearby growers to check on how the vines are progressing this year. We are lucky to work with such experienced and quality growers. Here are a few of them!

John Ayers is located in Patrick County and has been growing for us for many years. This year we will be getting some Vidal Blanc from his vineyard. If you like our varietal 2015 Vidal Blanc, much of the fruit was from Ayers' Orchard and Vineyard.

Nelson Stanley and his wife Elsie of Stanburn Winery are wonderful growers and some of the kindest people you'll ever have the opportunity to meet. They are located in Stuart, VA and are growing Chambourcin, Cabernet Franc, and Traminette for us this year.






Mary Simmons is an extremely talented and passionate grower out of Ararat, VA. We will be getting a portion of our Cabernet Franc, Merlot, Chardonnel, and Petit Manseng from her at Spring Branch Vineyard.

Chateau Morrisette
2015 Petit Manseng
Bottled: January 2016
Winemaker's notes: April 2016
An intensely aromatic nose of tropical fruits such as pineapple and mango combine with the sweet, floral smell of honeysuckle in this fine wine. The Petit Manseng grape is consistently high in acid which naturally lends itself to the medium sweet style of this wine.
While Petit Manseng is not as well-known as other white Vitis vinifera grapes, it performs immaculately in Virginia's climate. It is traditionally grown in southwest France and generally is made into a dessert style wine. The fruit in this bottle was a winemaker's dream to work with. As harvest approaches our growers sample their vineyards and we taste and analyze the fruit in order to make a picking decision. The main factors we are considering are flavor, sweetness, acidity, upcoming weather and associated damage. As flavor and sugar go up, acidity typically drops off. This didn't happen with this wine; it ripened beautifully and the weather cooperated. It was grown by skilled viticulturists, picked at the optimal flavor ripeness, fermented cool and slow in stainless steel, and proudly crafted by our winery team.
Petit Manseng's high acidity makes it a perfect choice for many types of cuisine. This combined with its medium sweetness lends itself particularly well to a dish like Thai green curry or a strong cheese like gorgonzola.
Serving recommendations: 50-55°F
You know you want to
Sign Up For Our Newsletter
Keep up to date on the latest wine releases, events, and promotions.