CHATEAU MORRISETTE
WINERY AND RESTAURANT
August Travel Note : The Blue Ridge Parkway has daytime single lane closures with traffic control at mileposts 27.2 - 37.5, 64.5 - 101, and 165.3 - 174.6 (we are at 171.5). Full night-time closure 10a - 6p at mileposts 167.1 - 175.9 Monday - Thursday. Night access to Rocky Knob Campground (MP 167.1) from Highway 8 will remain open throughout the project.
---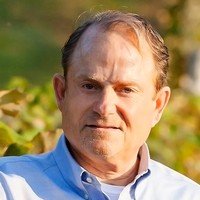 Welcome to Chateau Morrisette, a third generation tradition in Virginia winemaking in the heart of the Blue Ridge Mountains.
When you visit us, enjoy the rustic elegance of the Chateau Morrisette Restaurant or take in one of our Black Dog Music Festivals or other special events. Savor the view, ranked among the top restaurant views in America. Sip some wine by one of our fireplaces, on our restaurant terrace, or in our winery courtyard.
Relax and enjoy. Chateau Morrisette is open year round. Find us along the Blue Ridge Parkway in Floyd, Virginia. We welcome you and thank you for supporting Chateau Morrisette.
- David Morrisette, Founder