Calendar of Events
December 2019
Christmas 2019
Tue, Dec 24, 2019 - Wed, Dec 25, 2019
The Winery and Restaurant will be closed for the Christmas Holiday, December 24th & 25th.
Normal hours will resume December 26th.

New Year's Eve Dinner 2019
4:30 PM to 9:30 PM
Tue, Dec 31, 2019
Venue:
Chateau Morrisette Restaurant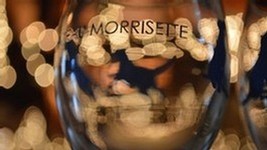 Savor the closing of the year ​and the excitement of the year to come with four courses of farm-to-table culinary delight including: amuse bouche, followed by a choice of appetizer entree and dessert. Meal will include a complementary glass of sparkling wine.
Dining Options
1: $68 for all 4 courses and complementary sparkling wine.
2: $85 for 4 courses with complementary sparkling wine and wine pairings.
Table by Open Table reservation or call us at 540-593-2865
4:30pm-7:45pm
Disclaimer: The restaurant is only open for the New Years Eve Dinner. Regular reservations will not be taken.
Menu

1st Course:
Amuse Bouche

2nd Course: (choice of one)
Roasted golden beet salad with pistachios
Soup du Jour with accompaniments
Good luck Pork & Beans
Escargot tartine with Benton's country ham

3rd Course: (choice of one)
Duck breast with red cabbage
Chef's Catch
Lamb with fig
Venison Osso Buco with sage grits

4th Course: (choice of one)
Bread pudding with bourbon caramel sauce
Meyer lemon tart with a layer of chocolate

Menu Subject to Change