November 17, 2016 | Events | Keith Toler
Holiday Gift Ideas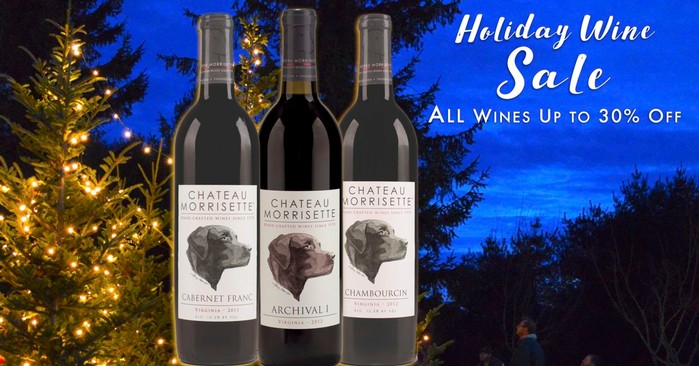 Looking for that perfect holiday gift for someone special or for a person who has been kind to you during the year? Look no further than Chateau Morrisette. Shopping in our Tasting Room or online has never been easier. Visit our Tasting Room Gift Shop for unique gift items like engraved wine boxes, apparel emblazoned with the Chateau Morrisette logo or one of our dogs, cork holders and cork art, locally made cutting boards and cheese knives, wine stoppers, cocktail napkins, and so much more. Visit our website and order wine or Morrisette Farms® food items to be shipped directly to you or to your gift recipient. We are legally able to ship wine to 32 states and the District of Columbia. We can ship Morrisette Farms®, gift cards, travel packages and other non-alcohol items anywhere in the country. You can read all about shipping by clicking on our Frequently Asked Questions (FAQ) on Shipping.
Wine Makes the Perfect Christmas Gift. Holiday Wine Sale Begins Black Friday.

Chateau Morrisette® wines are perfect for any palate. If that special person enjoys red wines, then consider one of our newest dry red varietal wines like 2014 Chambourcin or Cabernet Franc. There is still a limited supply of our very popular 2013 Cabernet Sauvignon, Merlot and Petit Verdot. If you're looking for a blended wine, don't overlook 2012 Archival I, 5 Red Grapes®, or our most popular off-dry wine The Black Dog®.

If white wines are more to your liking, then there are an equal number of delicious options from which to choose. Our latest Petit Manseng 2015 recieved 89 points at the San Diego International Wine Competition and a Platinum Award from Virginia Wine Lovers. Petit Manseng is a hybrid grape that grows very well in Virginia. Other white wine varietal grapes include Chardonnay, Chardonnay Reserve, Viognier and Vidal Blanc. If blended wines are more suited to your palate, don't miss the 2014 Nouveau Chien, also made with Petit Manseng, and the semi-sweet Our Dog Blue®. For something totally decadent, try our ice-style dessert wine, Frosty Dog®.

There is also a variety of Chateau Morrisette® sweet wines, including Sweet Mountain Laurel® and Red Mountain Laurel®, both made with grapes that do well at high elevation and are grown on the estate. The Orchard Series wines are very popular too. These sweet fruit wines include Blackberry, Cherry Wine, Sweet Mountain Apple, made with 100% Virginia apples, and our Farmhouse Sangria Red, made from a base of delicious Merlot wine.

Just in time for Christmas, these wines are made even sweeter by our Holiday Wine Sale. Beginning November 25th (Black Friday) and running through New Years Eve (December 31), all Chateau Morrisette® wines are offered at 20% off bottles and 30% off cases. You may purchase as much as you want from our Tasting Room but individual state laws determine how much we can ship to you. Please see our Shipping FAQs for specific information.
Still Not Sure What to Get? Try One of Our Sampler Packs.
A Chateau Morrisette Sampler pack is the ideal Christmas gift. It includes four bottles of wine and you can even add a gift message to the order. There is a sampler pack for every taste and every budget - sampler packs are marked down 10% everyday and 20% during the sale. Think that special someone might like some sweet red wines, try the Sweet Red Sampler Pack which retails for $49.96 before the sale price. Want sweet white wines, we've got you covered with the Sweet White Sampler Pack also at $49.96. If you're feeling experimental, try the Orchard Series Sampler Pack at $47.96 before the sale discount. Next up on the palate scale would be our dry wine samplers. The Dry White Sampler Pack goes from semi-sweet to very dry and retails for $72.96 before the sale. There's also a Dry Red Sampler Pack at $78.96 retail and includes an off-dry wine, two blends and a Cabernet Sauvignon. For the wine aficionado, aka the wine snob, the Top Tier Sampler is the perfect gift. It retails for $135.96 and includes some of our very best red and white wines.
Want To Give A Memory? Give the Gift of Travel.
Travel makes a wonderful gift. Everyone needs to get away for a long weekend or even a few days mid-week. Why not give the gift a travel with a Chateau Morrisette® Getaway Package. Choose a package that's just right for the season. Each travel gift recipient will receive vouchers for lodging for use with one of our preferred lodging partners along with a Chateau Morrisette® Gift Card, a wine tasting for two, and a coupon for 20% off purchases made in the Tasting Room Gift Shop, including wine. Our most popular package is our Winter Wonderland Package offering travel during the slower times when the mountains are chilly and there's time to relax by the fire. There is a Mountain Blooms Package for spring, a Summer Sunsets Package, and an Autumn Harvest Package too. Packages range from $190 to $199 each.

Everyone Likes to Eat. Morrisette Farms® Makes a Great Gift.

Morrisette Farms® offers a gourmet selection of pasta sauces, bruchetta, salsas and salad dressings. We ship Morrisette Farms® food items to all 50 states. Items include Spicy Sun Dried Tomato Bruschetta with Chianti, Black Bean and Corn Salsa, Creamy Parmesan Vodka Pasta Sauce, Herb Marinara with Malbec, Gorgonzola with Pear Dressing, just to name a few. You could make it a truly exceptional gift by pairing a favorite wine with one or two of these delicious food offerings.

Still Undecided? There's Alway a Chateau Morrisette® Gift Card.

Chateau Morrisette offers gift cards in the amount you want to spend. Let that special person on your Christmas list select a gift that's just right for them. Gift cards may be redeemed in the Chateau Morrisette® Tasting Room or in the Chateau Morrisette® Restaurant.
Comments
Commenting has been turned off.
You know you want to
Sign Up For Our Newsletter
Keep up to date on the latest wine releases, events, and promotions.