The Black Dog Blog
Chateau Morrisette is among the oldest and largest wineries in Virginia. We also operate an award-winning restaurant with a 95% recommendation rate on OpenTable. With fresh vintages, flavors, and events at the winery, restaurant, vineyard, and festival field throughout the year, we will keep you abreast of all the great happenings and the people who make up Chateau Morrisette Winery and Restaurant in this blog and through our Facebook, Instagram, Twitter, and Pinterest sites.


VISITING THE BLUE RIDGE PARKWAY OF VIRGINIA
The Blue Ridge Parkway is known as "America's Favorite Drive." It spans 469 miles, connecting Cherokee, North Carolina with Rock Fish Gap, Virginia. Each mile along the way is marked with a Mile Post (MP) number to help visitors find just what they are looking for as they meander through the Appalachian Highlands. Located just north of the Parkway's center, Chateau Morrisette can be found between MP 171 and 172 in beautiful Floyd County, Virginia. It's a must-stop when traveling along Virginia's Plateau. Guests enjoy fine dining in a casual setting as well as first class wines produced by one of Virginia's oldest and largest wineries. A visit to the Blue Ridge Parkway is phenomenal any time of year, but it is especially spectacular from early October through mid November when the deciduous trees are changing colors and dropping their leaves before winter takes hold.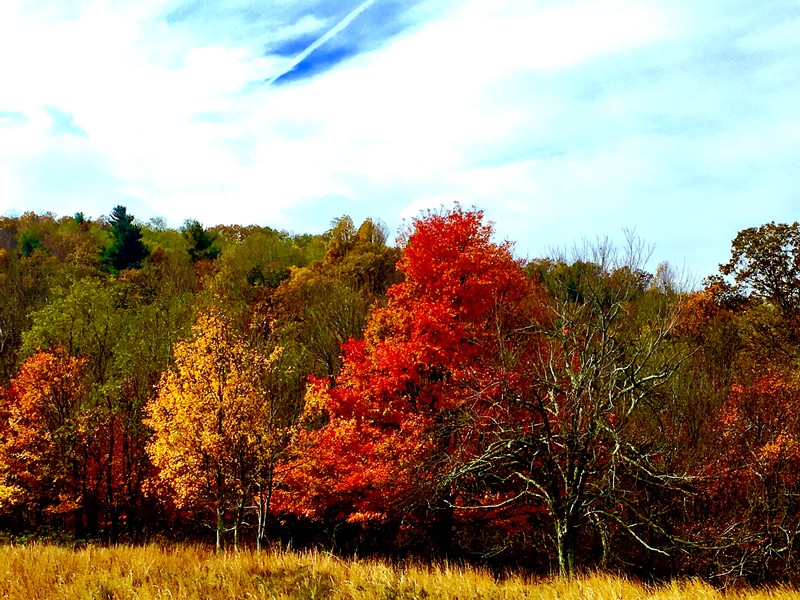 Fall Foliage Along the Blue Ridge Parkway
Leaves begin to change color at higher elevations in early October. The intensity of color is determined by many factors, including the amount of rainfall, the average temperature, and the amount of wind in a particular area. For areas above 3500 feet, the peak time is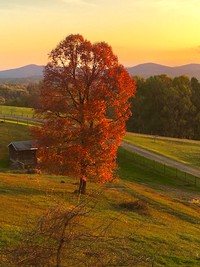 predicted to be around October 12-15, 2018. As the elevation decreases, the peak color change works it way down the mountains over time. Floyd County, home to Chateau Morrisette Winery and Restaurant, spans an elevation between 2000 and 4000 feet which means the ideal time to visit for fall color will be from October 12th through the end of the month. Again, this could change based on weather patterns in September. For the most up to date information, check out the Virginia Fall Foliage Report from the Virginia Department of Forestry. Click here for Fall Foliage Report.

The Blue Ridge Parkway area around Chateau Morrisette is known as the Rocky Knob. Throughout this region, visitors are treated to the changing colors of a variety of trees, including hickories, maples, oaks, tulip trees, locust, basswoods, and even a stand of big tooth aspens. Mountain laurel and goldenrod are also abundant all along the Parkway. In late September and early October, the stands of goldenrod turn bright yellow to announce the beginning of fall. Maple trees are next to turn showing bright red and orange leaves. The rest will follow shortly afterwards.

Another good source for up-to-date information about fall foliage is the Blue Ridge Mountain Life Fall Foliage Forecast and Guide on Blue Ridge Mountain Life. For up-to-date weather along the Blue Ridge Parkway, click here for the Blue Rige Parkway Weather website.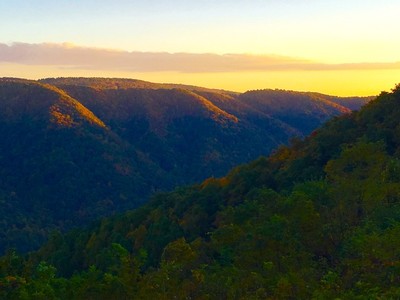 Special Ways to View the Autumn Color
BY CAR
Driving the Blue Ridge Parkway is just one way visitors can take in the breathtaking colors of autumn. Floyd County, Virginia is home to about 40 miles of Blue Ridge Parkway along its southern border. Within the county, visitors will find many opportunities to stop the car and step into the fresh mountain air. Along the stretch through Floyd County, there are numerous scenic overlooks, with two of the favorites being The Saddle Overlook (MP167.5) and the Rock Castle Gorge Overlook (MP 168). Additionally, the Rocky Knob and Smart View Recreation Areas along with Mabry Mill are all great places to stop, explore, and stretch your legs.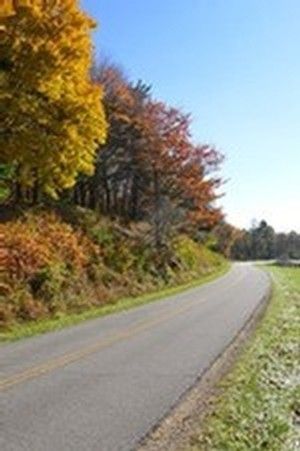 For those feeling a bit more adventurous, there are a number of backroads just off the Blue Ridge Parkway. Most of these roads connect to other roads but don't be afraid, you can always retrace your path if you get lost. County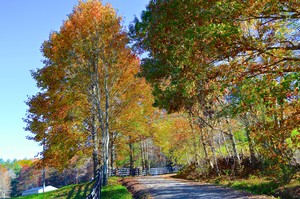 maps are available at the Floyd Visitor Center.
Exploring the scenic backroads allows visitors to discover those special places known only to locals and to experience fall color in all its rural splendor. Some roads are paved and some are gravel, but both promise an experience not to be forgotten. Pictured left is Emanuel Road, connecting Black Ridge (726) with Conners Grove (799). It's unpaved and pristine. Another unpaved treasure is Fairview Church Road, connecting Black Ridge Road (726) with Parkway Lane (SR 8).
If paved roads are more to your liking, wind across Floyd County on Franklin Pike from the Blue Ridge Parkway to Route 221. Or take Route 8 South from the Parkway to Stuart and circle back up the mountain on US 58, where you will not want to miss Lover's Leap at the top of the mountain. For a good map of paved backroads of Floyd, Patrick, Franklin, and Carroll Counties, check out The Jagged Edge of Virginia. This site offers loop rides for cars and motorcycles that provide some of the most spectacular vistas of the entire region. Chateau Morrisette is a great starting point and ending point for any mountain adventure. It's located only 300 yards from the Parkway itself and is known as the most decadent overlook on the Parkway!

ON FOOT OR BY BIKE
Hiking and walking trails abound throughout the Blue Ridge Parkway National Park. From a simple quarter mile stroll around Mabry Mill to a strenuous 10.9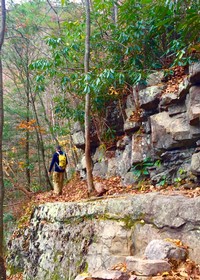 loop hike through the Rock Castle Gorge, there is a trail for everyone to enjoy. Hiking areas include the Rocky Knob Recreation Area with three trails that can also be mixed and matched for the desired distance.
The Picnic Trail is an easy one mile loop starting at the Rocky Knob Visitors Center. For a little more distance, try The Black Ridge Trail at 3 miles, looping from the Rocky Knob Visitors Center. And for the dedicated hiker, the Rock Castle Gorge Trail is a 10.9 mile hike that offers long distance vistas, a boulder field, waterfalls and streams, and spectacular fall foliage from a variety of trees. Information about these hikes are available on the Blue Ridge Parkway app or on the National Park Service website.

14.5 miles north on the Blue Ridge Parkway in Floyd County, visitors will find the Smart View Recreation Area. This is a lovely place to picnic or to enjoy the 2.6 mile loop hike with its panoramic view of the Piedmont below. If you want to see Floyd County's highest peak, drive over to the Buffalo Mountain Nature Preserve. A short one mile hike up Buffalo Moutain gives visitors a vast overview of the entire region from 3,971 feet above sea level and an unsurpassed view of the ocean of fall color in the valley below.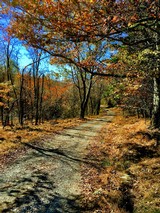 For something a little different, take a walk around Chateau Morrisette's estate. Sitting atop 38 acres, Chateau Morrisette's behind-the-scenes is waiting to be discovered. From almost anywhere on the estate, you will encounter scenic vistas unlike any other. The international restaurant dining platform Open Table named Chateau Morrisette as having one of the top 100 restaurant views in America. It's just that awesome! You might want to grab a bottle of wine and a couple of glasses and take a stroll with someone special down to the vineyard. It's about one-half mile along a shaded, gravel road (shown left). Once there, visitors discover over 13 acres of recently harvested grape vines, with views across the southwestern mountain slope. Find your spot among the vines and enjoy some wine away from all the others. It's a piece of heaven. Oh, and if you see a grape we left behind, it's all yours!

And if biking is more aligned with your interest, there are plenty of opportunities for that as well. People come from all over the world to bike along the Blue Ridge Parkway. It's the perfect opportunity to take your time, climb at your own pace, and enjoy the beautiful colors of autumn. The downhill ride is a lot of fun too! Biking along the backroads is also a worthy venture. There are a number of routes waiting to be explored. Cycle Floyd has rides from 2.6 miles to 27 miles already mapped out to make autumn biking as simple and as beautiful as possible. You can pick up a printed map at the Floyd Visitor Center or download it from the Cycle Floyd website.

STANDING STILL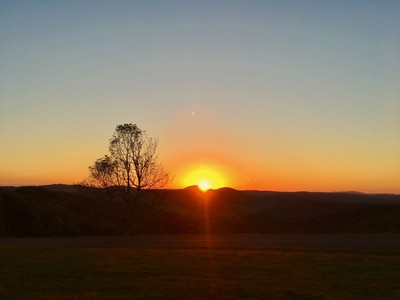 Fall colors are not limited to the trees. If you have the time, don't miss an autumn sunrise or sunset from the Blue Ridge Parkway. The color of the sky is resplendent in deep oranges, reds, and purples. It's a photographer's dream come true. Find an open pasture with silhouetted livestock to take the perfect photograph. The morning and evening light makes the trees shimmer in rich colors, the grasses a faint autumn green, and the shadows long and sinuous.

Perhaps you just want to sit back, relax, and take in the sunset. The Chateau Morrisette Restaurant has outdoor seating looking to the northwest and providing incredible views of the autumn sunsets. Open for dinner on Friday and Saturday evenings, Chateau Morrisette is the perfect location to enjoy some wine and a meal while watching the sun set over the mountains and valleys below. If the weather should be too cool to sit outside, then take a seat by the window and enjoy the warmth of the fireside dining rooms.

In early October, the sun will set around 7pm with twilight lighting thirty minutes on either side of the sunset. By the end of the month, the sun will set around 6:25pm. To check the times for sunrise and sunset in October, visit Sunrise-Sunset for times all along the Blue Ridge Parkway.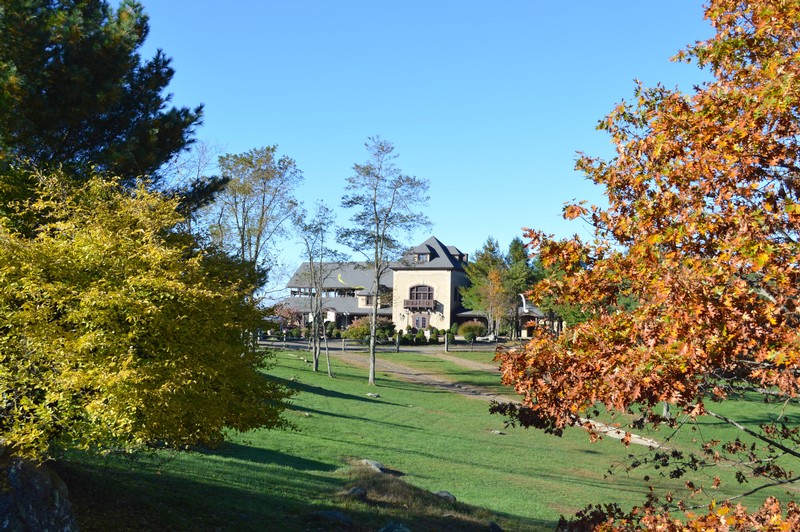 CHATEAU MORRISETTE IN THE FALL
During the month of October, thousands of visitors will travel the Blue Ridge Parkway to enjoy leaf peeping and all the fall foliage. Chateau Morrisette provides as oasis along the way where visitors can stop in, take a break, get something to eat, use the rest room, tour the wine cellar, and enjoy some wine while taking in our fifty mile view across the valley. Both the winery and the restaurant are open every day of the month. The Restaurant serves lunch from 11-2 Monday through Thursday, 11-4 Friday and Saturday, and brunch from 11-3 on Sunday. Dinner is offered Friday and Saturday from 5PM until 9PM. The Winery is open for tours, tastings, and shopping Monday through Thursday from 10AM-5PM, Friday and Saturday from 10AM-6PM, and Sunday from 11AM-5PM. Live music and a light food service is offered every Sunday on the Winery Courtyard. Chateau Morrisette is pet friendly.

While we hope you will enjoy a meal at Chateau Morrisette, we also allow you to bring a picnic with you. NO OUTSIDE ALCOHOL ALLOWED by Virginia law. There are three private gazebos available first come first served and a limited number of tables and chairs are provided under the tent on the courtyard. Or you can bring a blanket and find a secluded place on the estate to enjoy your meal. But hey, it's much easier just to make a reservation in the restaurant and let Chateau do all the work. Here's some links you might find helpful:

Wine Tastings and Tours take place everyday in our Tasting Room


Restaurant Menus change seasonally. Take a look at all of our menus, lunch, dinner, brunch, dessert, even the current wine list!

Restaurant Hours also change seasonally. June through October is prime season along the Blue Ridge Parkway.

Reservations are important to make sure you're not waiting too long for a seat. While not required, they are strongly recommended. You may also make reservations by calling +1-540-593-2865.

Sunday Sounds is our live music offering every Sunday. Enjoy a variety of genres from jazz to blues to folk and Appalachian Roots music.

Nearby Attractions abound. Historic sites, outdoor recreation, and other wineries just to name a few.

Lodging accommodations are varied and in high demand during fall foliage season along the Blue Ridge Parkway. Book early.

Directions to find Chateau Morrisette Winery and Restaurant.


Enjoy your visit to the Blue Ridge Parkway of Virginia and we hope you will include Chateau Morrisette while you're here.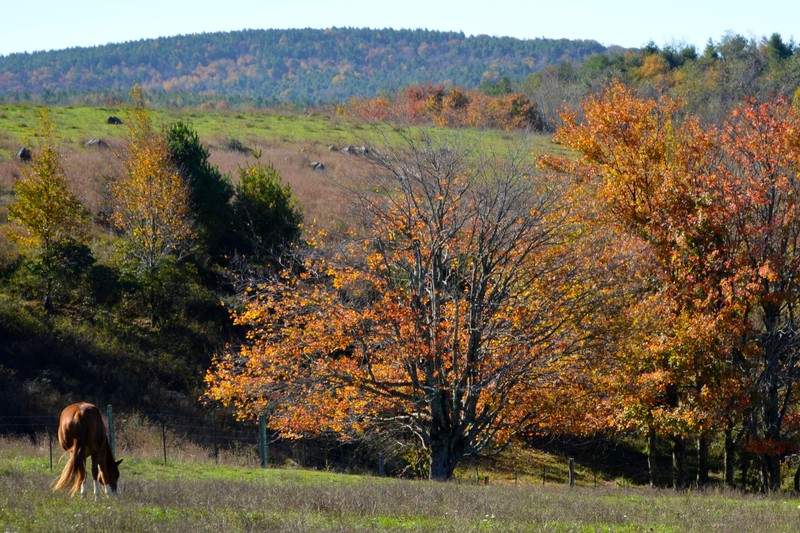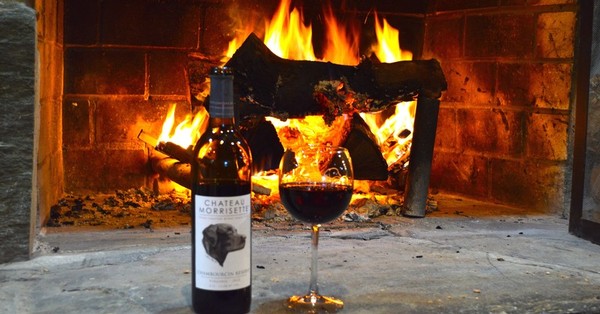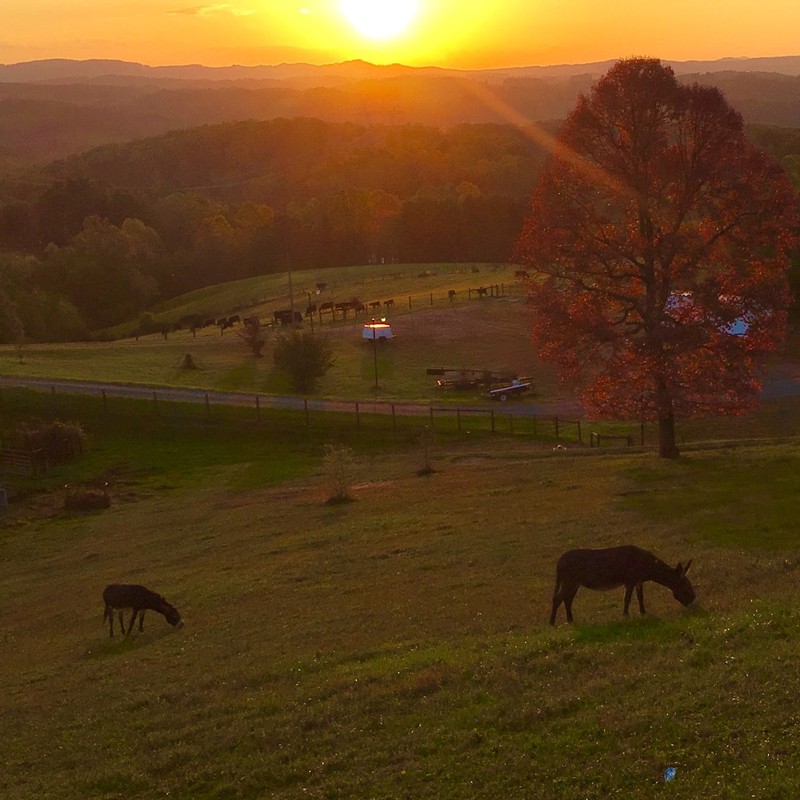 Photography ©Keith Toler, ©Shannon Atkins, ©Chateau Morrisette
Used with Permission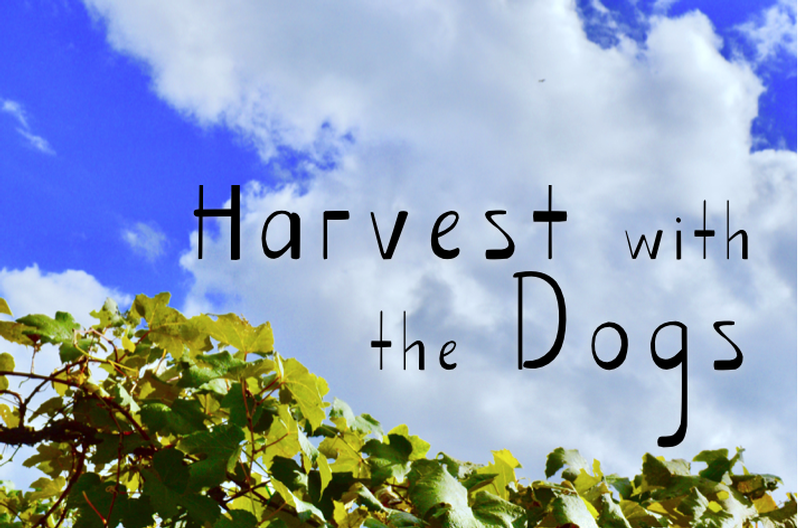 Harvest with the Dogs is a one of a kind vineyard experience hosted by Chateau Morrisette Winery. Spend an afternoon in the Blue Ridge Mountains of Virginia learning to harvest and process grapes. You'll have a lot of fun and some excellent food and wine while you learn.

Your adventure begins with a wagon ride from the winery down to the Vineyard. Once there, you'll meet with our owner, David Morrisette and our Vineyard Manager, Steve VanSutphin. After a short orientation, you'll be given cutters and a lug and pointed in the direction of the vines to be harvested. Spend about a hour or less harvesting grapes with your own two hands. Once the grapes are cut, you'll travel by wagon back to the winery where you will meet with our Winemaker, Jason Crolley. Jason will teach you how to crush the grapes, process them, and make the wine.

So while it may sound like hard work, you will have plenty of time to relax over lunch hosted in the vineyard, a glass or two of your favorite Chateau Morrisette wine, and even a tasting of a wine in process on your tour of the cellar with Jason. Once complete, you'll have an opportunity (if you want) to step back in time and experience the ancient way of processing grapes by climbing into a barrel and stomping them with your own two feet. Your adventure concludes with a complimentary wine tasting in our tasting room and a t-shirt of your choice. It will be a day to remember!

Harvest with the Dogs takes place on Saturday, September 15th at 10AM or 1PM and on Sunday, September 16th at 1PM. Participation is limited to 32 people per session. Tickets are $75 per person and include lunch, wine, wine tastings, tour, t-shirt, and your vineyard harvest experience. It happens rain or shine so be sure to dress comfortably and appropriately for the weather. Get tickets early before they sell out.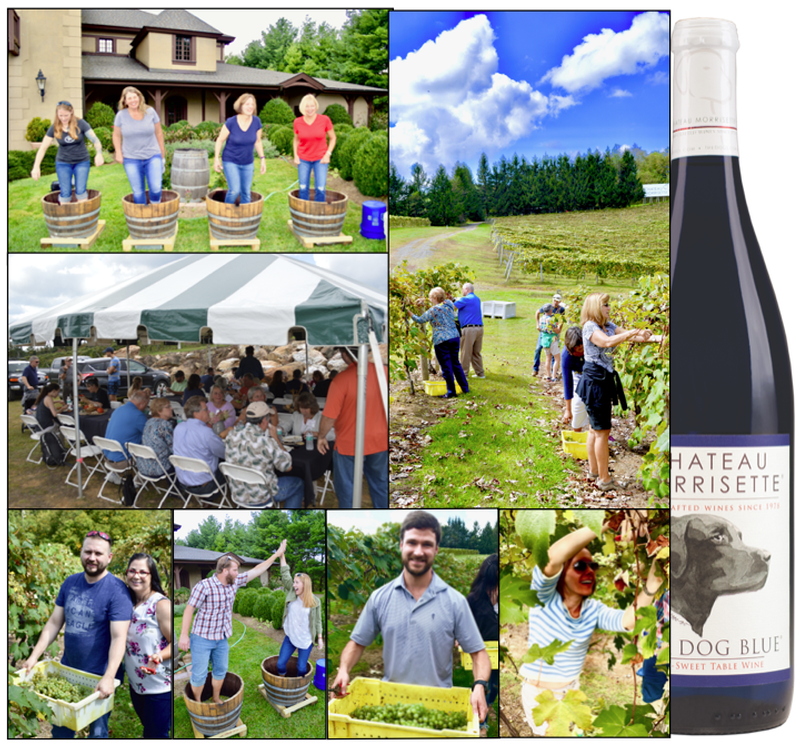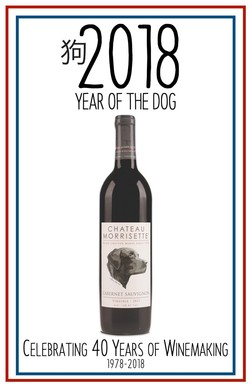 YEAR OF THE DOG MARCH WINE SALE
As part of Chateau Morrisette's year long 40th anniversary celebration, the winery will make two of our most distinctive varietals available for a limited time at 40% off. Viognier and Merlot normally retail for $33.99 and $28.99 respectively. During the month of March, these wines will be available for $20.39 and $17.39 in our Tasting Room and in the Restaurant. Online, the wines are slightly higher at $20.99 and $17.99. Chateau Morrisette can now ship to 32 states all across the country.
About these wines:
Merlot
Tasting Notes
Aromas of fresh cherries, dark chocolate, and a hint of white pepper. Soft and approachable on the palate, with a refreshing acidity, cherry notes, and a touch of dark chocolate.

Awards
Bronze Medal: 2016 San Francisco Chronicle International Wine Competition • Bronze Medal: 2016 Finger Lakes International Wine Competition

Production Notes
100% Virginia

Food Pairing Notes
Pairs well with most tomato-based Italian dishes or even with simple hamburgers off the grill. For a sweeter experience, try with your favorite dark chocolate.

Production
This Merlot was grown in eastern Virginia and our cellar crew still remembers this specific lot of fruit because it was of such high quality. The fermentation took place in open top stainless steel fermenters with two to three pump overs daily. Post press and malolactic fermentation it went to barrel for 14 months for aging prior to bottling.
Viognier
Tasting Notes
Aroma: tropical fruit and apricot. Palate: softly tannic, honeysuckle and passionfruit. Finish: lingering
Ratings
2015 Vintage: 88 Points - San Diego International Wine Competition

Awards
Gold Medal: 2017 Savor Virginia Wine Classic • Silver Medal: 2017 Virginia State Fair Wine Competition • Silver Medal: 2016 San Diego International Wine Competition • Bronze Medal: Wines of the South Competition

Vineyard Notes
The Viognier fruit used to make this wine was grown in Tyro, VA.

Production Notes
After pressing, this wine was first inoculated with a non-saccharomyces yeast strain to promote intense aromatics. Subsequently, it was inoculated with a standard saccharomyces strain to complete its cool, slow fermentation.

Winemaker Notes
Our 2016 Viognier offers a perfumed nose of tropical fruit and apricot which is complimented by a softly tannic palate reminiscent of honeysuckle and passionfruit. All of these wonderful flavors linger on the palate.

Food Pairing Notes
grilled seafood topped with peach salsa


Savor our annual Winemaker's Dinner, five courses of delectable dishes specially paired with a wine for each course. Our winemaker will interpret the wine pairings, talk about new wines in the cellar, and entertain any wine questions you may have. Bring friends or make new ones in a fine wine and dining experience at Chateau Morrisette.
Dinner service begins 6p. $95 per person includes wine, tax, and gratuity. Prepaid reservations required. No refunds for this event.

MENU
Viognier (pre-seating)
Appalachian Cheese (Galax, VA)
cranberry & red onion marmalade, pickles, crostini
Vin Gris
Cornmeal Fried Oyster
fennel, spinach, preserved lemon
Chardonnay
Pan-seared Sea Scallop
lemon risotto, crispy shallot
Chambourcin
Roasted Tomato & Red Pepper Soup
focaccia panzanella, radish, microgreens
Petit Verdot
Grilled Duck Breast & Leg Confit
quinoa, turnip, grapefruit, charred greens
Barrel Aged Cider
Dessert to be determined
Vegetarian alternatives available with at least seven days notice.


CHATEAU MORRISETTE CELEBRATES 40TH ANNIVERSARY
One of Virginia's oldest and largest wineries, Chateau Morrisette marks its 40th anniversary beginning in 2018. The 40th anniversary logo has been developed and plans are underway to commemorate the milestone throughout the year, including a commemorative wine glass, wine label, and a special anniversary party.
The winery's anniversary is a part of Virginia's winemaking history which can be traced back to 1609 and the Jamestown Settlement. Later, both Thomas Jefferson and George Washington's attempts to establish a viable crop met with failure. In 1873, a crop of Native American grapes met with great success at the Vienna World's Fair, but it was not until Chateau Morrisette and five other wineries opened in the 1970s did Virginia truly begin producing and marketing wines.
In 1978, Chateau Morrisette was known as Woolwine Winery. Started by William and Nancy Morrisette, their son David became the first wine maker. In 1981, the family adopted the name Chateau Morrisette and moved the winery to its current location along the Blue Ridge Parkway in Floyd County, Virginia. In 1983, the family was instrumental in securing the Rocky Knob AVA, Virginia's first designated American Viticultural Area. In 1985, Chateau Morrisette began wholesale distribution, partnering with Blue Ridge Beverage in Salem, Virginia, to place its Virginia wines on store shelves throughout Southwestern Virginia. By 1999, Chateau Morrisette expanded its production facilities to 32,000 sq. feet and a tank capacity of 130,000 gallons.
Today, forty years since its inception, Chateau Morrisette is still owned and operated by the Morrisette family. David Morrisette is no longer the winemaker but now serves as the President and CEO. His children are now working in various capacities at the winery, making Chateau Morrisette a third generation Virginia winery. Distribution has expanded from humble beginnings in southwestern Virginia to include retail outlets in seven states and direct-to-consumer shipments to customers in over thirty states. Commercial wine production has grown from 2,000 gallons in 1982 to over 130,000 gallons today. Chateau Morrisette is poised to continue its growth well into the next forty years.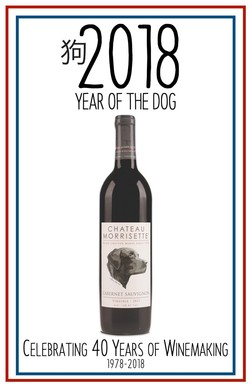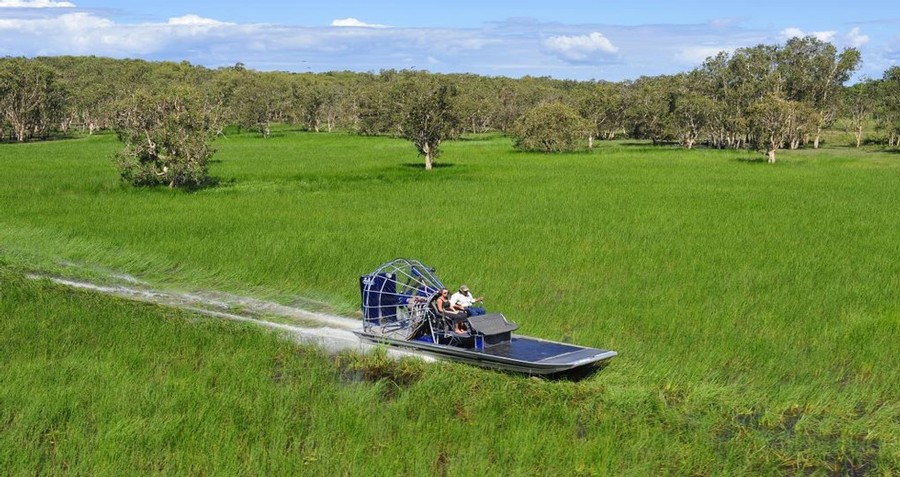 Discovery Lunches Focus on Australia
Join us Thursday, September 7th at noon for an exciting luncheon presentation by Big Five Tours and Expeditions along with a specially prepared menu featuring foods found throughout Australia prepared by Chateau Morrisette's own Culinary Team. Space is limited. $32.00 per person. Reservations and pre-payment required. Non-refundable. Lunch is served promptly at noon. Presentation begins at 1PM. The event will end by 2PM. Menu will be posted closer to day of event.
Big Five is a premium and luxury tour operator in business for 44 years offering fully customized and private journeys to Africa, Asia, Latin America, Australia and New Zealand. We create custom-designed itineraries based on the traveler's interests. Our guests travel in comfort, style and safety and our goal is that you experience the best a destination has to offer. We promise a journey of a lifetime…every time!
Australia captivates from the very first encounter. It has cosmopolitan cities, the great stoic Outback, stunning marine reserves, and a wealth of diversity in its UNESCO World Heritage Sites. From old, family vineyards of Hunter Valley to the remarkable island of Tasmania, from lush old-world rainforests to unique railway journeys, a cornucopia of extravagant scenery and cultural encounters are all layered one upon the next on a brilliant canvas. Big Five has sought out partners who share our vision of a sustainable future that still allows our guests to explore off the tourist track, in keeping with our motto…We Don't Tell Stories Better, We Tell Better Stories®


Chuck Blethen is the host of the "The Mountain Grapevine" radio program – about all things grape & wine in the mountains
wART 95.5 FM radio Thursdays at 1PM EST, encore broadcast at 6PM every Sunday. On the Internet broadcasting worldwide at www.WartFM.org. WART is located in Madison County, North Carolina not far from the City of Asheville.

The interview with David Morrisette first aired on June 29, 2017. Listen to the interview here: RADIO INTERVIEW WITH DAVID MORRISETTE


Read Nisa Cochran's article on line at Savor Virginia Magazine.
Chateau Morrisette in Floyd, Va. is one of the oldest and largest wineries in the state, first opening in 1978 and attracting wine and food lovers ever since. The winery produces more than 75,000 cases of quality wine a year, distributes to nine states and overseas and offers an AAA Four Diamond restaurant with scenic views.
Chateau Morrisette's Vin Gris is a beautiful summer wine made from a blend of Cabernet Sauvignon, Cabernet Franc, Merlot, Petit Verdot and Chambourcin. Vin Gris is made through a method known as saignée, which translates in French to "bleeding" as the red wine gets all of its color and most of its flavor from contact with the skins during fermentation. To concentrate flavor, aroma and color in their red wines, Chateau Morrisette increases the amount of skins in their tanks while "bleeding" off the rose-colored juice.
Vin Gris is best served chilled and pairs well with cheese-based dishes, with tasting notes of raspberry, peach and strawberries with a crisp and fruity finish. It's an enjoyable wine ideal for sipping on during summer days. For a perfect pairing, try the Vin Gris with this Apple Butter, Bacon and Brie Grilled Cheese Recipe:
Apple Butter, Bacon and Brie Grilled Cheese
Prep time: 10 minutes
Cook time: 5 minutes
Total time: 15 minutes
Ingredients
2 thick slices artisan white bread
2 thin slices Brie cheese, rind cut off
2 slices bacon, cooked
1 tablespoon apple butter
Butter, as needed
Instructions
Cook bacon till crispy, and then set aside.
Butter one side of each slice of bread.
In a large pan, place one slice of bread, butter side down. Top with apple butter, brie cheese and cooked bacon. Then, top with the second slice of bread, butter side up.
Over medium heat, cook for about 2½ minutes on each side of the sandwich, until bread is golden brown and the cheese is fully melted.
Serve with a glass of Chateau Morrisette Vin Gris Dry Rosé.

The May/June issue of @Livemore magazine features an article about Chateau Morrisette and why DC and Northern Virginia commuters should visit us here in Southwestern Virginia. To see the complete article, click here: READ CHATEAU MORRISETTE ARTICLE
Chateau Morrisette is located along the Crest of Virginia's Blue Ridge Mountains at milepost 171.5 of the scenic Blue Ridge Parkway. Just an hour off I-81 (exit 114), Chateau Morrisette Winery is open daily for cellar tours, wine tastings and shopping. Wine educators will entertain and educate you about the diverse selection of Chateau Morrisette wines, from dry varietals to sweet blends, along with four very popular fruit wines. Tastings last about 20 minutes and cost $10 per adult. Cellar tours are offered at specific times throughout the day.
Guests visiting Wednesday through Sunday can enjoy locally sourced, contemporary Appalachian cuisine at the Chateau Morrisette Restaurant, located adjacent to the winery. Ranked by Open Table as having one of the top 100 restaurant views in America, the Chateau Restaurant offers casual fine dining in a rustically elegant setting. Terrace dining is available when weather permits, and during the cooler months, there are three wood-burning fireplaces for an even more romantic dining experience. Executive Chef Mitchell Sheppard changes the menu seasonally to take advantage of the fresh produce grown on the estate and by a local network of farmers. The current menu consists of grass fed beef, Virginia and North Carolina seafood, poultry, pork and dairy from nearby farms; each course comes with a suggested wine pairing.
Looking for special events and exciting adventures? Chateau Morrisette is well known for its wine dinners, summer music festivals, outdoor recreation events, and more. From June through October, there are free concerts every Sunday on the winery courtyard, with a featured jazz band every first Sunday. Over Memorial Day Weekend, a limited number of guests will enjoy dinner with the winemaker, along with a special menu designed by Chef to showcase the very best Chateau
Morrisette wines. In July, the Black Dog Summer Music Festival features Americana Music. Beth McKee delivers fiery-sweet, deep southern grooves, and Austin soul ensemble Mingo Fishtrap heats up the dance field with horn-driven rhythm. Beach Music comes to the mountains in August for the Black Dog Beach Music Festival. Steve Owens and Summertime open the festival, with the Dancing Chicken Band at mid-day, and an afternoon performance from Carolina Beach Music legends the Entertainers. In September, guests have an opportunity to work in the vineyard and make some wine for a half day, spend some time with plein aire painters, or have an early Oktoberfest with the Wine, Beer and Brats festival. There is always a good time to be had at Chateau Morrisette.
When the summer humidity along the Potomac becomes oppressive, a visit to Chateau Morrisette and Floyd County, Virginia is just the ticket to beat the heat. While in the area, don't miss the world famous Friday night Jamboree at the Floyd Country Store, or stop by and sample some moonshine at Five Mile Mountain Distillery, craft beer at Buffalo Mountain Brewing, cider at Foggy Ridge, or even meade at Black Snake Meadery, all located within minutes of Chateau Morrisette. Hiking, rafting and other outdoor adventures are available nearby. Lodging packages are available on the website and include mountain cabins, quaint bed and breakfast inns, hotels, and cottages. For more information, visit www.thedogs.com.

Chateau Morrisette Winery Announces Spring and Summer 2017 Events
Floyd, V.A., April 4, 2017 – Located along Virginia's scenic Blue Ridge Parkway, Chateau Morrisette Winery announces fresh seasonal events, including Discovery Lunches, dog-friendly baseball in partnership with the Salem Red Sox and yoga at the winery. Annual favorites, such as the Spring Open House, Winemaker's Dinner, Sunday Sounds and the highly-anticipated Americana and beach music festivals round out the offering.
What's New at Chateau Morrisette Winery
Updog Yoga at the Vineyard, April 22, 2017, 10 a.m. – 11 a.m.
Enjoy yoga with a twist! Updog Wellness and Fitness' Natalie Johnson leads an all level yoga flow practice with the Blue Ridge Mountains as a backdrop. Simply meet at the winery. For those 21 and over, a refreshing glass of wine awaits after the session.
Salem Red Sox: Bark in the Park, April 27, June 3 and 14, July 13 and August 12, 2017
As presenting sponsor of Bark in the Park, Chateau Morrisette invites animal lovers to pet-friendly baseball games in Salem, VA. One hundred percent of each pet's $5 admission is donated to local shelters and SPCAs. In the park's premium hospitality and picnic areas, enjoy select Chateau Morrisette wines at all home games this season.
Discovery Lunches, May 4, June 1 and July 6, 2017, noon – 2 p.m.
Discover the sumptuous flavors of world cuisine with Discovery Lunches in collaboration with Away to Go travel and featuring presentations from Uniworld River Cruises, SeaDreams Travel and others. Prix fixe mutli-course meals have menus inspired by Africa, Eastern Europe and more. Reservations and pre-payment are required.
Highly-Anticipated Spring and Summer Events
Annual Spring Open House and Wine Sale, April 29 – 30, 2017, 11 a.m. – 4 p.m.
New this year, enjoy courtesy tractor tours of the vineyard during spring open
house weekend. Visitors will be treated to complimentary hors d'oeuvres and wine tastings, live music and 20 percent off bottles and 30 percent off cases of wine.
-more-
Page 2/Chateau Morrisette Winery
Annual Winemaker's Dinner, May 28, 2017, 6 p.m. – 8 p.m.
The winery's annual Winemaker's Dinner at The Restaurant at Chateau Morrisette is hosted by special guest, Winemaker and Enologist Brian Smyth, who will discuss wine pairings and new wines in development. The event includes a delicious prix fixe, multi-course meal with hand-selected wine pairings. Reservations are required.
Sunday Sounds Music Series, June 4, 2017, through October 29, 2017, noon – 4 p.m.
Enjoy award-winning wines, breathtaking views and free eclectic Sunday Sounds music in the courtyard. Jazz music from Lew Woodall, Highlands Jazz and others is featured every first Sunday. Ragtop, Zuzu Welsh Band, Virginia Blue and others round out the diverse lineup.
Crooked Road Homecoming: Whitetop Mountain, June 11, 2017, 1 p.m. – 4 p.m.
During this special free Sunday Sounds concert in the winery courtyard, Chateau Morrisette Winery joins the Crooked Road's Mountains of Music Homecoming by hosting the Whitetop Mountain Band, the internationally-known ambassadors of Appalachian string music.
The Black Dog Americana Music Festival, July 8, 2017, noon to 5 p.m.
Enjoy Beth McKee's stirring New Orleans rhythm and blues and the riveting brass sounds of Austin soul ensemble Mingo Fishtrap at the Nancy Morrisette Festival Field. During the event, purchase wine or beer, food, art and crafts. Purchase advance discounted tickets online or at regular price at the gate. Admission includes all day wine tastings and entertainment; parking is free.
The Black Dog Beach Music Festival, August 12, 2017, noon to 5 p.m.
Featuring The Entertainers with performances from Steve Owens and Summertime and the Dancing Chicken Band, the annual beach music festival is held at the Nancy Morrisette Festival Field. This Blue Ridge Mountain favorite features wine, beer and food for sale and arts and craft vendors. Purchase advance discounted tickets online or for regular price at the gate.
About Chateau Morrisette
Chateau Morrisette is a picturesque day trip from Roanoke, Charlottesville, Blacksburg, Christiansburg or the Piedmont Triad or a great weekend away from Washington, D.C., Richmond, Hampton Roads, Raleigh/Durham, Charlotte, Knoxville or Charleston, W.V. Wine tastings start at $10 per person. For more information, visit www.thedogs.com, call (540) 593-2865 or follow us on Facebook.
####
View it on the wire at (http://www.prnewswire.com/news-releases/chateau-morrisette-winery-announces-spring-and-summer-2017-events-300433734.html
You know you want to
Sign Up For Our Newsletter
Keep up to date on the latest wine releases, events, and promotions.