The Black Dog Blog
Chateau Morrisette is among the oldest and largest wineries in Virginia. The award-winning restaurant has a 95% recommendation rate on OpenTable. With fresh vintages, flavors, and events at the winery, restaurant, and vineyard, we will keep you abreast of all the great happenings and the people who make up Chateau Morrisette Winery and Restaurant in this blog and through our social media pages Facebook and Instagram.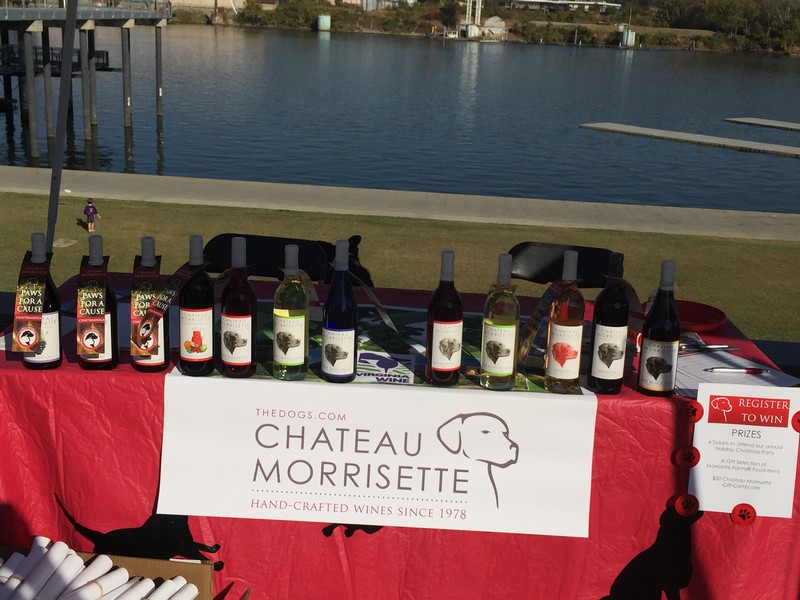 Chateau Morrisette wines are now available in Chattanooga, Tennessee. Working through our Distributor, Athens Distributing Chattanooga, we now offer wines through major grocery chain stores and independent wine retailers. In order to get the word out and to show we care about the people and animals in the Chattanooga area, we opted to partner with the Chattanooga Humane Educational Society to bring attention to their efforts to serve the community. Customers can look for our Paws for a Cause bottle tags at stores throughout the region. We hope everyone will give generously to the Chattanooga Humane Educational Society this holiday season.

Upcoming Paws for a Cause events

Chateau Morrisette has agreed to sponsor the Chattanooga Humane Educational Society events throughout the fall and holiday season. The picture above was taken recently at the Paws in the Park event, held Saturday, October 29th. According to Murray Levesque, Chateau Morrisette Tennesee Brand Manager, " People attending the event were thrilled to see Chateau Morrisette involved. Our distinctive dog on the label of our bottles, along with the Paws for a Cause bottle tag, was a natural tie in to HES." While local laws prohibited us from doing tastings in the Park, Chateau Morrisette gave away posters and allowed people to sign up for more information and to register to win prizes.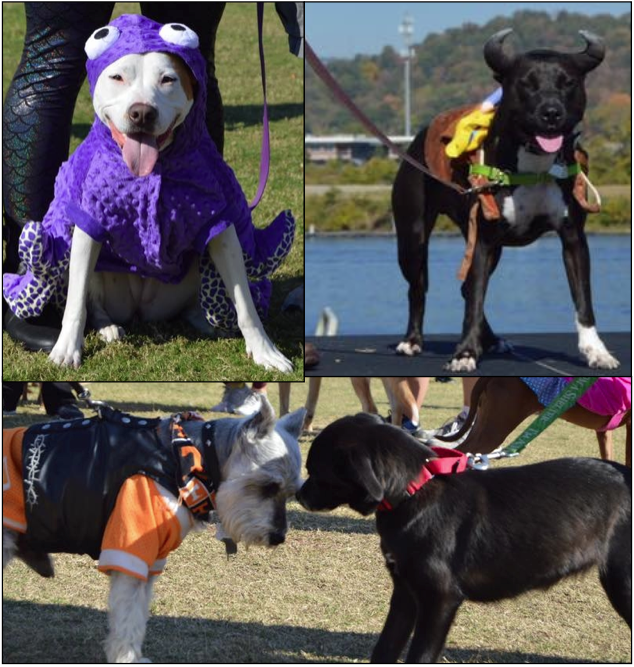 Later in the season, Chateau Morrisette and the Chattanooga Humane Educational Society will work together on additional events including:

Saturday, December 10 - THE MUTT STRUTT and CHRISTMAS TAIL 5K
Join the Humane Educational Society on Saturday, December 10th for the third annual A Christmas Tail in historic St. Elmo. The annual event is A Christmas themed 5K and 1 mile Mutt Strut benefitting the Humane Educational Society. Funds raised at the event will benefit the shelter's Special Needs Fund, which provides lifesaving surgery and medication as well as heartworm treatment to animals with treatable injuries and illness, giving them a second chance at a happy home and healthier life. The 5K and Mutt Strut are a fun way to support the shelter's mission to provide education and outreach to the community, medical services for needy animals, humane investigation, shelter for homeless animals, and strong adoption programs that ensure all adopted animals have safe and loving forever homes.

Sign up to participate at the Chattanooga Humane Educational Society website.
Read about the events in Natural Awakenings Magazine (Chattanooga).

SCHEDULED WINE TASTINGS IN CHATTANOOGA
(Check the website as we continue to add dates and locations) Click here.
November 4
5 to 7 p.m.
Ken's Liquors
6015 Dayton Blvd.
Chattanooga
November 11
4 to 7 p.m.
East Brainerd Liquors
7804 E. Brainerd Road
Chattanooga
November 11
4:30-7:30
Chattanooga Wine and Spirits
6925 Lee Hwy
Chattanooga, TN 37421
November 12
12 to 3 p.m.
Cork & Flask
222 Seqouyah Road
Soddy Daisy

November 18
5-7 p.m.
Hamilton Wine and Liquors
2288 Gunbarrel Rd
Chattanooga, TN 37421

VIRGINIA WINE FROM CHATEAU MORRISETTE AVAILABLE IN CHATTANOOGA
Chateau Morrisette has eight wines available throughout Chattanooga and major grocery chains and independent wine retailers. Featured wines include:
Our Dog Blue®, a Riesling and Traminette blended semi-sweet white wine
The Black Dog®, a semi-dry red blend made from five grape varietals
Sweet Mountain Laurel®, for southerners who like sweet, this is the sweet tea of the wine family
Red Mountain Laurel®, a red dessert wine, sweet and easy to drink
Blackberry, an apple wine with natural blackberry flavors, tastes like blackberry pie
Cherry Wine, made from 100% cherries from Wisconsin
Sweet Mountain Apple, made from 100% Virginia apples
Farmhouse Sangria Red, a Merlot based wine with added natural fruit flavors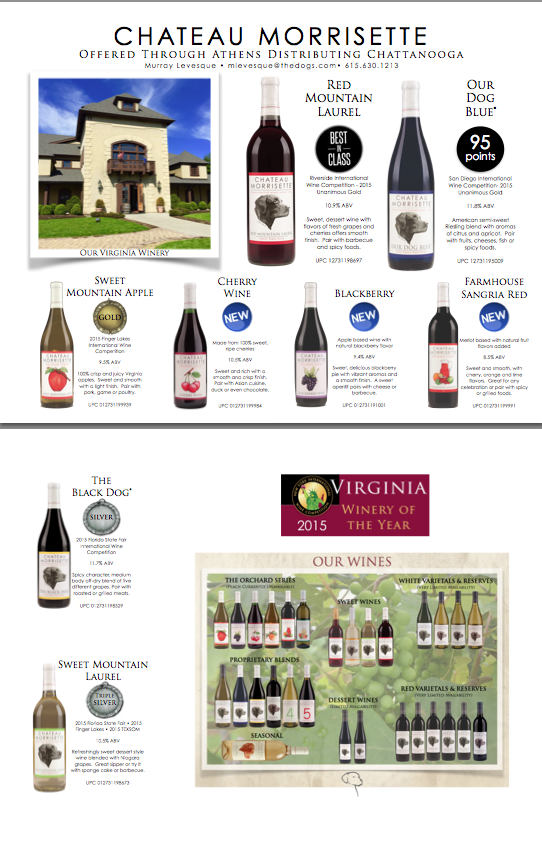 WE WANT CHATTANOOGA FOLKS TO VISIT US HERE AT OUR VIRGINIA WINERY
Chateau Morrisette is offering a prize drawing for a two night stay for anyone who signs up to receive future information from Chateau Morrisette. We want people to know what's going on at Chateau Morrisette throughout the year, from festivals, restaurant events, special tastings, and other fun things to do. All sweepstakes rules apply. Registration can be found by clicking to Chateau Morrisette Chattanooga.
You know you want to
Sign Up For Our Newsletter
Keep up to date on the latest wine releases, events, and promotions.