The Black Dog Blog
Chateau Morrisette is among the oldest and largest wineries in Virginia. The award-winning restaurant has a 95% recommendation rate on OpenTable. With fresh vintages, flavors, and events at the winery, restaurant, and vineyard, we will keep you abreast of all the great happenings and the people who make up Chateau Morrisette Winery and Restaurant in this blog and through our social media pages Facebook and Instagram.

Jason Crolley, Chateau Morrisette's Lab Lead (that's chemistry lab, not tail-wagging lab), shared tasting notes on fresh vintage white wines with Daytime Blue Ridge's Brittany Flowers. Join our Spring Open House April 29-30, with complimentary hors d'oeuvres and wine tastings, live music each day, and the grand finale of our Spring Wine Sale, running April 14-30, offering 20% off all bottles and 30% off all cases.

Chateau Morrisette Winery Announces Spring and Summer 2017 Events
Floyd, V.A., April 4, 2017 – Located along Virginia's scenic Blue Ridge Parkway, Chateau Morrisette Winery announces fresh seasonal events, including Discovery Lunches, dog-friendly baseball in partnership with the Salem Red Sox and yoga at the winery. Annual favorites, such as the Spring Open House, Winemaker's Dinner, Sunday Sounds and the highly-anticipated Americana and beach music festivals round out the offering.
What's New at Chateau Morrisette Winery
Updog Yoga at the Vineyard, April 22, 2017, 10 a.m. – 11 a.m.
Enjoy yoga with a twist! Updog Wellness and Fitness' Natalie Johnson leads an all level yoga flow practice with the Blue Ridge Mountains as a backdrop. Simply meet at the winery. For those 21 and over, a refreshing glass of wine awaits after the session.
Salem Red Sox: Bark in the Park, April 27, June 3 and 14, July 13 and August 12, 2017
As presenting sponsor of Bark in the Park, Chateau Morrisette invites animal lovers to pet-friendly baseball games in Salem, VA. One hundred percent of each pet's $5 admission is donated to local shelters and SPCAs. In the park's premium hospitality and picnic areas, enjoy select Chateau Morrisette wines at all home games this season.
Discovery Lunches, May 4, June 1 and July 6, 2017, noon – 2 p.m.
Discover the sumptuous flavors of world cuisine with Discovery Lunches in collaboration with Away to Go travel and featuring presentations from Uniworld River Cruises, SeaDreams Travel and others. Prix fixe mutli-course meals have menus inspired by Africa, Eastern Europe and more. Reservations and pre-payment are required.
Highly-Anticipated Spring and Summer Events
Annual Spring Open House and Wine Sale, April 29 – 30, 2017, 11 a.m. – 4 p.m.
New this year, enjoy courtesy tractor tours of the vineyard during spring open
house weekend. Visitors will be treated to complimentary hors d'oeuvres and wine tastings, live music and 20 percent off bottles and 30 percent off cases of wine.
-more-
Page 2/Chateau Morrisette Winery
Annual Winemaker's Dinner, May 28, 2017, 6 p.m. – 8 p.m.
The winery's annual Winemaker's Dinner at The Restaurant at Chateau Morrisette is hosted by special guest, Winemaker and Enologist Brian Smyth, who will discuss wine pairings and new wines in development. The event includes a delicious prix fixe, multi-course meal with hand-selected wine pairings. Reservations are required.
Sunday Sounds Music Series, June 4, 2017, through October 29, 2017, noon – 4 p.m.
Enjoy award-winning wines, breathtaking views and free eclectic Sunday Sounds music in the courtyard. Jazz music from Lew Woodall, Highlands Jazz and others is featured every first Sunday. Ragtop, Zuzu Welsh Band, Virginia Blue and others round out the diverse lineup.
Crooked Road Homecoming: Whitetop Mountain, June 11, 2017, 1 p.m. – 4 p.m.
During this special free Sunday Sounds concert in the winery courtyard, Chateau Morrisette Winery joins the Crooked Road's Mountains of Music Homecoming by hosting the Whitetop Mountain Band, the internationally-known ambassadors of Appalachian string music.
The Black Dog Americana Music Festival, July 8, 2017, noon to 5 p.m.
Enjoy Beth McKee's stirring New Orleans rhythm and blues and the riveting brass sounds of Austin soul ensemble Mingo Fishtrap at the Nancy Morrisette Festival Field. During the event, purchase wine or beer, food, art and crafts. Purchase advance discounted tickets online or at regular price at the gate. Admission includes all day wine tastings and entertainment; parking is free.
The Black Dog Beach Music Festival, August 12, 2017, noon to 5 p.m.
Featuring The Entertainers with performances from Steve Owens and Summertime and the Dancing Chicken Band, the annual beach music festival is held at the Nancy Morrisette Festival Field. This Blue Ridge Mountain favorite features wine, beer and food for sale and arts and craft vendors. Purchase advance discounted tickets online or for regular price at the gate.
About Chateau Morrisette
Chateau Morrisette is a picturesque day trip from Roanoke, Charlottesville, Blacksburg, Christiansburg or the Piedmont Triad or a great weekend away from Washington, D.C., Richmond, Hampton Roads, Raleigh/Durham, Charlotte, Knoxville or Charleston, W.V. Wine tastings start at $10 per person. For more information, visit www.thedogs.com, call (540) 593-2865 or follow us on Facebook.
####
View it on the wire at (http://www.prnewswire.com/news-releases/chateau-morrisette-winery-announces-spring-and-summer-2017-events-300433734.html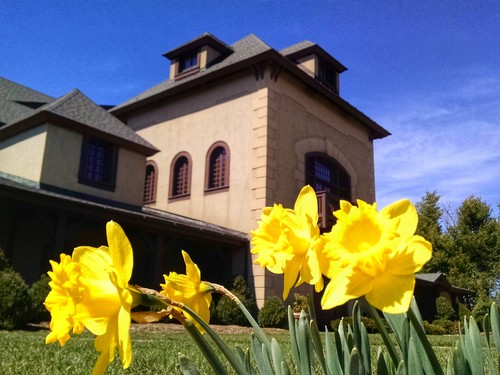 To satisfy the many families expected to visit Chateau Morrisette this Easter, the culinary team is offering a special three course Easter Lunch served 11am - 4pm. Seating is limited and reservations are strongly encouraged. The cost is $45 per person before beverages, tax, and gratuity. For those with an appetite for lighter fare, the chef will offer two à la carte items and a dessert option. See the menu and reserve!
You know you want to
Sign Up For Our Newsletter
Keep up to date on the latest wine releases, events, and promotions.