The Black Dog Blog
Chateau Morrisette is among the oldest and largest wineries in Virginia. The award-winning restaurant has a 95% recommendation rate on OpenTable. With fresh vintages, flavors, and events at the winery, restaurant, and vineyard, we will keep you abreast of all the great happenings and the people who make up Chateau Morrisette Winery and Restaurant in this blog and through our social media pages Facebook and Instagram.


VISITING THE BLUE RIDGE PARKWAY OF VIRGINIA
The Blue Ridge Parkway is known as "America's Favorite Drive." It spans 469 miles, connecting Cherokee, North Carolina with Rock Fish Gap, Virginia. Each mile along the way is marked with a Mile Post (MP) number to help visitors find just what they are looking for as they meander through the Appalachian Highlands. Located just north of the Parkway's center, Chateau Morrisette can be found between MP 171 and 172 in beautiful Floyd County, Virginia. It's a must-stop when traveling along Virginia's Plateau. Guests enjoy fine dining in a casual setting as well as first class wines produced by one of Virginia's oldest and largest wineries. A visit to the Blue Ridge Parkway is phenomenal any time of year, but it is especially spectacular from early October through mid November when the deciduous trees are changing colors and dropping their leaves before winter takes hold.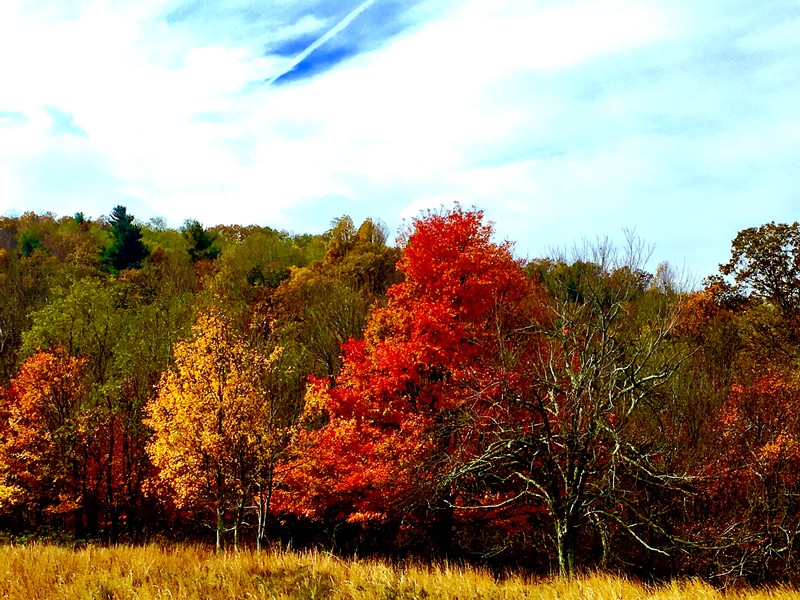 Fall Foliage Along the Blue Ridge Parkway
Leaves begin to change color at higher elevations in early October. The intensity of color is determined by many factors, including the amount of rainfall, the average temperature, and the amount of wind in a particular area. For areas above 3500 feet, the peak time is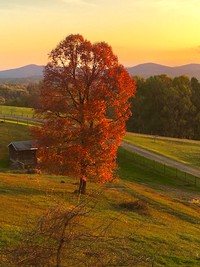 predicted to be around October 12-15, 2018. As the elevation decreases, the peak color change works it way down the mountains over time. Floyd County, home to Chateau Morrisette Winery and Restaurant, spans an elevation between 2000 and 4000 feet which means the ideal time to visit for fall color will be from October 12th through the end of the month. Again, this could change based on weather patterns in September. For the most up to date information, check out the Virginia Fall Foliage Report from the Virginia Department of Forestry. Click here for Fall Foliage Report.

The Blue Ridge Parkway area around Chateau Morrisette is known as the Rocky Knob. Throughout this region, visitors are treated to the changing colors of a variety of trees, including hickories, maples, oaks, tulip trees, locust, basswoods, and even a stand of big tooth aspens. Mountain laurel and goldenrod are also abundant all along the Parkway. In late September and early October, the stands of goldenrod turn bright yellow to announce the beginning of fall. Maple trees are next to turn showing bright red and orange leaves. The rest will follow shortly afterwards.

Another good source for up-to-date information about fall foliage is the Blue Ridge Mountain Life Fall Foliage Forecast and Guide on Blue Ridge Mountain Life. For up-to-date weather along the Blue Ridge Parkway, click here for the Blue Rige Parkway Weather website.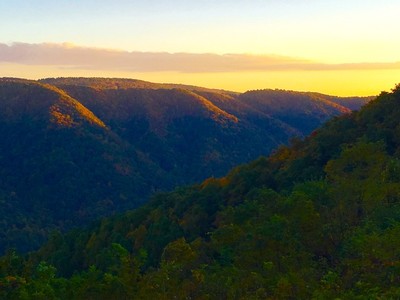 Special Ways to View the Autumn Color
BY CAR
Driving the Blue Ridge Parkway is just one way visitors can take in the breathtaking colors of autumn. Floyd County, Virginia is home to about 40 miles of Blue Ridge Parkway along its southern border. Within the county, visitors will find many opportunities to stop the car and step into the fresh mountain air. Along the stretch through Floyd County, there are numerous scenic overlooks, with two of the favorites being The Saddle Overlook (MP167.5) and the Rock Castle Gorge Overlook (MP 168). Additionally, the Rocky Knob and Smart View Recreation Areas along with Mabry Mill are all great places to stop, explore, and stretch your legs.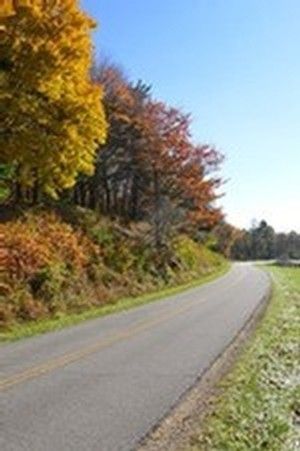 For those feeling a bit more adventurous, there are a number of backroads just off the Blue Ridge Parkway. Most of these roads connect to other roads but don't be afraid, you can always retrace your path if you get lost. County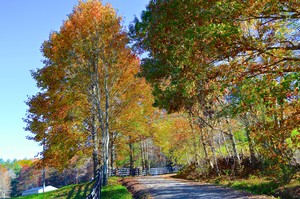 maps are available at the Floyd Visitor Center.
Exploring the scenic backroads allows visitors to discover those special places known only to locals and to experience fall color in all its rural splendor. Some roads are paved and some are gravel, but both promise an experience not to be forgotten. Pictured left is Emanuel Road, connecting Black Ridge (726) with Conners Grove (799). It's unpaved and pristine. Another unpaved treasure is Fairview Church Road, connecting Black Ridge Road (726) with Parkway Lane (SR 8).
If paved roads are more to your liking, wind across Floyd County on Franklin Pike from the Blue Ridge Parkway to Route 221. Or take Route 8 South from the Parkway to Stuart and circle back up the mountain on US 58, where you will not want to miss Lover's Leap at the top of the mountain. For a good map of paved backroads of Floyd, Patrick, Franklin, and Carroll Counties, check out The Jagged Edge of Virginia. This site offers loop rides for cars and motorcycles that provide some of the most spectacular vistas of the entire region. Chateau Morrisette is a great starting point and ending point for any mountain adventure. It's located only 300 yards from the Parkway itself and is known as the most decadent overlook on the Parkway!

ON FOOT OR BY BIKE
Hiking and walking trails abound throughout the Blue Ridge Parkway National Park. From a simple quarter mile stroll around Mabry Mill to a strenuous 10.9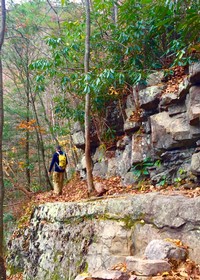 loop hike through the Rock Castle Gorge, there is a trail for everyone to enjoy. Hiking areas include the Rocky Knob Recreation Area with three trails that can also be mixed and matched for the desired distance.
The Picnic Trail is an easy one mile loop starting at the Rocky Knob Visitors Center. For a little more distance, try The Black Ridge Trail at 3 miles, looping from the Rocky Knob Visitors Center. And for the dedicated hiker, the Rock Castle Gorge Trail is a 10.9 mile hike that offers long distance vistas, a boulder field, waterfalls and streams, and spectacular fall foliage from a variety of trees. Information about these hikes are available on the Blue Ridge Parkway app or on the National Park Service website.

14.5 miles north on the Blue Ridge Parkway in Floyd County, visitors will find the Smart View Recreation Area. This is a lovely place to picnic or to enjoy the 2.6 mile loop hike with its panoramic view of the Piedmont below. If you want to see Floyd County's highest peak, drive over to the Buffalo Mountain Nature Preserve. A short one mile hike up Buffalo Moutain gives visitors a vast overview of the entire region from 3,971 feet above sea level and an unsurpassed view of the ocean of fall color in the valley below.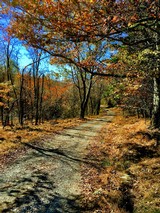 For something a little different, take a walk around Chateau Morrisette's estate. Sitting atop 38 acres, Chateau Morrisette's behind-the-scenes is waiting to be discovered. From almost anywhere on the estate, you will encounter scenic vistas unlike any other. The international restaurant dining platform Open Table named Chateau Morrisette as having one of the top 100 restaurant views in America. It's just that awesome! You might want to grab a bottle of wine and a couple of glasses and take a stroll with someone special down to the vineyard. It's about one-half mile along a shaded, gravel road (shown left). Once there, visitors discover over 13 acres of recently harvested grape vines, with views across the southwestern mountain slope. Find your spot among the vines and enjoy some wine away from all the others. It's a piece of heaven. Oh, and if you see a grape we left behind, it's all yours!

And if biking is more aligned with your interest, there are plenty of opportunities for that as well. People come from all over the world to bike along the Blue Ridge Parkway. It's the perfect opportunity to take your time, climb at your own pace, and enjoy the beautiful colors of autumn. The downhill ride is a lot of fun too! Biking along the backroads is also a worthy venture. There are a number of routes waiting to be explored. Cycle Floyd has rides from 2.6 miles to 27 miles already mapped out to make autumn biking as simple and as beautiful as possible. You can pick up a printed map at the Floyd Visitor Center or download it from the Cycle Floyd website.

STANDING STILL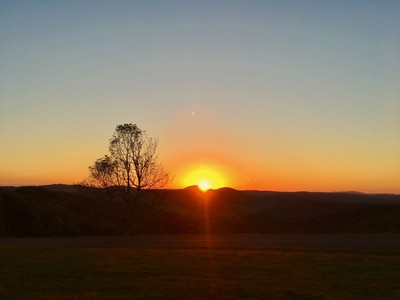 Fall colors are not limited to the trees. If you have the time, don't miss an autumn sunrise or sunset from the Blue Ridge Parkway. The color of the sky is resplendent in deep oranges, reds, and purples. It's a photographer's dream come true. Find an open pasture with silhouetted livestock to take the perfect photograph. The morning and evening light makes the trees shimmer in rich colors, the grasses a faint autumn green, and the shadows long and sinuous.

Perhaps you just want to sit back, relax, and take in the sunset. The Chateau Morrisette Restaurant has outdoor seating looking to the northwest and providing incredible views of the autumn sunsets. Open for dinner on Friday and Saturday evenings, Chateau Morrisette is the perfect location to enjoy some wine and a meal while watching the sun set over the mountains and valleys below. If the weather should be too cool to sit outside, then take a seat by the window and enjoy the warmth of the fireside dining rooms.

In early October, the sun will set around 7pm with twilight lighting thirty minutes on either side of the sunset. By the end of the month, the sun will set around 6:25pm. To check the times for sunrise and sunset in October, visit Sunrise-Sunset for times all along the Blue Ridge Parkway.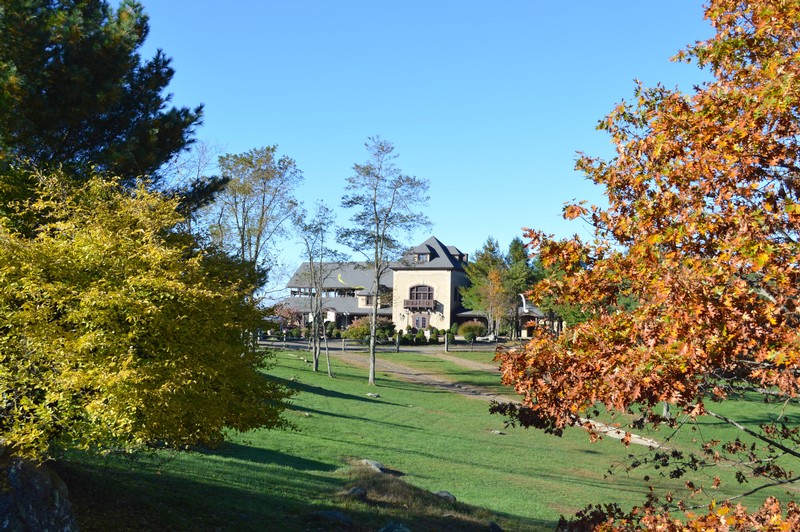 CHATEAU MORRISETTE IN THE FALL
During the month of October, thousands of visitors will travel the Blue Ridge Parkway to enjoy leaf peeping and all the fall foliage. Chateau Morrisette provides as oasis along the way where visitors can stop in, take a break, get something to eat, use the rest room, tour the wine cellar, and enjoy some wine while taking in our fifty mile view across the valley. Both the winery and the restaurant are open every day of the month. The Restaurant serves lunch from 11-2 Monday through Thursday, 11-4 Friday and Saturday, and brunch from 11-3 on Sunday. Dinner is offered Friday and Saturday from 5PM until 9PM. The Winery is open for tours, tastings, and shopping Monday through Thursday from 10AM-5PM, Friday and Saturday from 10AM-6PM, and Sunday from 11AM-5PM. Live music and a light food service is offered every Sunday on the Winery Courtyard. Chateau Morrisette is pet friendly.

While we hope you will enjoy a meal at Chateau Morrisette, we also allow you to bring a picnic with you. NO OUTSIDE ALCOHOL ALLOWED by Virginia law. There are three private gazebos available first come first served and a limited number of tables and chairs are provided under the tent on the courtyard. Or you can bring a blanket and find a secluded place on the estate to enjoy your meal. But hey, it's much easier just to make a reservation in the restaurant and let Chateau do all the work. Here's some links you might find helpful:

Wine Tastings and Tours take place everyday in our Tasting Room


Restaurant Menus change seasonally. Take a look at all of our menus, lunch, dinner, brunch, dessert, even the current wine list!

Restaurant Hours also change seasonally. June through October is prime season along the Blue Ridge Parkway.

Reservations are important to make sure you're not waiting too long for a seat. While not required, they are strongly recommended. You may also make reservations by calling +1-540-593-2865.

Sunday Sounds is our live music offering every Sunday. Enjoy a variety of genres from jazz to blues to folk and Appalachian Roots music.

Nearby Attractions abound. Historic sites, outdoor recreation, and other wineries just to name a few.

Lodging accommodations are varied and in high demand during fall foliage season along the Blue Ridge Parkway. Book early.

Directions to find Chateau Morrisette Winery and Restaurant.


Enjoy your visit to the Blue Ridge Parkway of Virginia and we hope you will include Chateau Morrisette while you're here.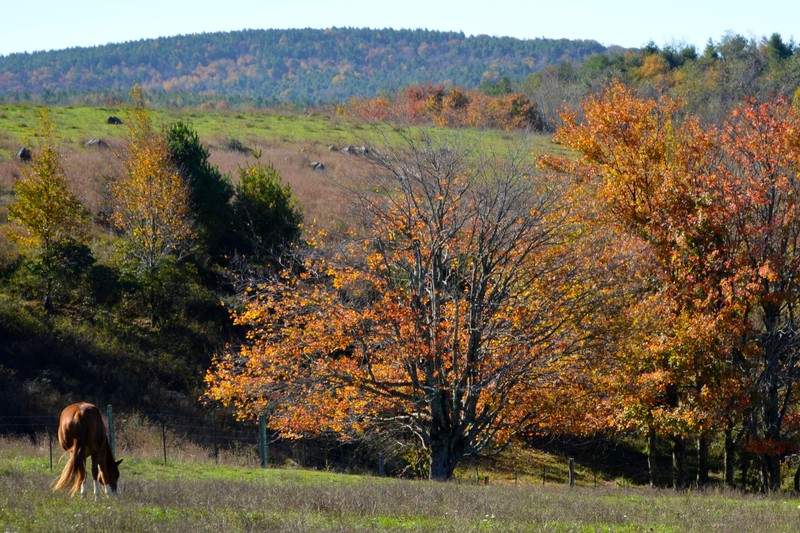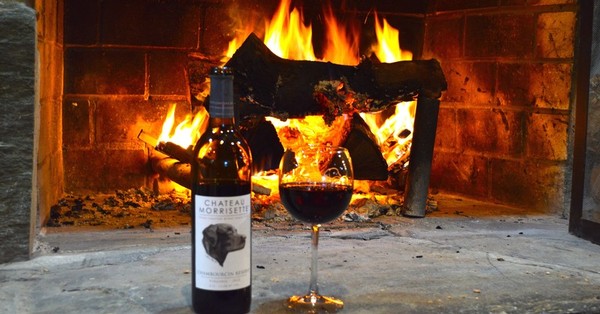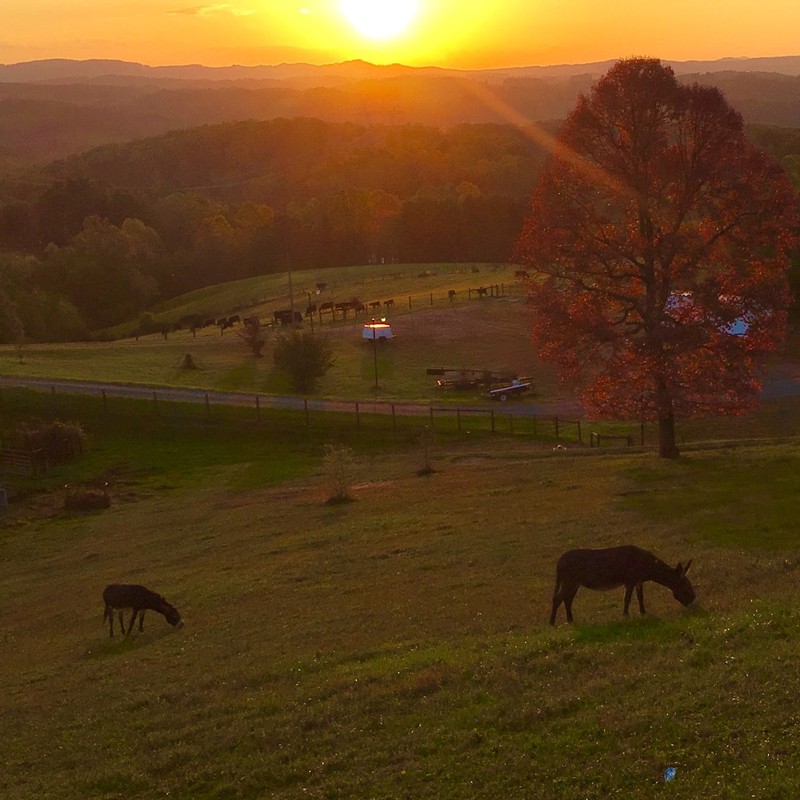 Photography ©Keith Toler, ©Shannon Atkins, ©Chateau Morrisette
Used with Permission


Chuck Blethen is the host of the "The Mountain Grapevine" radio program – about all things grape & wine in the mountains
wART 95.5 FM radio Thursdays at 1PM EST, encore broadcast at 6PM every Sunday. On the Internet broadcasting worldwide at www.WartFM.org. WART is located in Madison County, North Carolina not far from the City of Asheville.

The interview with David Morrisette first aired on June 29, 2017. Listen to the interview here: RADIO INTERVIEW WITH DAVID MORRISETTE


Read Nisa Cochran's article on line at Savor Virginia Magazine.
Chateau Morrisette in Floyd, Va. is one of the oldest and largest wineries in the state, first opening in 1978 and attracting wine and food lovers ever since. The winery produces more than 75,000 cases of quality wine a year, distributes to nine states and overseas and offers an AAA Four Diamond restaurant with scenic views.
Chateau Morrisette's Vin Gris is a beautiful summer wine made from a blend of Cabernet Sauvignon, Cabernet Franc, Merlot, Petit Verdot and Chambourcin. Vin Gris is made through a method known as saignée, which translates in French to "bleeding" as the red wine gets all of its color and most of its flavor from contact with the skins during fermentation. To concentrate flavor, aroma and color in their red wines, Chateau Morrisette increases the amount of skins in their tanks while "bleeding" off the rose-colored juice.
Vin Gris is best served chilled and pairs well with cheese-based dishes, with tasting notes of raspberry, peach and strawberries with a crisp and fruity finish. It's an enjoyable wine ideal for sipping on during summer days. For a perfect pairing, try the Vin Gris with this Apple Butter, Bacon and Brie Grilled Cheese Recipe:
Apple Butter, Bacon and Brie Grilled Cheese
Prep time: 10 minutes
Cook time: 5 minutes
Total time: 15 minutes
Ingredients
2 thick slices artisan white bread
2 thin slices Brie cheese, rind cut off
2 slices bacon, cooked
1 tablespoon apple butter
Butter, as needed
Instructions
Cook bacon till crispy, and then set aside.
Butter one side of each slice of bread.
In a large pan, place one slice of bread, butter side down. Top with apple butter, brie cheese and cooked bacon. Then, top with the second slice of bread, butter side up.
Over medium heat, cook for about 2½ minutes on each side of the sandwich, until bread is golden brown and the cheese is fully melted.
Serve with a glass of Chateau Morrisette Vin Gris Dry Rosé.

The May/June issue of @Livemore magazine features an article about Chateau Morrisette and why DC and Northern Virginia commuters should visit us here in Southwestern Virginia. To see the complete article, click here: READ CHATEAU MORRISETTE ARTICLE
Chateau Morrisette is located along the Crest of Virginia's Blue Ridge Mountains at milepost 171.5 of the scenic Blue Ridge Parkway. Just an hour off I-81 (exit 114), Chateau Morrisette Winery is open daily for cellar tours, wine tastings and shopping. Wine educators will entertain and educate you about the diverse selection of Chateau Morrisette wines, from dry varietals to sweet blends, along with four very popular fruit wines. Tastings last about 20 minutes and cost $10 per adult. Cellar tours are offered at specific times throughout the day.
Guests visiting Wednesday through Sunday can enjoy locally sourced, contemporary Appalachian cuisine at the Chateau Morrisette Restaurant, located adjacent to the winery. Ranked by Open Table as having one of the top 100 restaurant views in America, the Chateau Restaurant offers casual fine dining in a rustically elegant setting. Terrace dining is available when weather permits, and during the cooler months, there are three wood-burning fireplaces for an even more romantic dining experience. Executive Chef Mitchell Sheppard changes the menu seasonally to take advantage of the fresh produce grown on the estate and by a local network of farmers. The current menu consists of grass fed beef, Virginia and North Carolina seafood, poultry, pork and dairy from nearby farms; each course comes with a suggested wine pairing.
Looking for special events and exciting adventures? Chateau Morrisette is well known for its wine dinners, summer music festivals, outdoor recreation events, and more. From June through October, there are free concerts every Sunday on the winery courtyard, with a featured jazz band every first Sunday. Over Memorial Day Weekend, a limited number of guests will enjoy dinner with the winemaker, along with a special menu designed by Chef to showcase the very best Chateau
Morrisette wines. In July, the Black Dog Summer Music Festival features Americana Music. Beth McKee delivers fiery-sweet, deep southern grooves, and Austin soul ensemble Mingo Fishtrap heats up the dance field with horn-driven rhythm. Beach Music comes to the mountains in August for the Black Dog Beach Music Festival. Steve Owens and Summertime open the festival, with the Dancing Chicken Band at mid-day, and an afternoon performance from Carolina Beach Music legends the Entertainers. In September, guests have an opportunity to work in the vineyard and make some wine for a half day, spend some time with plein aire painters, or have an early Oktoberfest with the Wine, Beer and Brats festival. There is always a good time to be had at Chateau Morrisette.
When the summer humidity along the Potomac becomes oppressive, a visit to Chateau Morrisette and Floyd County, Virginia is just the ticket to beat the heat. While in the area, don't miss the world famous Friday night Jamboree at the Floyd Country Store, or stop by and sample some moonshine at Five Mile Mountain Distillery, craft beer at Buffalo Mountain Brewing, cider at Foggy Ridge, or even meade at Black Snake Meadery, all located within minutes of Chateau Morrisette. Hiking, rafting and other outdoor adventures are available nearby. Lodging packages are available on the website and include mountain cabins, quaint bed and breakfast inns, hotels, and cottages. For more information, visit www.thedogs.com.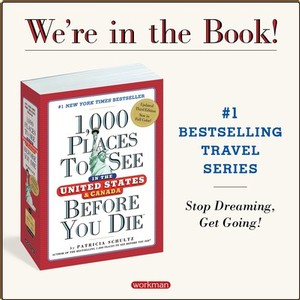 First published in 2003, Patricia Schultz's 1000 Places to See Before You Die changed the face of travel publishing. Equal parts wish-list and practical guide, it spent 85 weeks on the New York Times bestsellers list and quickly became the #1 bestselling travel book of all time.
1000 Places To See In the United States and Canada Before You Die came next, inspiring the same burning spirit of wanderlust through a bucket list covering our own 50 states and northern neighbor. It too became an instant bestseller and together, the 1000 Places books have 4.26 million copies in print.

Chateau Morrisette is featured prominently in the section describing the Blue Ridge Parkway and we could not be more pleased to be counted among the prestigious places included in this edition of such a popular travel book. Click here to see our listing in 1000 Places To See In the United States and Canada Before You Die

CLICK HERE TO WATCH NEWS SEGMENT.
FLOYD (WSLS 10) – When it comes to the Virginia wine industry, the glass is half full. Virginia wine and cider sales reached a new record high as w [WINE] ine sales increased by 2 percent from last year and nearly 26 percent from five years ago.
Meanwhile, cider sales saw an impressive 200 percent growth within the last year.
Last year, Virginia wineries sold more than a half million cases; 10 percent of which were made at Chateau Morrisette.
Keith Toler, Director of Marketing at Chateau Morrisette says the trend reflected in their business.
"We also see growth here at Chateau Morrisette, so we knew we were part of that trend," Toler said.
[Three new flavors of cider launch this weekend.]
Three new flavors of cider launch this weekend.
Brian Smyth is behind all 29 flavors of wine there.
He said the Virginia wine industry has changed since he left the U.S. to train as a winemaker.
"When I left, there were just under 200 wineries. Now there is just under 300, which is a huge increase in just a short number of years," Smyth said.
He says with more competition, comes better wine and new opportunities to stand out.
"For us at Chateau Morrisette, that means that we are trying to diversify our products."
They have the capabilities, so he says it only made sense to start making one of the most in-demand drinks.
"The growth in the cider industry, as well as the craft beer industry, has just been explosive across the country," Toler said.
The cider business is doing so well in fact, that Chateau Morrisette has decided to incorporate it into their business. This weekend, they are launching their first line of cider.
[CIDER] The line includes three flavors, one regular and two inspired by current wines.
"You see what's happening right here in our region with new breweries coming in, new cideries coming in so we wanted to be part of that. We wanted to be part of that growth and part of that excitement. And that's why we decided to test the waters with ciders," Toler said.
We got an exclusive look at the first batch of ciderworks.
Ultimately, it will be up to the customers this weekend if these recipes will make the cut for mass distributions.

Posted: Tuesday, June 21, 2016 5:13 pm
By Yann Ranaivo yann.ranaivo@roanoke.com 381-1661
After more than three decades of offering wines, Chateau Morrisette plans to soon add cider and eventually craft beer to its palette.
The family-owned Chateau, located south of Floyd off the Blue Ridge Parkway, is slated to begin serving its own three ciders in August in an effort to meet growing interest in craft beverages.
The winery, a regional wine tasting destination since it opened in 1982, has also filed for a beer license with the Virginia Department of Alcoholic Beverage Control as part of long-term plans to establish its own brewery.
"We've seen the growth and popularity of cider and craft beer. Growth in those products have been exponential over the past couple of years," said Chateau spokesman Keith Toler.
Much of the growing interest in craft beverages is being pushed by millennials — a roughly defined demographic group of adults aged between 20 and 40 years old — "who want to experience new products, new tastes and new flavors," Toler said.
"Honestly, we feel that if someone enjoys cider, they might move to sweet wines and upgrade their palate to higher-end wines," he said.
Chateau began considering a brewery operation last year, but the infrastructure to make and sell beer is still another one to two years away, Toler said.
"It hasn't been on the front burner. The cider opportunity appeared, so we decided to go with the cider route first," he said. But "you see the popularity of craft beer now, and we just felt it was something we needed to look at."
The winery's beer license application, which is still pending, was filed in February 2015.
It created a company called Chateau Morrisette Cider Works to represent its cider operations, and it plans to start its offerings with 3,200 12-ounce bottles of each kind of cider: a cherry ginger cider, a chai cider and barrel-aged dry cider, each with an alcohol content of no higher than 7 percent.
The ciders will be made with apples picked from the Silver Creek Orchards in Nelson County.
Chateau will exclusively sell and sample its ciders on site before determining if it wants to roll the beverages out on a much larger scale. Toler said the winery is in discussions about potential cider distribution.
Although the ciders themselves will be made at the winery, the bottling and carbonating will occur at Chaos Mountain Brewing in Franklin County.
The number of operating breweries in the U.S. grew by 15 percent in 2015 to 4,269 breweries, according to the latest report from the Brewers Association, a trade group that represents small and independent American craft brewers. The group described that number of breweries as "the most at any time in American history."
The Brewers Association also described the South as one of the fastest growing regions, noting Virginia as among the four states that each saw a net of increase of more than 20 breweries.

Natalie Soucie, host of Day Time Blue Ridge on WSLS 10 in Roanoke, Virginia visited Chateau Morrisette and spoke with our Events Director, Sally Truslow to learn all about The Black Dog Jazz Festival on July 9, 2016. Sally told her about the musical artists performing for the day, including saxophonist Grace Kelly, swing music by Wally West's Little Big Band, and the Mike Floyd Jazz Trio. Click here to view the 4 minute segment that ran on Wednesday, July 6th. VIEW VIDEO

Mark Squires reviews Chateau Morrisette's 2015 Petit Manseng for Wine Advocate.
The 2015 Petit Manseng actually has 10% Chardonel and 3% Viognier added. It comes in with 32 grams per liter of residual sugar and 13% alcohol. This was not here in time for our large focus article on Petit Manseng (April 2016), but as always, coverage is ongoing. The debut release for this brand, this is a nice first effort in a drier style. Only modestly concentrated, mingling a touch of grapefruit with peach, this is a tight and focused wine on first pour, but it does open and become more expressive with air. It also tails off a bit on the finish at that point. It always tastes great, though. This is a great style to use as a food wine with some cheeses, but it is tasty enough, light enough and fresh enough so that it will work better on its own in summer heat.
Rating: 87 points
Price: $29
Drink Date: 2015 - 2022
Reviewed by: Mark Squires
Date tasted: 13th Apr 2016
Source: 225, The Wine Advocate

Lindee Katdare, host of Daytime Blue Ridge on WSLS TV 10 came out to Chateau Morrisette to get a preview of all the activities. She had an opportunity to shoot skeet in our vineyard and get information about all the activities, including horseback riding, the Vine Wined 10K, skeet shooting, Kayaking on the Little River with On the Water Floyd, the wild game restaurant specials, and the live music on Saturday and Sunday.

It's a 4 minute segment. Click here to view it on DAYTIME BLUE RIDGE
Details for the event can be found on the calendar at THEDOGS.COM
You know you want to
Sign Up For Our Newsletter
Keep up to date on the latest wine releases, events, and promotions.