The Black Dog Blog
Chateau Morrisette is among the oldest and largest wineries in Virginia. The award-winning restaurant has a 95% recommendation rate on OpenTable. With fresh vintages, flavors, and events at the winery, restaurant, and vineyard, we will keep you abreast of all the great happenings and the people who make up Chateau Morrisette Winery and Restaurant in this blog and through our social media pages Facebook and Instagram.


Savoring the Experience of Slow Food
The Blue Ridge unfolds vibrantly in the spring, and Chateau Morrisette Winery and Restaurant renews with the same vibrancy. With fresh vintages from the cellar and fresh dishes from the kitchen, the winery and restaurant that have grown and flourished in Floyd County's southern corner for over thirty years greet 2016 in full bloom. The winery's Vin Gris rosé was the first vintage off the bottling line in 2016, and bottling is now in full swing, with twenty-two wines currently on offer at their mountaintop tasting room.
Having started as a local single estate winery, it's only natural that Chateau Morrisette has embraced the budding farm to table movement in its restaurant offerings.
Farm-to-Table Begins in the Ground
Matt Sanders, Head Gardener for Chateau Morrisette, in close collaboration with Executive Chef Cooper Brunk, says that plans for this year's kitchen and estate gardens represent an evolutionary step from previous years.
"The estate garden is a half acre under active cultivation within the full acre plot," says Sanders. "There are no synthetic applications to the garden aside from fertilizer. We use both organic mulches and plastic sheeting to prevent erosion and suppress weeds, which we complement with timed cultivation techniques to limit soil loss." The gardener, marking his second year in the lead role with estate crop production, says that a year round approach brings benefits to the main growing season. "Cover crops rotated into fallow space – including buckwheat, millet, and winter rye – condition the soil and support fertility, and daikon radishes help pull nutrients back up that have leached downward in the soil, to be used by following years' crops."
The estate garden is effectively protected by a ten foot tall deer fence that would be the envy of most local gardeners, but neither the estate garden nor the kitchen garden are immune to a pest well known to Appalachian growers: "Flea beetles typically don't kill our greens, but they can affect the leaf presentation, which is important on the plate," says Sanders. "We can usually limit their effects to tolerable limits with extensive use of row covers. Even though the botanical controls we use like neem or pyrethrins break down quickly without residue, we still like to use them only when necessary." Sander's holistic approach in planning the garden embraces not only what goes into the soil, but the destination of the produce that comes out: Chateau Morrisette Restaurant's tables.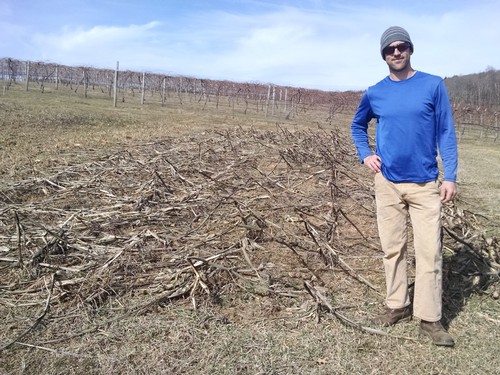 Let the Dish Lead the Planting
Sanders is supporting Chef Cooper's intent to "let the dish lead the planting" by planting a greater variety of crops, with more successional plantings. This will keep ingredients and menus fresh throughout the season and provide manageable amounts for the kitchen to staff to work with, though Sanders notes that previous years' surpluses haven't been wasted: "We sold corn and tomatoes locally and still managed to have some left over for local food banks."
While there will be some bulk staples grown that the restaurant will make frequent use of – onions, potatoes, winter squash, and leeks – the broader variety is evident in the gardener's notebook: early spring carrots, radishes, turnips, broccoli, cabbage, leading into later plantings including beets, kale, purple mizuna, and micro greens.
Chef Cooper is excited to introduce to the estate garden a crop that has only recently begun to be cultivated anywhere: kalette, a traditionally bred (non-GMO) cross of kale and Brussels sprouts. The plant grows tall and produces florets like Brussels sprouts, but instead of having tiny heads, the florets yield loose tufts of leaves. Brunk notes the flavor is less piquant than Brussels sprouts but still richer than kale. Such a cross of flavors reflects the hybrid approach that the chef is bringing to the Restaurant at Chateau Morrisette.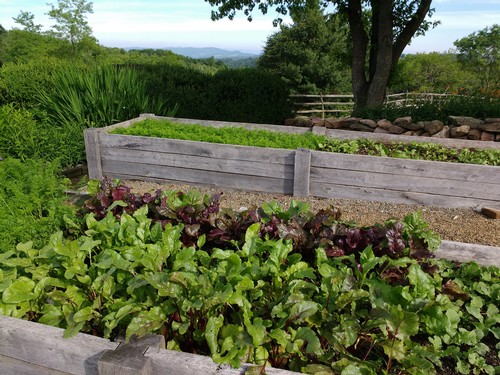 Appalachian-French Fusion
Chef Cooper joined Chateau Morrisette in October last year, bringing training in classical French cuisine from his graduation with highest honors from the Culinary School of the Rockies and experience in fine restaurants in France, Colorado and Tennessee. A past "Best Menu" winner for the Flavors of Nashville competition, he is the author of a specialty cookbook as well. Previously, he served as chef instructor, private chef, and executive chef and was restaurant owner of Cooper's on Porter in Nashville.
Brunk says his first menus at Chateau Morrisette "were both training menus for the kitchen staff and transition menus for the restaurant's loyal patrons." Such a transition was necessary, he says, so that his classical French influences could be sampled and appreciated without leaping too far from the more purely American Southern style the restaurant had been known for. Using estate grown, local, and regional ingredients in his custom French dishes, Chef Cooper creates a style he says might best be described as "Appalachian-French fusion."
Brunk is eager to point out that while American Southern cuisine traces lineage from the French Provençal style, with both deeply shaped by fresh, seasonal ingredients, his new menu, introduced in April, "really takes the menu up a notch" in creating a full range of French cuisine, from Provençal to haute. Such an array embodies the Chateau Morrisette identity of rustic elegance, with dishes like the crawfish ragout showing off the more rustic influences, while "the beurre blanc sauce, served with tenderloin, and the foie gras fondue, are definitely dishes in the more refined French haute (high) style."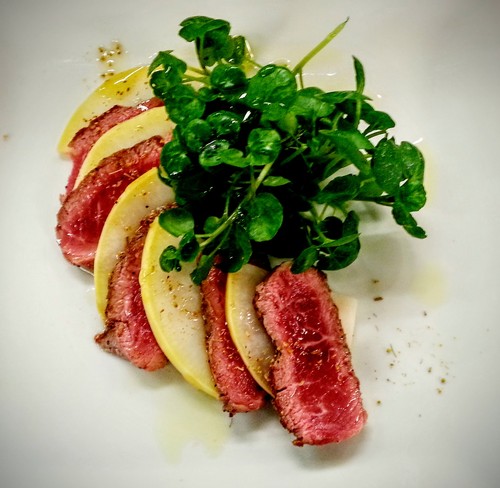 Inspiring Positive Vibes and Passion for Flavor
High style leaves plenty of room for a human touch in Brunk's kitchen. He's pleased to note that in his time here, he's seen a refreshed kitchen crew building into a cohesive team. "There's a positive feel in the kitchen, and those good moods translate to the food that comes to the table." The connections among staff, guests, the foods prepared and shared, and the land that nurtures the ingredients are essential to this Appalachian-French fusion. Chef Cooper sees such connections throughout Chateau Morrisette Winery and Restaurant, and offers as an example seeing kitchen staff like sous chef Rick Caviness committed to honing their craft in the kitchen as well as lending a hand in the estate and kitchen gardens. Brunk observes, "It inspires passion to take care of your ingredients when you pull them out of the ground yourself."
You know you want to
Sign Up For Our Newsletter
Keep up to date on the latest wine releases, events, and promotions.