The Black Dog Blog
Chateau Morrisette is among the oldest and largest wineries in Virginia. We also operate an award-winning restaurant with a 95% recommendation rate on OpenTable. With fresh vintages, flavors, and events at the winery, restaurant, vineyard, and festival field throughout the year, we will keep you abreast of all the great happenings and the people who make up Chateau Morrisette Winery and Restaurant in this blog and through our Facebook, Instagram, Twitter, and Pinterest sites.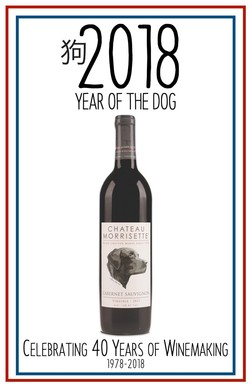 YEAR OF THE DOG MARCH WINE SALE
As part of Chateau Morrisette's year long 40th anniversary celebration, the winery will make two of our most distinctive varietals available for a limited time at 40% off. Viognier and Merlot normally retail for $33.99 and $28.99 respectively. During the month of March, these wines will be available for $20.39 and $17.39 in our Tasting Room and in the Restaurant. Online, the wines are slightly higher at $20.99 and $17.99. Chateau Morrisette can now ship to 32 states all across the country.
About these wines:
Merlot
Tasting Notes
Aromas of fresh cherries, dark chocolate, and a hint of white pepper. Soft and approachable on the palate, with a refreshing acidity, cherry notes, and a touch of dark chocolate.

Awards
Bronze Medal: 2016 San Francisco Chronicle International Wine Competition • Bronze Medal: 2016 Finger Lakes International Wine Competition

Production Notes
100% Virginia

Food Pairing Notes
Pairs well with most tomato-based Italian dishes or even with simple hamburgers off the grill. For a sweeter experience, try with your favorite dark chocolate.

Production
This Merlot was grown in eastern Virginia and our cellar crew still remembers this specific lot of fruit because it was of such high quality. The fermentation took place in open top stainless steel fermenters with two to three pump overs daily. Post press and malolactic fermentation it went to barrel for 14 months for aging prior to bottling.
Viognier
Tasting Notes
Aroma: tropical fruit and apricot. Palate: softly tannic, honeysuckle and passionfruit. Finish: lingering
Ratings
2015 Vintage: 88 Points - San Diego International Wine Competition

Awards
Gold Medal: 2017 Savor Virginia Wine Classic • Silver Medal: 2017 Virginia State Fair Wine Competition • Silver Medal: 2016 San Diego International Wine Competition • Bronze Medal: Wines of the South Competition

Vineyard Notes
The Viognier fruit used to make this wine was grown in Tyro, VA.

Production Notes
After pressing, this wine was first inoculated with a non-saccharomyces yeast strain to promote intense aromatics. Subsequently, it was inoculated with a standard saccharomyces strain to complete its cool, slow fermentation.

Winemaker Notes
Our 2016 Viognier offers a perfumed nose of tropical fruit and apricot which is complimented by a softly tannic palate reminiscent of honeysuckle and passionfruit. All of these wonderful flavors linger on the palate.

Food Pairing Notes
grilled seafood topped with peach salsa


Savor our annual Winemaker's Dinner, five courses of delectable dishes specially paired with a wine for each course. Our winemaker will interpret the wine pairings, talk about new wines in the cellar, and entertain any wine questions you may have. Bring friends or make new ones in a fine wine and dining experience at Chateau Morrisette.
Dinner service begins 6p. $95 per person includes wine, tax, and gratuity. Prepaid reservations required. No refunds for this event.

MENU
Viognier (pre-seating)
Appalachian Cheese (Galax, VA)
cranberry & red onion marmalade, pickles, crostini
Vin Gris
Cornmeal Fried Oyster
fennel, spinach, preserved lemon
Chardonnay
Pan-seared Sea Scallop
lemon risotto, crispy shallot
Chambourcin
Roasted Tomato & Red Pepper Soup
focaccia panzanella, radish, microgreens
Petit Verdot
Grilled Duck Breast & Leg Confit
quinoa, turnip, grapefruit, charred greens
Barrel Aged Cider
Dessert to be determined
Vegetarian alternatives available with at least seven days notice.


CHATEAU MORRISETTE CELEBRATES 40TH ANNIVERSARY
One of Virginia's oldest and largest wineries, Chateau Morrisette marks its 40th anniversary beginning in 2018. The 40th anniversary logo has been developed and plans are underway to commemorate the milestone throughout the year, including a commemorative wine glass, wine label, and a special anniversary party.
The winery's anniversary is a part of Virginia's winemaking history which can be traced back to 1609 and the Jamestown Settlement. Later, both Thomas Jefferson and George Washington's attempts to establish a viable crop met with failure. In 1873, a crop of Native American grapes met with great success at the Vienna World's Fair, but it was not until Chateau Morrisette and five other wineries opened in the 1970s did Virginia truly begin producing and marketing wines.
In 1978, Chateau Morrisette was known as Woolwine Winery. Started by William and Nancy Morrisette, their son David became the first wine maker. In 1981, the family adopted the name Chateau Morrisette and moved the winery to its current location along the Blue Ridge Parkway in Floyd County, Virginia. In 1983, the family was instrumental in securing the Rocky Knob AVA, Virginia's first designated American Viticultural Area. In 1985, Chateau Morrisette began wholesale distribution, partnering with Blue Ridge Beverage in Salem, Virginia, to place its Virginia wines on store shelves throughout Southwestern Virginia. By 1999, Chateau Morrisette expanded its production facilities to 32,000 sq. feet and a tank capacity of 130,000 gallons.
Today, forty years since its inception, Chateau Morrisette is still owned and operated by the Morrisette family. David Morrisette is no longer the winemaker but now serves as the President and CEO. His children are now working in various capacities at the winery, making Chateau Morrisette a third generation Virginia winery. Distribution has expanded from humble beginnings in southwestern Virginia to include retail outlets in seven states and direct-to-consumer shipments to customers in over thirty states. Commercial wine production has grown from 2,000 gallons in 1982 to over 130,000 gallons today. Chateau Morrisette is poised to continue its growth well into the next forty years.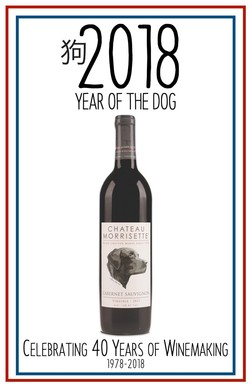 You know you want to
Sign Up For Our Newsletter
Keep up to date on the latest wine releases, events, and promotions.