The Black Dog Blog
Chateau Morrisette is among the oldest and largest wineries in Virginia. The award-winning restaurant has a 95% recommendation rate on OpenTable. With fresh vintages, flavors, and events at the winery, restaurant, and vineyard, we will keep you abreast of all the great happenings and the people who make up Chateau Morrisette Winery and Restaurant in this blog and through our social media pages Facebook and Instagram.

Many of our patrons know that almost any day is a good day to drink wine, but to celebrate official National Drink Wine Day, February 18, we are offering Buy One Get One tastings in our Tasting Room February 13 - 28, 2017. Try something new, or bring a friend to try one of your favorites!
Print and bring the coupon below, or you can claim your BOGO tasting by emailing 'Drink Wine Day 2017 BOGO' with your full name to TRstaff@thedogs.com on your way here or while in the Tasting Room!


Wondering What to Do for Your Valentine this Year?
Chateau Morrisette has the answer!

WINE AND CHOCOLATE EVENT
Indulge in select Chateau Morrisette wines paired with sweet and savory chocolates and chocolate tinged amuse-bouches prepared by our culinary team and by select local and single-origin chocolatiers. Our Winemaker Brian Smyth will interpret the pairings with guests. Seatings available at 1PM and 5PM, Saturday, February 11th and at 2PM on Sunday , February 12th. The Wine and Chocolate Pairing takes place in the William Morrisette Room located above the Tasting Room at Chateau Morrisette.
$48 per person, includes wines, chocolates, taxes, and gratuities. Each seating is limited to 45 guests. Advanced reservations and pre-payment required. Event tickets may be purchased at THEDOGS.COM or by calling 540.593.DOGS.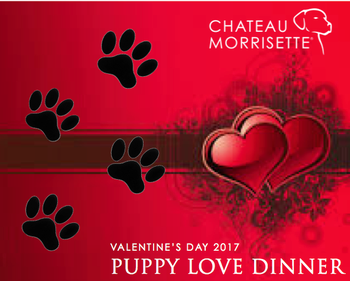 PUPPY LOVE VALENTINE'S DAY DINNER
Join us for a special, three-course, prix fixe menu with options for each course. Dinner seatings offered Tuesday, February 14th from 4PM through 8PM.
$99 per couple. Does not include wine, tax or gratuity. Ask your server about our special wine pairing option. Reservations are strongly recommended. Walk-ins are seated at the discretion of the manager based on service availability.

The Menu

First Course (Select 1)
Warm Salad of Blue Cheese stuffed Radicchio, Pomegranate Molasses, House Bacon Dust (GF) (MV)
Hearts Of Palm and Crab Fondue with Benne Seed Lavosh
Fried Gulf Oysters, Shaved Beets, Saffron Pickled Fennel, Horseradish Crema
Heirloom Radish Salad, Fresh Buttermilk Cheese, Brown Butter Vinaigrette, Preserved Lemon, Parsley (V)

Main Course (Select 1)
Roasted Painted Hills Beef Coulotte, Marrow Broth, Wild Mushroom, House Worcestershire, Duck Fat Roasted Fingerling Potatoes, Fermented Baby Carrots (GF)
Joyce Farms Chicken with Three Day Mole Sauce, Root Vegetable "Salsa", Smoky Sweet Potatoes (GF)
Seared Scallops, Bentons Ham, Blood Orange Gastrique, Parsnip Puree, Charred Tuscan Kale (GF)
Roasted Squash Ravioli, Grilled Mushroom Hash, Brown Butter and Grana Padano Broth, Crispy Sage. (V)

Desserts (Select 1)
Dark Chocolate "Cloud 9" Cake, High Road Coconut Sorbet, Passionfruit Caramel & Spicy Crunch
"Petits Bisous d'Amour" - Collection of Handmade Bite Size Petits Fours
Sugar & Spice Beignets, High Road Balsamic Fig Ice Cream, Cabernet Dulce
MAKE IT AN OVERNIGHT GETAWAY
Our Winter Wonderland Travel Package makes a great Valentine's Day Gift. Choose from over twenty preferred lodging partners. The package includes an $85 lodging voucher, an $85 Chateau Morrisette Gift Card which may be used in our Restaurant or our Tasting Room, a standard wine tasting for two with souvenir glasses, and a 20% off coupon for use in the Tasting Room. The package cost is $190.00.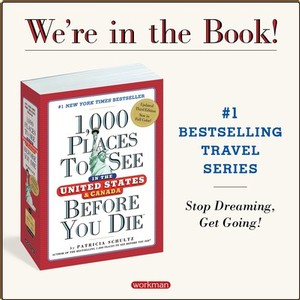 First published in 2003, Patricia Schultz's 1000 Places to See Before You Die changed the face of travel publishing. Equal parts wish-list and practical guide, it spent 85 weeks on the New York Times bestsellers list and quickly became the #1 bestselling travel book of all time.
1000 Places To See In the United States and Canada Before You Die came next, inspiring the same burning spirit of wanderlust through a bucket list covering our own 50 states and northern neighbor. It too became an instant bestseller and together, the 1000 Places books have 4.26 million copies in print.

Chateau Morrisette is featured prominently in the section describing the Blue Ridge Parkway and we could not be more pleased to be counted among the prestigious places included in this edition of such a popular travel book. Click here to see our listing in 1000 Places To See In the United States and Canada Before You Die

Results are in for the Harvest Challenge, 2016 Harvest Challenge, 2016 was a smashing success! The field of entries that were included: Hawaii to New York, down to New Zealand, and all parts in between. Our judges were truly some of the very best from all across the United States. We are pleased to announce the official results for the Harvest Challenge, 2016.Your standings are listed below. This judging promotes "wine to purchase for the Holidays!"
Wine Appellation Designation Price Award
2013 Chateau Morrisette Archival II Virginia Barrel Aged $19.99 Silver
NV Chateau Morrisette Chai Spiced Hard Cider Virginia $2.99 Silver
2014 Chateau Morrisette Chambourcin Virginia $19.99 Silver
NV Chateau Morrisette Cherry Ginger Hard Cider Virginia $2.99 Silver
NV Chateau Morrisette Hard Cider Virginia Barrel Fermented $2.99 Silver
NV Chateau Morrisette Sweet Mountain Laurel American $9.99 Silver
The awarded Best of Show winner was : Brian Arden Winery, Rose of Cabernet Franc, 2015 Napa CA Top wines received Best of Class by Category, Best AVA, and ultimately the Best of Show. The Brian Arden's Rose of Cabernet Franc was a stunning example of the "perfect" Rose. We wish to express our appreciation for your support of our wine competitions. Your medal should arrive in about six (6) weeks. We are very enthusiastic about the success of the Harvest Challenge, 2016 and look forward to seeing your entries next year Cheers! Wine Competitions Management & Productions

Wines of the South Competition is conducted by the Institute of Agriculture at the University of Tennessee. This year, there were 302 entries into the competition the judges awarded medals to 272 of these wines. Chateau Morrisette received medals for all six wines entered into the competition.

Sweet Mountain Laurel received Concordnace Gold which means all judged awarded this wine with a gold medal standing in it's catagory.

Our Dog Blue® received a Gold Medal.

Cherry Wine received a Gold Medal.

The Black Dog® received a Silver Medal.
2013 Cabernet Sauvignon received a Silver Medal.

2015 Viognier recieved a Bronze Medal.

Samples of these wines are available when visiting the Tasting Room.

WSLS in Roanoke put together two lovely spots letting folks know about our Christmas Weekends, which offer complimentary hors d'ouevres, tastings, and discounts in the Tasting Room gift shop. Our Holiday Wine Sale offers 20% off bottles and 30% off cases through the month of December.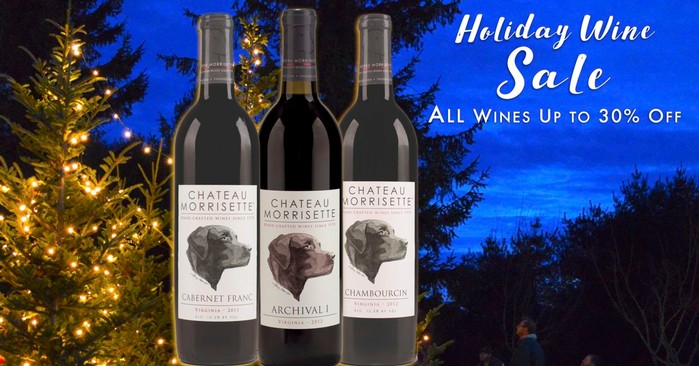 Looking for that perfect holiday gift for someone special or for a person who has been kind to you during the year? Look no further than Chateau Morrisette. Shopping in our Tasting Room or online has never been easier. Visit our Tasting Room Gift Shop for unique gift items like engraved wine boxes, apparel emblazoned with the Chateau Morrisette logo or one of our dogs, cork holders and cork art, locally made cutting boards and cheese knives, wine stoppers, cocktail napkins, and so much more. Visit our website and order wine or Morrisette Farms® food items to be shipped directly to you or to your gift recipient. We are legally able to ship wine to 32 states and the District of Columbia. We can ship Morrisette Farms®, gift cards, travel packages and other non-alcohol items anywhere in the country. You can read all about shipping by clicking on our Frequently Asked Questions (FAQ) on Shipping.
Wine Makes the Perfect Christmas Gift. Holiday Wine Sale Begins Black Friday.

Chateau Morrisette® wines are perfect for any palate. If that special person enjoys red wines, then consider one of our newest dry red varietal wines like 2014 Chambourcin or Cabernet Franc. There is still a limited supply of our very popular 2013 Cabernet Sauvignon, Merlot and Petit Verdot. If you're looking for a blended wine, don't overlook 2012 Archival I, 5 Red Grapes®, or our most popular off-dry wine The Black Dog®.

If white wines are more to your liking, then there are an equal number of delicious options from which to choose. Our latest Petit Manseng 2015 recieved 89 points at the San Diego International Wine Competition and a Platinum Award from Virginia Wine Lovers. Petit Manseng is a hybrid grape that grows very well in Virginia. Other white wine varietal grapes include Chardonnay, Chardonnay Reserve, Viognier and Vidal Blanc. If blended wines are more suited to your palate, don't miss the 2014 Nouveau Chien, also made with Petit Manseng, and the semi-sweet Our Dog Blue®. For something totally decadent, try our ice-style dessert wine, Frosty Dog®.

There is also a variety of Chateau Morrisette® sweet wines, including Sweet Mountain Laurel® and Red Mountain Laurel®, both made with grapes that do well at high elevation and are grown on the estate. The Orchard Series wines are very popular too. These sweet fruit wines include Blackberry, Cherry Wine, Sweet Mountain Apple, made with 100% Virginia apples, and our Farmhouse Sangria Red, made from a base of delicious Merlot wine.

Just in time for Christmas, these wines are made even sweeter by our Holiday Wine Sale. Beginning November 25th (Black Friday) and running through New Years Eve (December 31), all Chateau Morrisette® wines are offered at 20% off bottles and 30% off cases. You may purchase as much as you want from our Tasting Room but individual state laws determine how much we can ship to you. Please see our Shipping FAQs for specific information.
Still Not Sure What to Get? Try One of Our Sampler Packs.
A Chateau Morrisette Sampler pack is the ideal Christmas gift. It includes four bottles of wine and you can even add a gift message to the order. There is a sampler pack for every taste and every budget - sampler packs are marked down 10% everyday and 20% during the sale. Think that special someone might like some sweet red wines, try the Sweet Red Sampler Pack which retails for $49.96 before the sale price. Want sweet white wines, we've got you covered with the Sweet White Sampler Pack also at $49.96. If you're feeling experimental, try the Orchard Series Sampler Pack at $47.96 before the sale discount. Next up on the palate scale would be our dry wine samplers. The Dry White Sampler Pack goes from semi-sweet to very dry and retails for $72.96 before the sale. There's also a Dry Red Sampler Pack at $78.96 retail and includes an off-dry wine, two blends and a Cabernet Sauvignon. For the wine aficionado, aka the wine snob, the Top Tier Sampler is the perfect gift. It retails for $135.96 and includes some of our very best red and white wines.
Want To Give A Memory? Give the Gift of Travel.
Travel makes a wonderful gift. Everyone needs to get away for a long weekend or even a few days mid-week. Why not give the gift a travel with a Chateau Morrisette® Getaway Package. Choose a package that's just right for the season. Each travel gift recipient will receive vouchers for lodging for use with one of our preferred lodging partners along with a Chateau Morrisette® Gift Card, a wine tasting for two, and a coupon for 20% off purchases made in the Tasting Room Gift Shop, including wine. Our most popular package is our Winter Wonderland Package offering travel during the slower times when the mountains are chilly and there's time to relax by the fire. There is a Mountain Blooms Package for spring, a Summer Sunsets Package, and an Autumn Harvest Package too. Packages range from $190 to $199 each.

Everyone Likes to Eat. Morrisette Farms® Makes a Great Gift.

Morrisette Farms® offers a gourmet selection of pasta sauces, bruchetta, salsas and salad dressings. We ship Morrisette Farms® food items to all 50 states. Items include Spicy Sun Dried Tomato Bruschetta with Chianti, Black Bean and Corn Salsa, Creamy Parmesan Vodka Pasta Sauce, Herb Marinara with Malbec, Gorgonzola with Pear Dressing, just to name a few. You could make it a truly exceptional gift by pairing a favorite wine with one or two of these delicious food offerings.

Still Undecided? There's Alway a Chateau Morrisette® Gift Card.

Chateau Morrisette offers gift cards in the amount you want to spend. Let that special person on your Christmas list select a gift that's just right for them. Gift cards may be redeemed in the Chateau Morrisette® Tasting Room or in the Chateau Morrisette® Restaurant.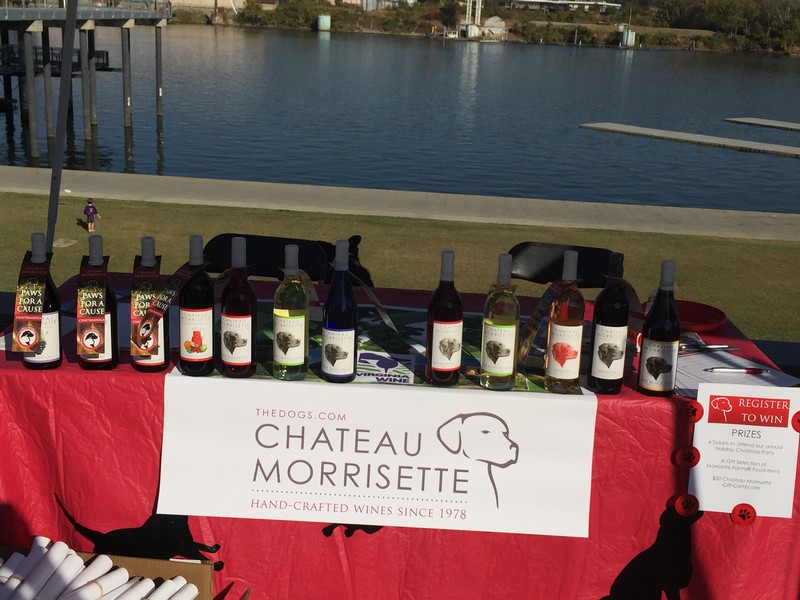 Chateau Morrisette wines are now available in Chattanooga, Tennessee. Working through our Distributor, Athens Distributing Chattanooga, we now offer wines through major grocery chain stores and independent wine retailers. In order to get the word out and to show we care about the people and animals in the Chattanooga area, we opted to partner with the Chattanooga Humane Educational Society to bring attention to their efforts to serve the community. Customers can look for our Paws for a Cause bottle tags at stores throughout the region. We hope everyone will give generously to the Chattanooga Humane Educational Society this holiday season.

Upcoming Paws for a Cause events

Chateau Morrisette has agreed to sponsor the Chattanooga Humane Educational Society events throughout the fall and holiday season. The picture above was taken recently at the Paws in the Park event, held Saturday, October 29th. According to Murray Levesque, Chateau Morrisette Tennesee Brand Manager, " People attending the event were thrilled to see Chateau Morrisette involved. Our distinctive dog on the label of our bottles, along with the Paws for a Cause bottle tag, was a natural tie in to HES." While local laws prohibited us from doing tastings in the Park, Chateau Morrisette gave away posters and allowed people to sign up for more information and to register to win prizes.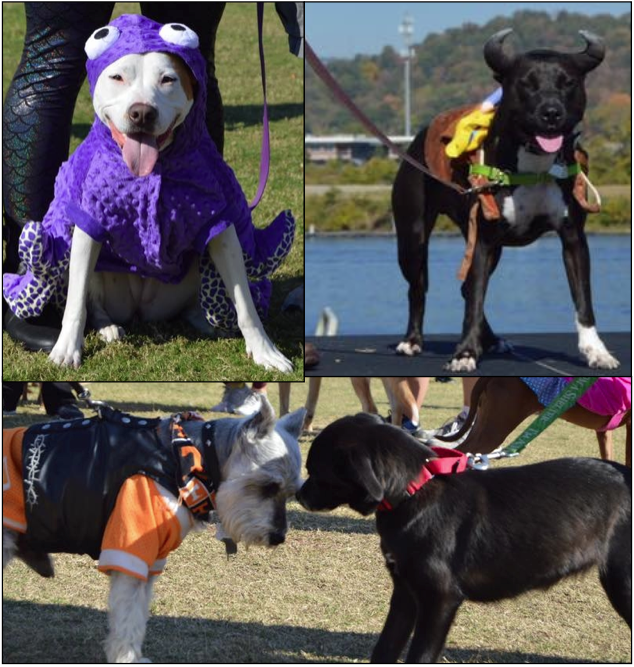 Later in the season, Chateau Morrisette and the Chattanooga Humane Educational Society will work together on additional events including:

Saturday, December 10 - THE MUTT STRUTT and CHRISTMAS TAIL 5K
Join the Humane Educational Society on Saturday, December 10th for the third annual A Christmas Tail in historic St. Elmo. The annual event is A Christmas themed 5K and 1 mile Mutt Strut benefitting the Humane Educational Society. Funds raised at the event will benefit the shelter's Special Needs Fund, which provides lifesaving surgery and medication as well as heartworm treatment to animals with treatable injuries and illness, giving them a second chance at a happy home and healthier life. The 5K and Mutt Strut are a fun way to support the shelter's mission to provide education and outreach to the community, medical services for needy animals, humane investigation, shelter for homeless animals, and strong adoption programs that ensure all adopted animals have safe and loving forever homes.

Sign up to participate at the Chattanooga Humane Educational Society website.
Read about the events in Natural Awakenings Magazine (Chattanooga).

SCHEDULED WINE TASTINGS IN CHATTANOOGA
(Check the website as we continue to add dates and locations) Click here.
November 4
5 to 7 p.m.
Ken's Liquors
6015 Dayton Blvd.
Chattanooga
November 11
4 to 7 p.m.
East Brainerd Liquors
7804 E. Brainerd Road
Chattanooga
November 11
4:30-7:30
Chattanooga Wine and Spirits
6925 Lee Hwy
Chattanooga, TN 37421
November 12
12 to 3 p.m.
Cork & Flask
222 Seqouyah Road
Soddy Daisy

November 18
5-7 p.m.
Hamilton Wine and Liquors
2288 Gunbarrel Rd
Chattanooga, TN 37421

VIRGINIA WINE FROM CHATEAU MORRISETTE AVAILABLE IN CHATTANOOGA
Chateau Morrisette has eight wines available throughout Chattanooga and major grocery chains and independent wine retailers. Featured wines include:
Our Dog Blue®, a Riesling and Traminette blended semi-sweet white wine
The Black Dog®, a semi-dry red blend made from five grape varietals
Sweet Mountain Laurel®, for southerners who like sweet, this is the sweet tea of the wine family
Red Mountain Laurel®, a red dessert wine, sweet and easy to drink
Blackberry, an apple wine with natural blackberry flavors, tastes like blackberry pie
Cherry Wine, made from 100% cherries from Wisconsin
Sweet Mountain Apple, made from 100% Virginia apples
Farmhouse Sangria Red, a Merlot based wine with added natural fruit flavors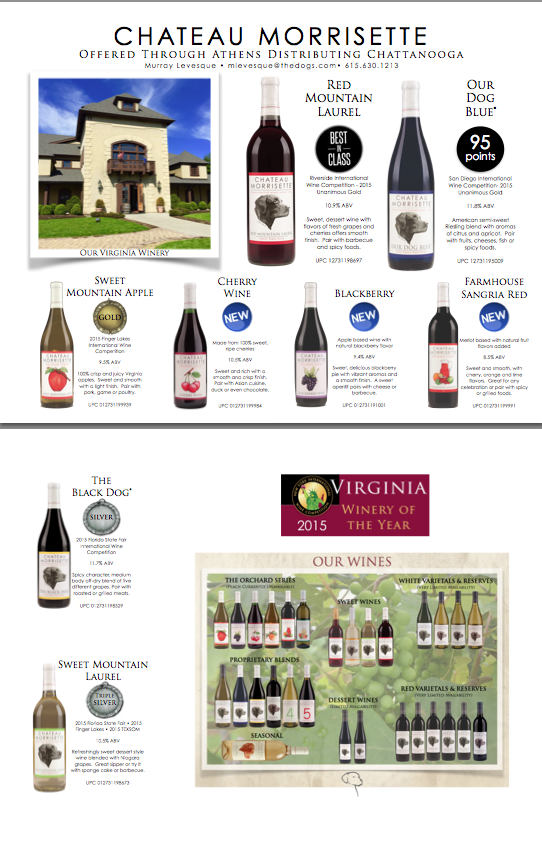 WE WANT CHATTANOOGA FOLKS TO VISIT US HERE AT OUR VIRGINIA WINERY
Chateau Morrisette is offering a prize drawing for a two night stay for anyone who signs up to receive future information from Chateau Morrisette. We want people to know what's going on at Chateau Morrisette throughout the year, from festivals, restaurant events, special tastings, and other fun things to do. All sweepstakes rules apply. Registration can be found by clicking to Chateau Morrisette Chattanooga.

It's the hottest ticket in town! Executive Chef Michell Sheppard and Sous Chef Ricky Caviness have created an exclusive dining event for forty lucky foodies. Held against the backdrop of a cozy fireplace and a private dining space, this five course meal will be presented personally by the chefs along with a description of each item and an explanation of what makes the dish unique and appealing. A Chateau Morrisette wine has been hand-selected to pair with each course. Guests learn about what makes each wine perfect with each course.
"I'm excited to have an opportunity to showcase the talents of our Culinary Team," said Executive Chef Mitchell Sheppard. "We will serve items grown on the estate by our gardener, Matt Sanders along with dessert items hand-crafted by our pastry chef, Chelsea Raby."

Sous Chef Ricky Caviness, is an expert on local farms. "I was able to obtain the duck and the rabbit from a local farm here in Floyd," said Caviness. "Add that to the beets and leeks we grew here on the estate and it's a truly locavore dining experience."

The Autumn Chef's dinner will also be the launch for our new vintages of Chambourcin and Cabernet Franc. Those attending the dinner will be some of the first to taste these two new 2014 vintages. Both wines aged in barrels for over 18 months and were bottled in June of 2016. Winemaker Brian Smyth will release them for sale in time for the Chef's Dinner.

Tickets for the Autumn Chef's Dinner are $95 per person, including taxes, gratuity, wine pairings, and a champagne reception prior to dinner. Tickets may be purchased by clicking this link for AUTUMN CHEF"S DINNER TICKETS.
Here is the menu as it stands today:
Champagne and Hors D'Oeuvres
served between 5:30 and 6:00
Jeweled Beet tartare, Cured Farm Egg Yolk,
Estate Flowers, Burrata Cheese
Paired with 2014 Chambourcin
Braised Rabbit, Creamed Leeks, Herb Dumplings,
Benne Seeded Carrots
paired with 2015 Viognier
House Made Duck Frankfurter, Mustards, Hard Cider
Braised Mountain Cabbage, Duck Fat Fries
Paired with 2015 Petit Manseng
Forever Cooked Beef Short Ribs, Foie Gras Gravy, Glazed
Kuri Squash, Farro Verde with Roasted Muscadines
Paired with 2014 Cabernet Franc
Chocolate Truffle, Brown Butter & Cracked Black Pepper
Ice Cream, Tobacco Caramel, Oak Crème Chantilly,
Gingersnap Hazelnut Crunch
Paired with 2012 Heritage
Wine Pairings subject to change

Chateau Morrisette will be the featured Virginia Wine this October 25th at Shula's America's Steakhouse in Richmond, Virginia. Guests can taste three Chateau Morrisette wines, 2012 Archival I, the 2014 Nouveau Chien, and the ever popular Our Dog Blue. For $7, guests can sample these three delicious wines along with special hors d'oeuvre offerings prepared by Shula's America's Steakhouse. The event takes place between 4:30PM and 6:30 PM, Tuesday, October 25th at Shula's located at 12042 West Broad Street in Richmond.

ABOUT THE WINES
Shula's selected three Chateau Morrisette wines for their customers to taste. Here is the background on each:

ARCHIVAL I
A vibrant bouquet of crushed rose petals and fresh roasted coffee give way to dark, black cherries and currants. Rich caramel notes lingered into a well-structured finish balanced spice & clove. Definitely a steak lover's choice (medium rare, please), yet hearty enough to stand next to baked lasagna or gorgonzola mushroom risotto.

Blend: 35% Merlot, 31% Cabernet Sauvignon, 24% Cabernet Franc, 10% Petit Verdot

Awards: Gold Medal - 2015 Virginia Wine Lovers Wine Classic • Silver Medal - 2015 Sommelier Challenge International Wine and Spirits Competition • Silver Medal - 2015 Florida State Fair International Wine Competition • Bronze Medal: 2015 San Francisco Chronicle Wine Competition • Bronze Medal 2015 Texsom International Wine Awards • Bronze Medal: 2015 Virginia Governor's Cup • Bronze Medal: 2015 Riverside (CA) International Wine Competition

2014 NOUVEAU CHIEN
This floral blend of Petit Manseng, Traminette, Chardonel, Chardonnay, and Viognier has a beautiful nose of honeydew melon and lemons. The palate is dry and crisp with a lively acidity through the finish. This wine pairs well with shellfish, crab cakes, and oysters. Best served between 50-55º F

Production: A small percentage of the wine was barrel aged in new oak barrels after fermentation for just a few months to add light toasted notes and lengthen the finish

Awards: Bronze Medal: San Francisco Chronicle International Wine Competition • Bronze Medal: 2016 Virginia Governor's Cup • Gold Medal: 2015 Virginia Wine Lover Wine Classic • Silver Medal - 2015 San Diego International Wine Competition • Silver Medal - 2015 San Francisco Chronicle Interntional Wine Competition • Silver Medal - 2015 TEXCOM (Dallas Morning News) International Wine Competition • Bronze Medal: 2015 Florida State Fair International Wine Competition • Bronze Medal: 2014 Atlantic Seaboard Wine Association

OUR DOG BLUE (non-vintage)
This popular white wine is a semi-sweet Riesling-Traminette blend, using Vidal Blanc for added depth. Aromas of melons, citrus fruits, apricots, and delicate flowers highlight the soft finish of this soothing wine. Serve chilled with fruits and cheeses, fish, or spicy foods.

Ratings: 95 Points 2015 San Diego International Wine Competition • 94 Points 2015 Winemakers Challenge International Wine Competition • 90 Points 2015 Critics Challenge International Wine Competition • 88 Points 2015 Beer and Wine Tasting Institute (Tastings.com)

Awards: Silver Medal: 2016 San Francisco Chronicle International Wine Competition • Platinum (Double Gold) Medal: 2015 San Diego Wine Competition • Platinum Medal 2015 Winemakers Challenge International Wine Competition • Gold Medal: 2015 Critics Challenge International Wine Competition • Gold Medal: 2015 Virginia Wine Lover Wine Classic • Silver Medal: 2015 San Francisco Chronicle Wine Competition • Silver Medal: 2015 Florida State Fair International Wine Competition • Silver Medal: 2015 Finger Lakes International Wine Competition • Silver Medal: 2015 Hilton Head Food and Wine Festival • Silver Medal and Best Buy: 2015 Tastings.com

PROMOTIONAL FLYER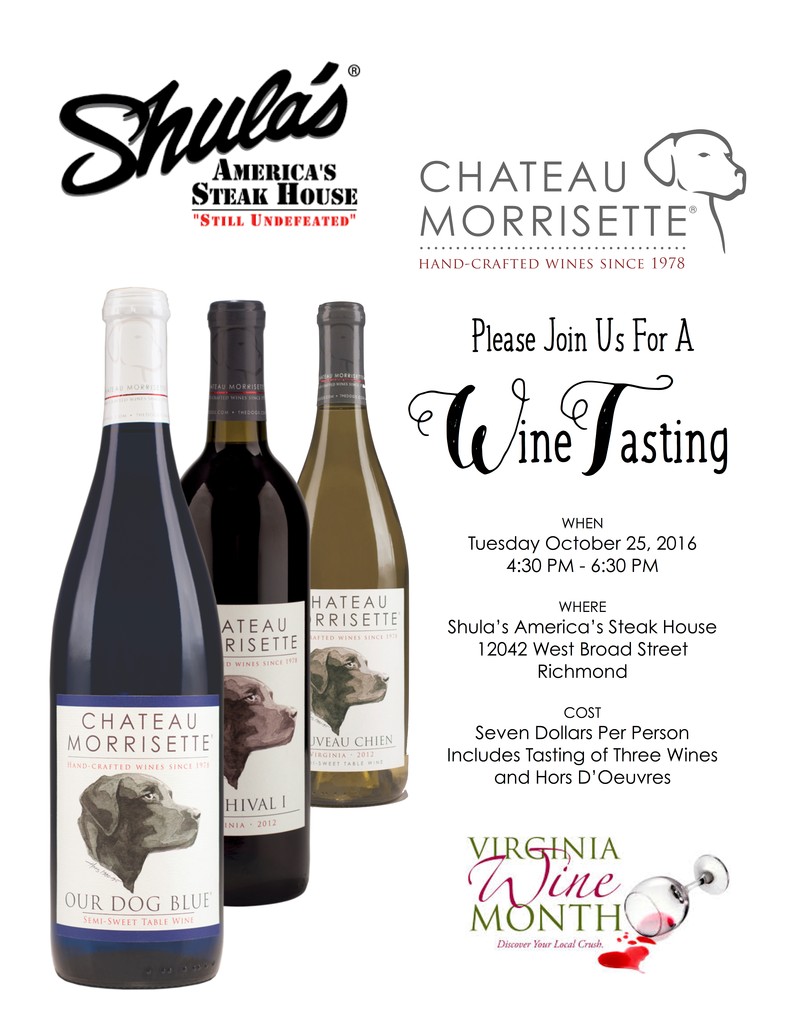 You know you want to
Sign Up For Our Newsletter
Keep up to date on the latest wine releases, events, and promotions.