The Black Dog Blog
Chateau Morrisette is among the oldest and largest wineries in Virginia. We also operate an award-winning restaurant with a 95% recommendation rate on OpenTable. With fresh vintages, flavors, and events at the winery, restaurant, vineyard, and festival field throughout the year, we will keep you abreast of all the great happenings and the people who make up Chateau Morrisette Winery and Restaurant in this blog and through our Facebook, Instagram, Twitter, and Pinterest sites.

The first Sunday Sounds of 2017 drew a lovely, lively crowd, with guitarist Lew Woodall's jazz ensemble bringing in our live music season season in smooth style. Join us every Sunday June through October, from 1p - 4p on the winery courtyard - admission is free! We recommend bringing seating in case the dance tent is full.

Daytime Blue Ridge previewed the Sunday Sounds season with Chico and the Willies. Check out the full Sunday Sounds performer calendar and savor every drop of the weekend with us!

As spring heats up, come cool down with us! Chateau Morrisette is located above 3400 feet of elevation on the crest of the Blue Ridge. Often ten degrees cooler than surrounding low lying areas like Roanoke, Christiansburg, or the Greensboro Triad, and with a lovely mountain breeze, our courtyard makes a perfect highland retreat to enjoy a bottle of wine with friends!

Jason Crolley, Chateau Morrisette's Lab Lead (that's chemistry lab, not tail-wagging lab), shared tasting notes on fresh vintage white wines with Daytime Blue Ridge's Brittany Flowers. Join our Spring Open House April 29-30, with complimentary hors d'oeuvres and wine tastings, live music each day, and the grand finale of our Spring Wine Sale, running April 14-30, offering 20% off all bottles and 30% off all cases.

Chateau Morrisette Winery Announces Spring and Summer 2017 Events
Floyd, V.A., April 4, 2017 – Located along Virginia's scenic Blue Ridge Parkway, Chateau Morrisette Winery announces fresh seasonal events, including Discovery Lunches, dog-friendly baseball in partnership with the Salem Red Sox and yoga at the winery. Annual favorites, such as the Spring Open House, Winemaker's Dinner, Sunday Sounds and the highly-anticipated Americana and beach music festivals round out the offering.
What's New at Chateau Morrisette Winery
Updog Yoga at the Vineyard, April 22, 2017, 10 a.m. – 11 a.m.
Enjoy yoga with a twist! Updog Wellness and Fitness' Natalie Johnson leads an all level yoga flow practice with the Blue Ridge Mountains as a backdrop. Simply meet at the winery. For those 21 and over, a refreshing glass of wine awaits after the session.
Salem Red Sox: Bark in the Park, April 27, June 3 and 14, July 13 and August 12, 2017
As presenting sponsor of Bark in the Park, Chateau Morrisette invites animal lovers to pet-friendly baseball games in Salem, VA. One hundred percent of each pet's $5 admission is donated to local shelters and SPCAs. In the park's premium hospitality and picnic areas, enjoy select Chateau Morrisette wines at all home games this season.
Discovery Lunches, May 4, June 1 and July 6, 2017, noon – 2 p.m.
Discover the sumptuous flavors of world cuisine with Discovery Lunches in collaboration with Away to Go travel and featuring presentations from Uniworld River Cruises, SeaDreams Travel and others. Prix fixe mutli-course meals have menus inspired by Africa, Eastern Europe and more. Reservations and pre-payment are required.
Highly-Anticipated Spring and Summer Events
Annual Spring Open House and Wine Sale, April 29 – 30, 2017, 11 a.m. – 4 p.m.
New this year, enjoy courtesy tractor tours of the vineyard during spring open
house weekend. Visitors will be treated to complimentary hors d'oeuvres and wine tastings, live music and 20 percent off bottles and 30 percent off cases of wine.
-more-
Page 2/Chateau Morrisette Winery
Annual Winemaker's Dinner, May 28, 2017, 6 p.m. – 8 p.m.
The winery's annual Winemaker's Dinner at The Restaurant at Chateau Morrisette is hosted by special guest, Winemaker and Enologist Brian Smyth, who will discuss wine pairings and new wines in development. The event includes a delicious prix fixe, multi-course meal with hand-selected wine pairings. Reservations are required.
Sunday Sounds Music Series, June 4, 2017, through October 29, 2017, noon – 4 p.m.
Enjoy award-winning wines, breathtaking views and free eclectic Sunday Sounds music in the courtyard. Jazz music from Lew Woodall, Highlands Jazz and others is featured every first Sunday. Ragtop, Zuzu Welsh Band, Virginia Blue and others round out the diverse lineup.
Crooked Road Homecoming: Whitetop Mountain, June 11, 2017, 1 p.m. – 4 p.m.
During this special free Sunday Sounds concert in the winery courtyard, Chateau Morrisette Winery joins the Crooked Road's Mountains of Music Homecoming by hosting the Whitetop Mountain Band, the internationally-known ambassadors of Appalachian string music.
The Black Dog Americana Music Festival, July 8, 2017, noon to 5 p.m.
Enjoy Beth McKee's stirring New Orleans rhythm and blues and the riveting brass sounds of Austin soul ensemble Mingo Fishtrap at the Nancy Morrisette Festival Field. During the event, purchase wine or beer, food, art and crafts. Purchase advance discounted tickets online or at regular price at the gate. Admission includes all day wine tastings and entertainment; parking is free.
The Black Dog Beach Music Festival, August 12, 2017, noon to 5 p.m.
Featuring The Entertainers with performances from Steve Owens and Summertime and the Dancing Chicken Band, the annual beach music festival is held at the Nancy Morrisette Festival Field. This Blue Ridge Mountain favorite features wine, beer and food for sale and arts and craft vendors. Purchase advance discounted tickets online or for regular price at the gate.
About Chateau Morrisette
Chateau Morrisette is a picturesque day trip from Roanoke, Charlottesville, Blacksburg, Christiansburg or the Piedmont Triad or a great weekend away from Washington, D.C., Richmond, Hampton Roads, Raleigh/Durham, Charlotte, Knoxville or Charleston, W.V. Wine tastings start at $10 per person. For more information, visit www.thedogs.com, call (540) 593-2865 or follow us on Facebook.
####
View it on the wire at (http://www.prnewswire.com/news-releases/chateau-morrisette-winery-announces-spring-and-summer-2017-events-300433734.html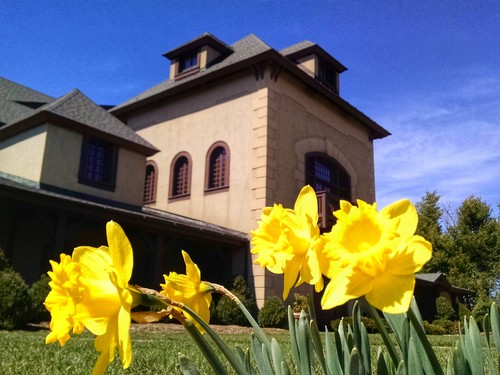 To satisfy the many families expected to visit Chateau Morrisette this Easter, the culinary team is offering a special three course Easter Lunch served 11am - 4pm. Seating is limited and reservations are strongly encouraged. The cost is $45 per person before beverages, tax, and gratuity. For those with an appetite for lighter fare, the chef will offer two à la carte items and a dessert option. See the menu and reserve!


On Saturday, March 25, 2017, Chateau Morrisette Restaurant features the talents of Sous Chef, Ricky Caviness at our Spring Chef's Dinner. The dinner features a set menu of five courses, each paired with a different Chateau Morrisette wine. The evening begins at 5:30 with a light reception. Seating will be promptly at 6:00 PM. Our Sous Chef has planned every detail of the evening's meal, procurring foods from local farms and working with Chateau Morrisette's gardener to ensure estate grown winter micro greens will also be available. The menu is as follows:
Smoked fois gras paté, rye croustade, fresh homestead buttermilk cheese, wine gelée, garden lettuces
Paired with 2016 Vin Gris
Heritage pork and dried fruit conserve roulade, brussel sprout confetti, Carolina gold rice fritter, estate vinegar gastrique
Paired with 2014 Chambourcin
Pecan smoked Sunburst Farms trout, farro verde with plumped golden raisins, guanciale braised Tuscan kale
Paired with 2014 Chardonnay Reserve
Whiskey-aged ribeye, sweet potatoes anna, butter braised asparagus, heritage mushroom jus with crispy cippolini
Paired with 2013 Petit Verdot
Dark Chocolate Soufflé Tart, ancho marshmallow, brown sugar sticky pecans and sweet potato butter, frozen tangerine parfait, roasted white chocolate, pimenton, vanilla bean and cinnamon sugar churro chip
Paired with 2012 Heritage
The cost of the meal is $95.00 per person and includes food, wine pairings, taxes and gratuity. Other wines may be purchased at menu prices. The dinner lasts approximately 2.5 hours. Each course is introduced by the Chef. Seating is limited to 56 guests. There are no refunds for unused tickets.

Tickets for the evening meal may be purchased in advance on the website www.thedogs.com or by clicking this link - 2017 Spring Chef's Dinner Tickets.



March 3 is Mulled Wine Day! If you're making a trip to the Tasting Room, we offer a convenient bagged mulling spice blend, but it's easy enough to prepare your own mulling spice at home:
1 bottle The Black Dog®
2 cups apple cider
1/4 cup honey or 1/2 cup brown sugar
1 bag mulling spices (available in the Tasting Room)
​ or use:​
2 cinnamon sticks
1 orange, zested and juiced
4 whole cloves
3 star anise
4 oranges, peeled, for garnish
​other options:​
allspice
cardamom pods
nutmeg
Combine the cider, wine, honey, cinnamon sticks, zest, juice, cloves and star anise in a large saucepan, bring to a boil and simmer over low heat for 10 minutes. Pour into mugs, add an orange peel to each and serve.
Celebrate our last chilly days in good health and great spirits!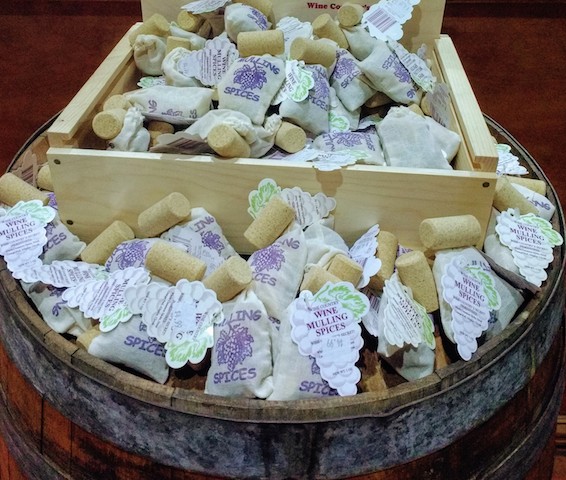 Many of our patrons know that almost any day is a good day to drink wine, but to celebrate official National Drink Wine Day, February 18, we are offering Buy One Get One tastings in our Tasting Room February 13 - 28, 2017. Try something new, or bring a friend to try one of your favorites!
Print and bring the coupon below, or you can claim your BOGO tasting by emailing 'Drink Wine Day 2017 BOGO' with your full name to TRstaff@thedogs.com on your way here or while in the Tasting Room!


Wondering What to Do for Your Valentine this Year?
Chateau Morrisette has the answer!

WINE AND CHOCOLATE EVENT
Indulge in select Chateau Morrisette wines paired with sweet and savory chocolates and chocolate tinged amuse-bouches prepared by our culinary team and by select local and single-origin chocolatiers. Our Winemaker Brian Smyth will interpret the pairings with guests. Seatings available at 1PM and 5PM, Saturday, February 11th and at 2PM on Sunday , February 12th. The Wine and Chocolate Pairing takes place in the William Morrisette Room located above the Tasting Room at Chateau Morrisette.
$48 per person, includes wines, chocolates, taxes, and gratuities. Each seating is limited to 45 guests. Advanced reservations and pre-payment required. Event tickets may be purchased at THEDOGS.COM or by calling 540.593.DOGS.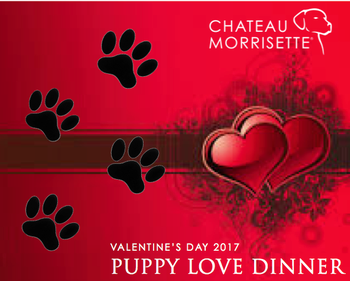 PUPPY LOVE VALENTINE'S DAY DINNER
Join us for a special, three-course, prix fixe menu with options for each course. Dinner seatings offered Tuesday, February 14th from 4PM through 8PM.
$99 per couple. Does not include wine, tax or gratuity. Ask your server about our special wine pairing option. Reservations are strongly recommended. Walk-ins are seated at the discretion of the manager based on service availability.

The Menu

First Course (Select 1)
Warm Salad of Blue Cheese stuffed Radicchio, Pomegranate Molasses, House Bacon Dust (GF) (MV)
Hearts Of Palm and Crab Fondue with Benne Seed Lavosh
Fried Gulf Oysters, Shaved Beets, Saffron Pickled Fennel, Horseradish Crema
Heirloom Radish Salad, Fresh Buttermilk Cheese, Brown Butter Vinaigrette, Preserved Lemon, Parsley (V)

Main Course (Select 1)
Roasted Painted Hills Beef Coulotte, Marrow Broth, Wild Mushroom, House Worcestershire, Duck Fat Roasted Fingerling Potatoes, Fermented Baby Carrots (GF)
Joyce Farms Chicken with Three Day Mole Sauce, Root Vegetable "Salsa", Smoky Sweet Potatoes (GF)
Seared Scallops, Bentons Ham, Blood Orange Gastrique, Parsnip Puree, Charred Tuscan Kale (GF)
Roasted Squash Ravioli, Grilled Mushroom Hash, Brown Butter and Grana Padano Broth, Crispy Sage. (V)

Desserts (Select 1)
Dark Chocolate "Cloud 9" Cake, High Road Coconut Sorbet, Passionfruit Caramel & Spicy Crunch
"Petits Bisous d'Amour" - Collection of Handmade Bite Size Petits Fours
Sugar & Spice Beignets, High Road Balsamic Fig Ice Cream, Cabernet Dulce
MAKE IT AN OVERNIGHT GETAWAY
Our Winter Wonderland Travel Package makes a great Valentine's Day Gift. Choose from over twenty preferred lodging partners. The package includes an $85 lodging voucher, an $85 Chateau Morrisette Gift Card which may be used in our Restaurant or our Tasting Room, a standard wine tasting for two with souvenir glasses, and a 20% off coupon for use in the Tasting Room. The package cost is $190.00.

You know you want to
Sign Up For Our Newsletter
Keep up to date on the latest wine releases, events, and promotions.