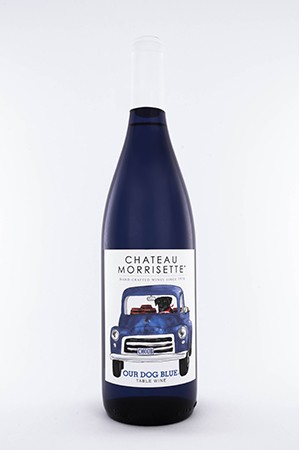 Our Dog Blue®
Wine Specs
Aging
Aging not necessary
Wine Profile
Tasting Notes
Aroma: Melon, citrus, apricots, flowers. Palate: Sweet, firm acidity. Finish: Soft. Semi-sweet blend of Riesling, Traminette, Vidal Blanc. Serve chilled
Awards
Bronze: 2019 Finger Lakes Wine Competition • Bronze: 2018 Mid-Atlantic Southeastern Wine Competition • Gold: 2017 Finger Lakes International Wine Competition • Gold: 2016 Wines of the South Competition • Silver: 2016 San Francisco Chronicle International Wine Competition • Platinum (Double Gold): 2015 San Diego Wine Competition • Platinum: 2015 Winemakers Challenge International Wine Competition • Gold: 2015 Critics Challenge International Wine Competition • Gold: 2015 Virginia Wine Lover Wine Classic • Silver: 2015 San Francisco Chronicle Wine Competition • Silver: 2015 Florida State Fair International Wine Competition • Silver: 2015 Finger Lakes International Wine Competition • Silver: 2015 Hilton Head Food and Wine Festival • Silver and Best Buy: 2015 Tastings.com
Winemaker Notes
This popular white wine is a semi-sweet Riesling-Traminette blend, using Vidal Blanc for added depth. Aromas of melons, citrus fruits, apricots, and delicate flowers highlight the soft finish of this soothing wine.
Food Pairing Notes
Serve chilled with fruits and cheeses, fish, or spicy foods
Product Reviews
rick
(Apr 28, 2016 at 11:44 AM)
our dog blue is a good wine now good enough for the winery to raise the price of the wine really high.
nancy anderson
(Nov 30, 2016 at 4:48 PM)
Our Dog Blue is my very favorite. It has only improved over the years and still maintained that wonderful bouquet. I love a reisling and have tried many and always come back to Our Dog Blue
Barry
(Nov 8, 2017 at 9:23 PM)
I had received a bottle as a gift. I like it so much I went on line and bought a case. It's a great table wine.
Sandy Cole
(Mar 9, 2018 at 7:33 AM)
I love this wine. We live in NC but go to VA to buy it
Arthur
(Jan 2, 2019 at 6:23 PM)
One of the best I've tasted, it's probably my favorite white wine. Goes down easy and has a lot of flavor.
Angelic
(Feb 25, 2019 at 8:06 AM)
I had tried this at a Wine Tasting in Virginia Beach. I bought a bottle it was so good and has been my favorite wine since.
Susan
(May 21, 2019 at 4:30 PM)
I fell in love with this wine in 2004! It has done nothing but continue to consistently please and get better. Wonderful picnic wine! The winery is a must visit ❤️
Sarah
(Aug 26, 2019 at 11:57 AM)
To me, this tastes like Prosecco without the fizz!
Michael
(Oct 3, 2019 at 4:46 PM)
My local Walmart had accidentally marked Our Dog Blue down to $4 a bottle! I bought 40 bottles! This was 2 years ago ! My friends and I could easily drink an entire bottle each! It's so good!!! Of course, I've bought many more bottles since then. When my husband and I ate at the restaurant, we shared a bottle ! It's an awesome wine that's great alone or with food!
Delia Carter
(Oct 25, 2020 at 10:36 AM)
A friend from VA visited our home in MS and gifted a bottle of Our Dog Blue to me this past weekend. This is hands down the best wine I have ever had! It's sweet and fruity, tastes like muscadines fresh off the vine!
Lelia Kimball
(Dec 20, 2020 at 2:03 PM)
The best all around wine. We serve it alone or with just about any meal.
Theresa Keller
(Oct 29, 2021 at 9:51 AM)
Long time fan of this wine, it is not too sweet and very versatile. Great with chicken, or a charcuterie board.
Laina Shoemake
(Dec 18, 2021 at 3:52 PM)
My husband and I met at the VA Wine Festival in 2002 because of this wine. It will always have a special place in our hearts. (Also, it's pretty tasty stuff).
Sarrah E Goldschmidt
(Jan 31, 2022 at 1:57 PM)
Wow!! The flavor is stunning! I did a wine tasting at the winery and enjoyed everyone I tastes so I bought a mixed case. By far, this is my favorite. It's light and floral and just delicious. I live several hours away and can't find it locally so I am eager to buy another case of just this wine though they are all good.
Sasha
(Jul 23, 2022 at 9:05 AM)
My parents live close to château Morissette and take guest there all the time. So I'm lucky enough to get a bottle every once in a while. It's a beautiful and fun winery to visit. This riesling is my favorite.