TOP
Vin Gris
2018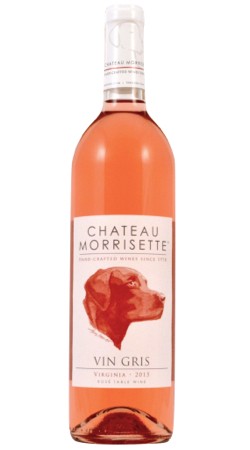 Wine Specs
Bottling Date
January 2018
Wine Specs
Bottling Date
January 2018
Wine Profile
Tasting Notes
The 2018 Vin Gris is comprised of Cabernet Sauvignon, Cabernet Franc, Merlot, Petit Verdot, Chambourcin and Chardonel. On the nose you experience aromas of orange blossom with hints of strawberry. The palate offers citrus fruit, and nuances of berry combined with a pleasing minerality. A bright and refreshing wine, the juicy acidity mingles with the fruitiness in a collaboration that makes this wine food and company friendly. This wine is best served chilled and makes an excellent refreshing warm weather wine.
Awards
2018 vintage - Bronze: 2019 Finger Lakes International Wine Competition • 2017 vintage - Silver: 2018 Mid-Atlantic Southeastern Wine Competition • 2016 vintage - Gold: 2017 Drink Pink Vino International Rose Wine Competition. • Silver 2019 Drink Pink Int'l Rose Wine Competition.
Winemaker Notes
Vin Gris is made through a method called saignée which translates from French to "bleed". All of the color and most of the flavor in a red wine comes from the skins. Therefore, all red wine fermentations takes place in contact with the skins. One way of increasing the concentration of color, aroma, and flavor in a red wine is by increasing the percentage of skins in contact with juice in a red fermenter. To do this, we drain 10-15% of the liquid from each of our red fermenters after only 4-6 hours in contact with skins. The juice that has been bled is a lovely pink color and subsequently fermented separately in small batches. Upon completion of fermentation, all of these rosé wines, and sometimes a touch of white wine, are blended together to become our Vin Gris.
Food Pairing Notes
Our Vin Gris can be enjoyed with a multitude of dishes including, pizza, salads, fish, chicken, and even burgers. Don't be afraid to experiment with food pairings as our Vin Gris is extremely versatile and can make a great companion to a surprising number of foods. We hope our first release of the year brings you much joy through 2019! Cheers!
Other Notes
Serving recommendations: 45-55°F
Product Reviews
Brenda Wineman
(Jul 26, 2018 at 4:05 AM)
This is a dryer Rose' perfect for a hot afternoon on the patio or deck.