TOP
Top Tier Sampler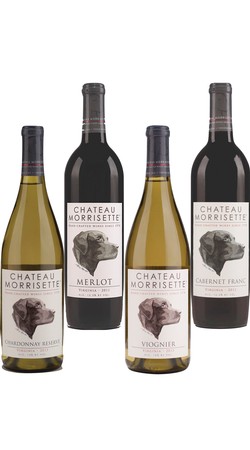 Petit Manseng replaced with Viognier.
The Top Tier Sampler is a collection of some of our best dry wines. Each of these wines may age for six years or longer in your wine cellar or they are delicious to drink right now. A 10% discount off the price of included wines applies to this pack when added to your cart! Sampled wines:
Merlot:
Aroma: Black cherry, bold plum.
Palate: Dried sage with hints of raspberry and anise.
Finish: Pleasant and velvety.
Pair: Heavier game, grilled meats, mushroom based sauces/stews.
Chardonnay Reserve:
Aroma: Lemon meringue and zest.
Palate: Almonds, toasted coconut, and butter.
Finish: Smooth, creamy. 100% barrel fermented.
Pair: Grilled pork chops, Cesar salad, sharp cheddar cheese.

Cabernet Franc:
Aroma: Autumn Leaves, Briar, Raspberry.
Palate: Aromas embrace soft tannins.
Finish: Fruity, crisp.
Pair: Steak, lamb, beef, sharp cheeses.
Viognier
Aroma: Tropical fruit and apricot
Palate: Softly tannic, honeysuckle and passionfruit
Finish: Lingering and fruity.
Pair: Grilled seafood