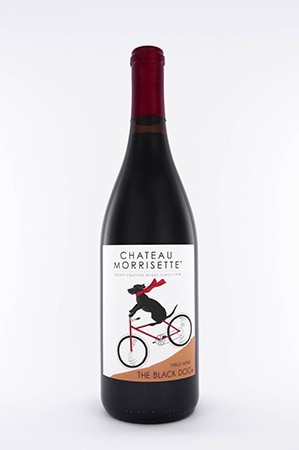 The Black Dog®
Wine Profile
Tasting Notes
Aroma: Fruity. Palate: Berries, subtle spices. Finish: Smooth. Off-dry, medium-bodied. Chambourcin, Cabernet, Merlot.
Awards
Gold: 2019 Finger Lakes Wine Competition • Bronze: 2018 Mid-Atlantic Southeastern Wine Competition
Winemaker Notes
Every release of Black Dog is characterized by an inviting fruit forward nose, an incredibly lush palate, and just enough sweetness to make the wine smooth as silk.
Food Pairing Notes
Its appealing spicy character and medium body enhance many dishes as well as light hors d'oeuvres. It's obviously well bred!
Product Reviews
Heather
(Aug 29, 2016 at 5:34 PM)
This is one of the smoothest wines I've ever tasted. When I tried it at the winery, the man conducting the tasting (I forget his name) said it's the sort of wine you drink on a rainy day while curling up with a good book. This is an apt description. I bought a bottle, took it back home to Texas, and opened it a few months later, hoping my memory of its deliciousness was correct - suffice to say, the only reason I didn't finish the whole bottle in one sitting (an easy thing to do, this stuff is really that drinkable) was that I had to be up early for work the next day. This is definitely my new favorite red. I only wish I could buy it locally!
Wise Midkiff
(Nov 26, 2016 at 3:19 AM)
My first taste of Black Dog was in the early 1990's in the tasting room at the winery. Black Dog has been my friend ever since.
Julie Reid
(Nov 8, 2017 at 9:23 AM)
This wine has been our go to red for many years. Our standard white is Our Dog Blue. Over the years we have enjoyed the newer reds and whites, so we alternate. You can not go wrong - try them all. They can ship to many places, but it is more fun to go to the festivals and the open house events. We have always had fun and been made welcome for many many years.
Jess Norris
(Aug 3, 2018 at 6:22 PM)
I adore this blend. It has that silky, silky smooth body of black cherry. I'm an amateur wine drinker, but hate boring "easy drinkers." This wine is easy but NOT boring at all.
Pamela Noell
(Jan 21, 2019 at 10:33 AM)
My husband does not usually like wine but he loves several wines from Chateau Morrisette. This red in one of them. Very good wine. Not too sweet and not too dry.
Margaret
(Mar 30, 2019 at 1:55 PM)
When we just don't know what kind of wine to have The Black Dog is our go to wine. Just as our own black lab was always at the dinner table no matter what we ate this Black Dog is always on the table. We have chosen this wine to be the red wine of choice at our daughters wedding.
Bill Karbach
(Apr 19, 2019 at 5:06 PM)
The official house red of our home.
Debbie Horne
(Apr 26, 2019 at 7:10 PM)
Black Dog is my favorite wine! I love visiting the winery!
Woodruff Katherine M
(Nov 11, 2020 at 11:49 AM)
Our absolutely favorite everyday red wine. We have been enjoying this red wine since we were engaged at this winery drinking a bottle 10/9/99! I'm so grateful they ship because it saves us a 12 hour drive, but it's worth it! Smooth and goes with absolutely everything filet to scallops! Great on the boat with cheese crackers, fruit.
Paula
(Nov 17, 2020 at 11:53 AM)
My favorite since my first sip while sitting on the comfy sofa in the cozy bar area at The Peaks of Otter Restaurant overlooking Sharp Top mountain and Abbott Lake on the beautiful Blue Ridge Parkway in Virginia.
The Warners
(Apr 12, 2021 at 9:53 AM)
Our favorite red wine for a long, long time as we have been visiting Chateau Morrisette for over 30 years! We were just there this weekend with our son and daughter and our 2 huskies! we love that the winery is dog friendly! All the sales staff were very helpful & friendly and it was especially fun to see Ray again! We enjoyed several bottles of Black Dog and bought 2 cases with the Spring sale discount of 30%. I can promise, it won't last long & we'll be back for another visit soon; hopefully, there will be a few events this summer which we have missed especially the Beach Fest!
Jean Newcomb
(Jul 3, 2022 at 4:10 PM)
Been drinking this wine for well over 10 yrs and it never disappoints its smooth and its not too dry its just the perfect red wine for drinking.
Doris Carpenter
(Sep 2, 2022 at 1:58 PM)
A friend of mine bought me a bottle of black dog wine for my birthday omg it's really delicious thank you so much for making very good wine I'm from North Carolina no I want to come and visit your winery soon 🍷