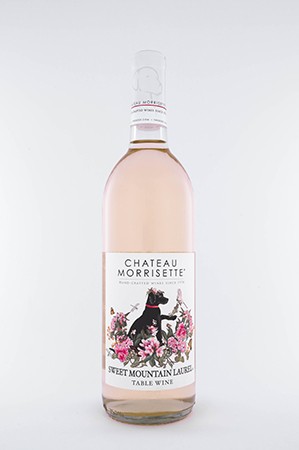 Sweet Mountain Laurel®
Wine Specs
Aging
Best when fresh. Aging not necessary.
Wine Profile
Tasting Notes
Aroma: Ripe fruit. Palate: Sweet, firm acidity. Finish: Crisp. Made from native American grape varieties.
Awards
Bronze: 2019 Finger Lakes International Wine Competition
Production Notes
Made with 99%+ Niagara grapes.
Winemaker Notes
A unique and refreshingly sweet dessert style wine made from an American native grape variety. Firm acidity balances the sweetness, producing a crisp finish with aromas of freshly picked grapes.
Food Pairing Notes
Pour over fresh berries and sponge cake or blend with vanilla ice cream and fruit for a creamy dessert smoothie.
Product Reviews
Blake
(Jan 15, 2017 at 4:43 PM)
Not a drinker or ever liked wine at all. Decided to try this one and it is fantastic! Will be getting more!
Christina Bane
(Apr 9, 2017 at 4:13 PM)
This is my absolute favorite.
Gary Belcher
(Aug 15, 2017 at 11:20 AM)
The first sip takes me back to my childhood when I picked and ate grapes right from the vine
Alan Collins
(Nov 22, 2017 at 5:25 AM)
This was my first time trying this particular wine. I love the taste and I love the product. It's probably one of the best tasting wines I've had in a while.
Amy
(Jan 15, 2018 at 7:09 PM)
I love this wine! It is the first time I've tried wine by this company and I am hooked. I will be a customer forever as long as I can get this wine.
Pam
(Mar 20, 2018 at 2:49 PM)
Pour this over fresh fruit of any type and your summer evening is a winner!
Don Gann
(Mar 28, 2018 at 7:18 AM)
This is absolutely my fav wine!!! Takes me back to my childhood picking grapes from my grandfather's grape vines in his backyard! Love it!!!!
Alan Harper
(Aug 13, 2018 at 6:01 PM)
Back in the late 50's my grandparents in Franklin country Virginia had a small area that they grew purple grapes. I would pick and eat some on occasion in the summer. This wine immediately brings back the taste of those grapes
Kristi rozas
(Aug 22, 2018 at 2:08 PM)
Tried this at a night stay in Wytheville. One of the best whites I have tasted in a very long time!
Cody
(Jan 1, 2019 at 5:54 PM)
A guy I work with told me to try this wine and it really is amazing looking forward to try other wines
Lisa
(May 20, 2019 at 5:49 PM)
We went to Virginia Tech and visited the winery several times while at school. Bought some red and this white wine at our wedding 9 years ago. Opened up our last one tonight, it still taste as fresh as we remembered. Thank you for producing such wonderful wine.
Christina White
(Jul 16, 2019 at 12:01 AM)
Delicious! This is my favorite wine now.
Sharon
(Dec 6, 2019 at 5:15 PM)
Wonderfully smooth. The hint of Niagara seems like a grape forms in your mouth! A sweet wine perfect any time: before, during and after a meal.
Roy Munsen
(Dec 21, 2019 at 2:42 PM)
I bought this at a local Kroger, I was not impressed. It says it's sweet, but no, butter and leaves a terrible after taste. Not good.
Mary
(Jan 1, 2020 at 3:56 PM)
A friend from southwest Virginia gifted me with this, and I love it! Wines made with the native grape varieties often don't get much respect, but for someone born in the south, this instantly brings back childhood memories of picking muscadines.
Wendy
(Jan 21, 2020 at 7:23 PM)
The best sweet wine I've ever tasted! The first sip i was immediately brought back to my childhood when i would eat grapes right from the vine from my grandma's grape vines!
Star
(Feb 13, 2020 at 5:27 PM)
Was given as a gift. Had it unopened for a little less than a year. Properly stored. Not sweet at all. Terribly bitter, and makes my taste buds tingle in all the wrong ways. Sadly, a great disappointment.
Jim Jordan
(Aug 14, 2020 at 1:29 PM)
Note to Star. Something happened with that bottle. IDK what but something did. I've bought cases of Sweet as well as Red Mountain Laural and other wines, both from the Winery and as well at grocery stores and have never, understand never, had a bad bottle, even among those several years old. JS. I love it!!
Anita Sumner
(Aug 21, 2020 at 2:06 PM)
Love the flavor. I can taste the grapes and the sweetness is wonderful.
Tonya Helton
(Nov 2, 2020 at 12:48 PM)
I love a sweet wine and THIS one is my all time favorite!!! Goes great with a charcuterie board and a few close close friends.
Emma Audrey
(Jan 23, 2021 at 1:40 PM)
This is my favorite wine I have tried. It is always my go to. The fact that it is sold in Kroger and Target is all the better!
Cuff Watson Hopper III
(Apr 5, 2021 at 11:42 PM)
Sweet Mountain Laurel is hands down my absolute favorite wine ! It is all I ever buy ! It automatically , from the first sip , takes me back to my childhood and tasting the nectar from the Honeysucle flower . If you never tasted this from the flower , dont despair , you can buy Sweet Mountain Laurel and find out for yourself what it tasted like ! I love it ! Great job Chateaus Morissette ! Keep up the good work !
Pam
(Mar 20, 2022 at 6:40 PM)
Loved this sweet wine. Have been drinking it for several years. But it tasted different the last few months. Noticed the foil over the cork changed from white to green. Not sure what that indicates.
Paulette
(Oct 25, 2022 at 7:32 PM)
Absolutely delightful! I could become addicted! If you like a sweet wine, this is made for you!!
Rhonda Hocker
(Apr 18, 2023 at 1:06 PM)
My very favorite wine! It is the best ever. If you enjoy a sweet wine this is your go to.
Amanda Meadows
(Oct 16, 2023 at 4:56 PM)
I am in love with this wine. It is the best I have ever tasted. It's light and floral and slightly sweet. It brings me so much happiness and joy. It tastes like southern WV in a glass and I am more than impressed.
Mary
(Nov 24, 2023 at 2:26 PM)
I didn't like wine until I tasted this one. Is absolutely my favorite.