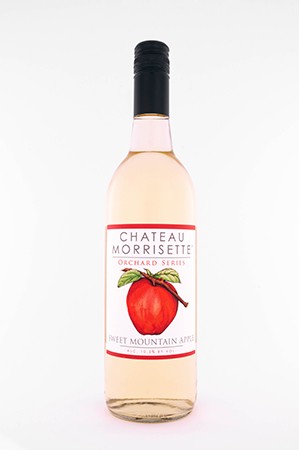 Sweet Mountain Apple
Made with 100% Virginia Apples, this wine is especially delicious with pork dishes.
Wine Specs
Aging
Best now or aged no more than one year.
Wine Profile
Tasting Notes
Aroma: Fresh apples. Palate: Sweet, smooth, apple Finish: Crisp, refreshing. 100% Virginia apples. Serve chilled.
Awards
Silver Medal: 2018 Atlantic Seaboard Wine Competition • Bronze Medal: 2018 Mid-Atlantic Southeastern Wine Competition
Vineyard Notes
The Saunders' family has been growing fruit at Silver Creek Orchards since the mid 1800s. Planting their first grapes in 1999, they now grow about 50 acres of wine grapes and 250 acres of apples. Apples and grapes are grown on the eastern slopes of the Blue Ridge Mountains in Nelson County. Elevated exposures allows the early sun to dry off any morning dew, keeping the fruit safer from rot. The adjacent western mountains shade the fruit from the summer heat. With very rocky soil, even the heaviest rains infiltrate the soil but run off quickly, keeping the fruit hydrated but dry. The combination of rocky soil, eastern exposure, high elevation, cool nights and the Saunders family's five generations of growing experience results in some of the finest fruit in Virginia.
Winemaker Notes
Our Apple Wine is made from crisp and juicy Virginia apples. Bursting with the vibrant fruitiness of just-picked apples, this wine is sweet and smooth, light bodied, with a clean crisp finish.
Food Pairing Notes
This wine is perfect with many foods, including pork dishes, game, poultry, barbecue, various cheeses like Cheddar and Gruyere, and assorted nuts