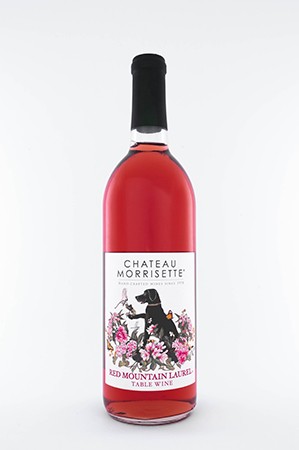 Red Mountain Laurel
Wine Specs
Aging
Best now or aged no more than one year.
Wine Profile
Tasting Notes
Aroma: Fresh Grape. Palate: Sweet, cherry, crisp. Finish: aromatic. Serve cold for unique refreshing character.
Awards
Best of Class: 2015 Riverside (CA) International Wine Competition • Chairman's Award (Unanimous Gold): 2015 Riverside (CA) International Wine Competition • Silver Medal: 2015 Florida State Fair International Wine Competition • Silver Medal: 2015 Finger Lakes International Wine Competition • Silver Medal: 2015 TEXSOM (Dallas Morning News) International Wine Competition • Silver Medal: 2015 Critics Choice International Wine Competition • Silver Medal: 2015 Virginia Wine Lover Wine Classic
Winemaker Notes
This is a distinctive dessert wine made from a blend of American native grape varieties. It exhibits flavors of fresh grapes and cherries, complemented by a sweet, smooth finish
Food Pairing Notes
A nice accompaniment for chocolate desserts, delicious poured over pound cake, or served as an aperitif
Product Reviews
Rebecca Shade
(Aug 5, 2020 at 7:18 PM)
My favorite wine! It goes well with anything.
Jennifer
(Aug 16, 2020 at 6:16 PM)
I first purchased the Red Mountain Laurel when visiting family in Virginia. I live in Massachusetts a l order this wine fromThe Dogs often . Our guests enjoy it as well.
Victoria Wall
(Sep 15, 2020 at 4:02 PM)
My husband enjoys Red Mountain Laurel very much but lately we have noticed the wine is not as red in color as before. We have several bottles that look more pink/rose in color. Does anyone know why that would happen?
Pam Collins
(Dec 26, 2020 at 5:10 PM)
I use to buy this red mountain laurel all the time .I loved the taste of it. Well they changed it .I no longer buy it. I really loved this wine alot .this was the only wine I bought for years. They changed it this year. The color is different. It used to be a darker color. That was the frist thing I noticed. So I emailed them. They emailed me back and said yes they did changed the color. And it didn't taste the same either. When they changed everything about this wine It wasn't the same. I don't buy it no more. Remember I LOVED this wine..I wish they never changed the wine. Because I miss it
Christy
(Dec 29, 2020 at 5:32 PM)
I know!! I miss this wine so much. I thought maybe shipping it in the heat affected the taste but I texted them and was told it was changed. I want the original back! Please let me know if that happens.
Patricia Shiflet
(Apr 29, 2021 at 4:56 PM)
My husband loves this wine!!!He has been purchasing this wine for for many years! Just recently he was diagnosed with type 2 diabetes but his MD informed him that he could have a glass/evening. I have been trying to figure out the the Carbs and calories for a 4 oz glass. I would appreciate any information you could share with us. thank you
Shari Thomas
(Jul 16, 2021 at 2:38 PM)
While vacationing in Stuart Virginia, we happened upon your superior product. As a dog lover and the fact that my Dr says red wine is good for lowering triglycerides, but not the good one she said, lol. Well as a non drinker most red wines were not tolerable and most sweet ones, well were not in Dr loop. Bit ahhhh, this one is not too sweet, not to tart/dry/vinegary if that's a word lol, but it's like baby bear soup Just Right! But I have no idea if it sells in Kentucky. Gotta get some more, I Love it!
Lynnette Green
(Nov 8, 2021 at 6:30 PM)
I've always loved this wine, yes it does taste differently than I remember, but it is still very good and it does pair well with anything. Excellent for the holidays. Can't wait to share with friends.
Debbi M
(Jan 22, 2022 at 8:18 PM)
Love this wine! It is a sweet wine but not super sweet. If there is a dog or horse on the label, I'm going to try it. That is how I got hooked. My local store in the tiny town of Pennsboro, WV keeps it in stock for me now.
kris Tremblay
(Jun 18, 2022 at 6:26 AM)
My favorite wine of all time. Newly transplant to VA, found it store, loved the label (black lab) and bought it, drank it, in Heaven! Now the only wine I will ever purchase forever and ever. Thank you
Donna Long
(Nov 22, 2022 at 12:46 PM)
This wine is like a memory for me. My dad grew up in Meadows of Dan and my my mother in Willis (if you know, you know) they are not longer with with me here on this earth, but every time I enjoy a glass of this wine I am reminded of summers hunting for the wild fox grapes that grow in the woods in the area around the Chateau and the grape juice my mother would make. Sweet memories and sweet wine and happy tears that it brings
ruby harris
(Apr 25, 2023 at 5:14 PM)
Have enjoyed for years. Lately have noticed something in the bottom of the bottle. NOT GOOD!! Will NOT buy again!!!