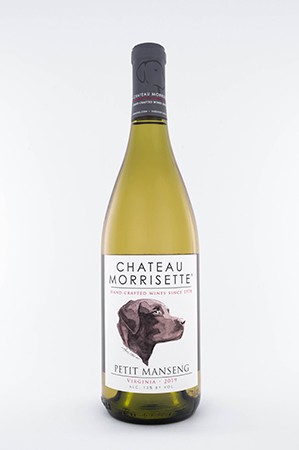 2019 Petit Manseng
Wine Specs
Aging
Drink now or age up to two years.
Bottling Date
January 2016
Wine Profile
Tasting Notes
Aroma: Tropical fruits, pineapple, mango. Palate: Peaches, ripe pear, pineapple. Finish: Medium, sweet and flavorful.
Awards
2017 Vintage - Silver Medal: 2018 Mid-Atlantic Southeastern Wine Competition • 2016 Vintage - Silver Medal: 2017 Savor Virginia Wine Classic • 2015 Vintage - Platinum Medal (over 90 points): 2016 Virginia Wine Lover Classic. Silver Medal: 2016 San Diego International Wine Competition. Silver Medal: 2017 Virginia Governor's Cup.
Production Notes
While Petit Manseng is not as well-known as other white Vitis vinifera grapes, it performs immaculately in Virginia's climate. It is traditionally grown in southwest France and generally is made into a dessert style wine. The fruit in this bottle was a winemaker's dream to work with. As harvest approaches our growers sample their vineyards and we taste and analyze the fruit in order to make a picking decision. The main factors we are considering are flavor, sweetness, acidity, upcoming weather and associated damage. As flavor and sugar go up, acidity typically drops off. This didn't happen with this wine; it ripened beautifully and the weather cooperated. It was grown by skilled viticulturists, picked at the optimal flavor ripeness, fermented cool and slow in stainless steel, and proudly crafted by our winery team.
Winemaker Notes
Our 2017 Petit Manseng exhibits aromas of tropical fruit dominated by pineapple and mango. Lightly floral aromas continue to the palate, greeted by nuanced flavors of peaches, ripe pear, and pineapple. This variety's naturally high acidity is balanced by stopping the fermentation and retaining some of the grape's natural sugars in the wine. This produces a juicy and semi-sweet wine with a medium finish that is full of flavor.
Food Pairing Notes
Our Petit Manseng can be enjoyed chilled on its own or will pair well with fruit, lightly spicy dishes, or a strong cheese like gorgonzola. Enjoy!