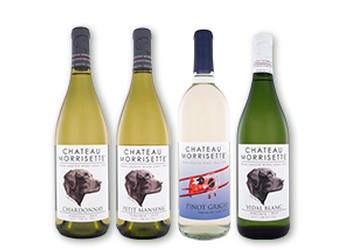 Dry White Sampler
When you add to cart, a 10% discount off the retail price will be provided. Chateau Morrisette Sampler Packs are the perfect choice whether you are buying for the wine connoisseur or the wine novice, a great way to decide which is your favorite before purchasing a whole case. A complimentary gift enclosure with your personal message can be included when shipping as a gift.
Includes 4 Dry White Wines
Vidal Blanc
Aroma: Apple, Pear and Honeydew.
Palate: Pear and apple.
Finish: Clean, acidic.
Pair: Poached salmon or goat cheese.
Petit Manseng
Aroma: Tropical fruits, pineapple, mango.
Palate: Peaches, ripe pear, pineapple.
Finish: Medium, sweet and flavorful.
Pair: Fruit, lightly spicy dishes, or a strong cheese like gorgonzola.
Chardonnay:
Aroma: White flowers, pineapple, lemon zest.
Palate: Apple, cantaloupe.
Finish: Medium long, fruit forward. Steel fermented.
Pair: A savory solo sipper, or enjoy with fruits, nuts, mild cheeses, and sautéed chicken or fish.
Pinot Grigio
Aroma: Tropical fruit
Palate: honeysuckle and passionfruit.
Finish: Crisp
Pair: Grilled chicken