TOP
Dry White Sampler
A 10% discount off bottle price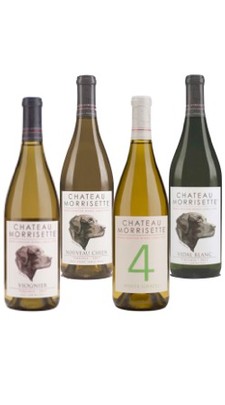 When you add to cart, a 10% discount off the retail price will be provided. Chateau Morrisette Kennel Packs are the perfect choice whether you are buying for the wine connoisseur or the wine novice. Great way to decide which is your favorite before purchasing a whole case. A complimentary gift enclosure with your personal message can be included when shipping as a gift.
Includes 4 Dry White Wines
Vidal Blanc
Aroma: Apple, Pear and Honeydew.
Palate: Pear and apple.
Finish: Clean, acidic.
Pair: Poached salmon or goat cheese.
Nouveau Chien
Aroma: Fruit, citrus.
Palate: Moderately full and smooth.
Finish: Smooth, lengthy. Serve cool, bit cold.
Pair: Shellfish, grilled ocean fish, roasted pork, medium to hard cheeses.
4 White Grapes:
Blend of Chardonel, Petit Manseng, Vidal Blanc, and Viognier.
Aroma: Toasted vanilla.
Palate: Apple, lemon and oak.
Finish: Crisp offering of pear and quince lingers into the finish.
Pair: Pan seared chicken, sautéed seafood, or gumbo.
Viognier
Aroma: Melon and apricot.
Palate: Honeysuckle and peaches.
Finish: Clean, light.
Pair: Grilled seafood with peach salsa.