TOP
Dry Red Sampler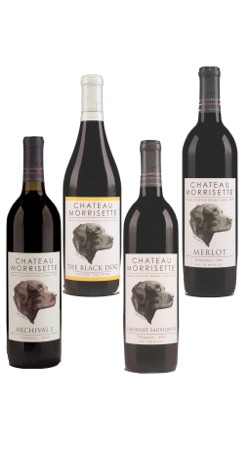 Chateau Morrisette Kennel Packs are the perfect choice whether you are buying for the wine connoisseur or the wine novice. A great way to decide which is your favorite before purchasing a whole case - a 10% discount off the price of included wines applies to this pack when added to your cart! A complimentary gift enclosure with your personal message can be included when shipping as a gift.
Includes 4 Dry Red Wines

Archival I
Aroma: Vibrant bouquet of rose petals and fresh roasted coffee.
Palate: Black cherries, currants, and rich caramel notes.
Finish: Balanced spice and clove, well-structured.
Pair: Steak, lasagna, or gorgonzola cheese and mushroom risotto.
2013 Merlot
Aroma: Fresh cherries, dark chocolate, and a hint of white pepper.
Palate: Soft, approachable, with refreshing acidity, cherry notes, and a touch of dark chocolate.
Finish: Silky smooth
Pair: Tomato-based Italian dishes or burgers off the grill. For a sweeter experience, try with a favorite dark chocolate.
The Black Dog
Aroma: Fruity.
Palate: Berries, subtle spices.
Finish: Smooth. Off-dry, medium-bodied. Chambourcin, Cabernet, & Merlot.
Pair: Roasted or grilled meats, light hors d'oeuvres.
2013 Cabernet Sauvignon
Aroma: Vanilla, plum, herbs.
Palate: Rich fruit, oak.
Finish: Distinctive. Off-dry, medium-bodied.
Pair: Grilled flank steak with chimichurri sauce.