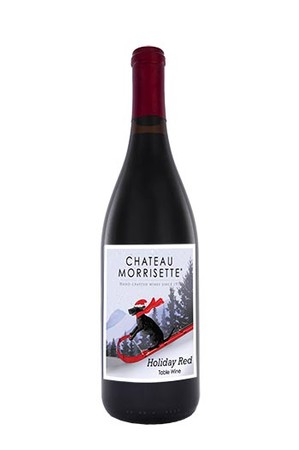 Holiday Red
Wine Profile
Tasting Notes
Aroma: Fruity. Palate: Berries, subtle spices. Finish: Smooth. Off-dry, medium-bodied. Chambourcin, Cabernet, Merlot.
Winemaker Notes
A unique blend of Chambourcin, Cabernet, and Merlot produces this exceptionally smooth off-dry red wine.
Food Pairing Notes
Its appealing spicy character and medium body enhance many dishes as well as light hors d'oeuvres. A perfect wine for the table, a host's gift, sipping by the fire, or under the tree!
Product Reviews
Michael Stevenson
(Dec 17, 2018 at 5:34 PM)
THE smoothest wine I have EVER tasted! Does NOT change taste from beginning to end of glass(s).
Michael J Stevenson
(Dec 9, 2019 at 7:02 PM)
Not as happy this year! Came back to order another case and they are sold out! Did I mention I was not happy?
MICHAEL J STEVENSON
(Dec 17, 2019 at 2:55 PM)
Ecstatic, back in stock before Christmas! Purchase by the case!