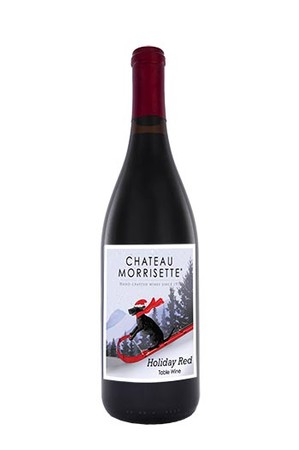 Holiday Red
Wine Profile
Tasting Notes
Aroma: Fruity. Palate: Berries, subtle spices. Finish: Smooth. Off-dry, medium-bodied. Chambourcin, Cabernet, Merlot.
Winemaker Notes
A unique blend of Chambourcin, Cabernet, and Merlot produces this exceptionally smooth off-dry red wine.
Food Pairing Notes
Its appealing spicy character and medium body enhance many dishes as well as light hors d'oeuvres. A perfect wine for the table, a host's gift, sipping by the fire, or under the tree!
Product Reviews
Michael Stevenson
(Dec 17, 2018 at 5:34 PM)
THE smoothest wine I have EVER tasted! Does NOT change taste from beginning to end of glass(s).
Michael J Stevenson
(Dec 9, 2019 at 7:02 PM)
Not as happy this year! Came back to order another case and they are sold out! Did I mention I was not happy?
MICHAEL J STEVENSON
(Dec 17, 2019 at 2:55 PM)
Ecstatic, back in stock before Christmas! Purchase by the case!
Terry Windmiller
(Dec 14, 2021 at 6:10 AM)
The wine itself is tasty. It is smooth and flavorful, and goes well with all flavors of Christmas food - ham, turkey, and desserts. I am, however, extremely disappointed to see the replacement of the once beautiful annual Christmas label, which was excellent for giving as gifts, to the current nondescript general purpose holiday label.
Betty Walton
(Dec 31, 2021 at 10:10 AM)
Enjoy visiting Chateau Morissette often. Their wines are wonderful. Black Dog and Our Dog Blue are our favorites. We enjoy taking our pups to visit their pups. They have treats for them as well. The staff make you feel very welcome.
Mary K Scott
(Jan 8, 2022 at 9:24 PM)
You didn't make enough!
DeLOMA
(Apr 20, 2022 at 6:02 PM)
Simply Wonderful!!!