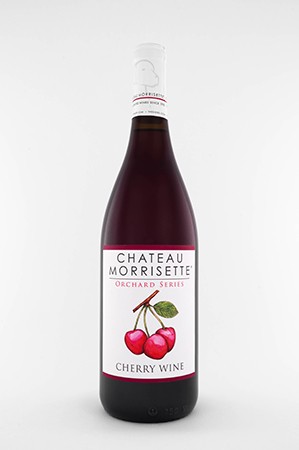 Cherry Wine
Sold Out (but more is on the way!)
Wine Specs
Aging
Drink now or age up to one year.
Wine Profile
Tasting Notes
Aroma: Dark Cherries, Palate: Intense cherry, Finish: cherry, cinnamon and spice. Serve slightly chilled.
Awards
Silver: 2019 Finger Lakes Wine Competition • Silver: 2018 Mid-Atlantic Southeastern Wine Competition
Vineyard Notes
100% Wisconsin Cherries.
Winemaker Notes
Our cherry wine, a secret blend of four varieties, is a definitive crowd pleaser. A 100- day, cold fermentation was followed by an additional three months aging sur lie for added complexity. Intense cherry notes give way to hints of cinnamon & spice lingering on the finish.
Food Pairing Notes
Make a cherry reduction to glaze pork chops, pair with vanilla ice cream or just enjoy porch-side, slightly chilled. Best when served between 55-59ºF.
Product Reviews
Kathy E.
(Apr 5, 2016 at 4:47 PM)
Delicious balance of sweet and not-too-sweet ... Perfect for sipping poolside (or fireside). Full of flavor.
Melody B.
(Sep 27, 2017 at 8:47 PM)
One word. DELICIOUS!! I do believe this wine is my new favorite. I like wine that is sweet and fruity. If you like cherries, you are sure to love this wine. So good!
Amanda George
(May 4, 2018 at 1:43 PM)
The best wine!
Elissa Johnson
(Jun 4, 2018 at 6:51 PM)
This is the best cherry wine I have tasted!
SHERRY WING
(Jun 5, 2018 at 10:55 AM)
This is the best wine that I have ever tasted! My absolute all time favorite. I cant get enough.
Leigh
(Aug 18, 2018 at 5:25 PM)
My new favorite!!! I have always adored your wines, but this one is spectacular! Love the bursting full cherry flavor with just enough sweet! Best wine ever!
Sharon Tazelaar
(Aug 24, 2018 at 12:26 PM)
Dry reds have always been my favorites, until now. Glad I took the chance on this cherry wine. It's something very special!!
Patricia
(Mar 7, 2019 at 11:42 AM)
If I could give this wine 6 stars, I would. When our local stores decided to stop carrying this cherry wine, I went from store to store and purchased every bottle they still had in stock. I'm not a fan of dry wines and some of the sweet wines are just too sticky sweet. This wine is perfect. Semi sweet and just a touch of tartness. When the generous supply I currently have gets low, I will be ordering more. Thanks for making a great wine
Andy Lou
(Jul 2, 2019 at 4:20 PM)
For a good while, I was all and only about the dry reds. Problem is, the most affordable and available of them are imported from Europe, and as someone who believes in living within one's local foodshed, I couldn't really square what I was buying with what I believe in. This led me into researching local/regional wines that were in-line with my values and tastes, and, as a secondary criteria, my budget. I was fortunate enough to come across Chateau Morrisette at my local liquor store, and gave it a go. As a lover of dry wines, I was surprised to be as won over as I was with their cherry wine; as indeed, while it is sweeter than what I had grown accustomed to, the sweet was not at all overbearing or cloying or off-putting. It was, for me, the perfect balance of sweet and tart and flavor. A lovely wine I reckon I'll be buying again and again. Highly recommended.
Jan
(Mar 16, 2023 at 2:06 PM)
I recently discovered this wine at the grocery! It is wonderful. I am glad more is on the way because I believe I purchased the last bottle.