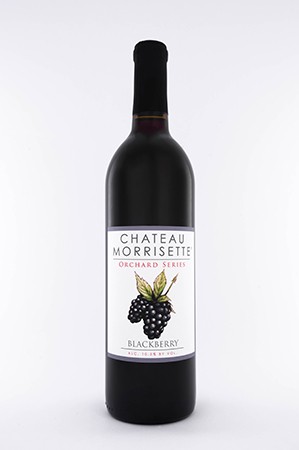 Blackberry
Wine Specs
Aging
Best now or aged no more than one year.
Wine Profile
Tasting Notes
Aroma: Dark berries Palate: Sweet, blackberry pie. Finish: Smooth, blackberry.
Awards
Bronze: 2019 Finger Lakes Wine Competition • Bronze: 2018 Atlantic Seaboard Wine Competition
Production Notes
This is an apple based wine with blackberry flavors.
Winemaker Notes
Imagine, thick & dark blackberry pie with vibrant aromas that fill the glass to the brim. Literally no different than having a mouthful of ripe blackberries right from the basket.
Food Pairing Notes
Serve chilled, between 49-52ºF. It's perfectly sweet aperitif to be paired with the likes of cheese or better yet, barbecue
Product Reviews
Amy
(Apr 17, 2016 at 4:12 PM)
I can only get this wine when we go to visit my in laws in Virginia, and I buy every bottle the grocery store has. I fell in love with it the first time I had it. By far, the best blackberry wine ever!
Glenn
(Oct 24, 2016 at 4:33 PM)
Excellent wine, with a great blackberry, fruity taste...Great with burgers on the grill..
Sandy
(Feb 28, 2017 at 7:00 AM)
An amazing blackberry wine. You will not be diapointed! So glad Pennsylvania changed their laws, and I can now order this and many other wines from Chateau Morrisette.
Jodi
(Apr 18, 2017 at 1:16 PM)
My all time favorite wine. ❤🍷
Jeff Curtis
(Aug 3, 2017 at 8:00 AM)
Dear David,
My wife and I wanted to thank you for offering such a great wine. We have been enjoying your Blackberry wine now for years and maintain a bottle in our cupboard, (that's a country version of a wine cellar) which never seems to last very long. It's a wonderful wine especially for these hot summer afternoons. Much appreciated!
KIMBERLY FLOWERS
(Jun 8, 2019 at 12:14 PM)
I enjoy your blackberry wine almost every night. It has become a favorite. Delicious!
Arianne
(Oct 7, 2019 at 6:44 AM)
Smooth and delicious! My new favorite!
Shannon bunch
(Jan 29, 2022 at 11:30 AM)
One of my favorite wines, my wife absolutely loves it. We are extremely picky when it comes to wine, this wine checks all the boxes.
Tammy Hinken
(Aug 3, 2023 at 6:11 PM)
I love your winery and visit it often as it's about an hour from me. I feel in love with this one even before I visited your winery. I buy many others of yours but this is by far my favorite. 💜