TOP
4 White Grapes®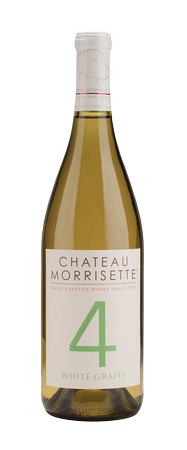 Wine Profile
Tasting Notes
Aroma: Toasted vanilla Palate: Apple, lemon and oak. Finish: Crisp offering of pear and quince lingers into the finish. Blend of Chardonel, Petit Manseng, Vidal Blanc, and Viognier.
Awards
Gold Medal: 2017 Savor Virginia Wine Classic • Gold Medal 2015 Winemaker's Challenge Competition • Gold Medal 2015 Critics Challenge International Wine Competition • Gold Medal 2015 Florida State Fair International Wine Competition • Silver Medal 2015 Texsom International Wine Awards • Silver Medal: 2015 Finger Lakes International Wine Competition
Vineyard Notes
100% Virginia Wine
Production Notes
Four White Grapes is a blend of some of our favorite white varieties. It is a blend of Chardonel, Vidal Blanc, Viognier, and Petit Manseng. We fermented the Chardonel and Vidal Blanc on their own in stainless steel tanks. The Viognier and Petit Manseng were fermented together in tanks as well. After fermentation, we carefully blended the four varieties together to achieve the flavor we were after. After blending the wine was aged with oak to promote complexity in the wine.
Winemaker Notes
The oak aging offers vanilla aromas and toasted notes on the nose. The fruitiness of the individual varieties comes through on the palate expressing flavors of apple and lemon in addition to the oak derived characteristics.
Food Pairing Notes
Pair: Pan seared chicken, sauteed seafood or gumbo.