New Year's Eve Dinner 2019
| | |
| --- | --- |
| Date: | Tue, Dec 31, 2019 |
| Time | 4:30 PM to 9:30 PM |
| Venue: | Chateau Morrisette Restaurant |
| Email: | info@thedogs.com |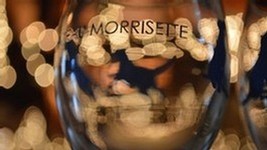 Savor the closing of the year ​and the excitement of the year to come with four courses of farm-to-table culinary delight including: amuse bouche, followed by a choice of appetizer entree and dessert. Meal will include a complementary glass of sparkling wine.
Dining Options
1: $68 for all 4 courses and complementary sparkling wine.
2: $85 for 4 courses with complementary sparkling wine and wine pairings.
Table by Open Table reservation or call us at 540-593-2865
Seatings from 4:30pm-7:45pm
Disclaimer: The restaurant is only open for the New Years Eve Dinner. Regular reservations will not be taken.
Menu
Amuse Bouche:
-Pimento Cheese Arancini, roasted red pepper jelly
First Course:
-Golden Beet & Pistachio Salad, toasted coriander yogurt, pickled mustard seed, orange threads
-Escargot Tartine, Benton's country ham, garlic butter, parsley
-Tomato Bisque, grilled cheese crouton
-Good Luck Pork & Beans, Italian pork sausage, lentils, sweet onion soubise, romesco
Main Course:
-Duck Breast, braised red cabbage, sweet potato puree, red wine sauce
-Seared Scallops, polenta pave, cured blueberry, salsa verde
-Fig Crusted Lamb Chop, white bean hummus, charred shallot & potato hash, pickled raisin, smoked paprika gastrique
-Venison Osso Buco, parmesan-sage grits, nasturtium butter
Dessert:
-Bread Pudding, bourbon caramel sauce, Homestead Creamery vanilla ice cream
-Meyer Lemon Tart, chocolate crust, chantilly cream

You know you want to
Sign Up For Our Newsletter
Keep up to date on the latest wine releases, events, and promotions.