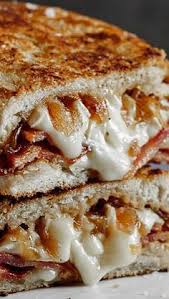 Apple Butter, Bacon and Brie Grilled Cheese
Prep time: 10 minutes
Cook time: 5 minutes
Total time: 15 minutes
Ingredients
2 thick slices artisan white bread
2 thin slices Brie cheese, rind cut off
2 slices bacon, cooked
1 tablespoon apple butter
Butter, as needed
Instructions
Cook bacon till crispy, and then set aside.
Butter one side of each slice of bread.
In a large pan, place one slice of bread, butter side down. Top with apple butter, brie cheese and cooked bacon. Then, top with the second slice of bread, butter side up.
Over medium heat, cook for about 2½ minutes on each side of the sandwich, until bread is golden brown and the cheese is fully melted.
Serve with a glass of Chateau Morrisette Vin Gris Dry Rosé.
This recipe was featured by writer Nisa Cochran in Savor Virginia. Click link to view at Savor Virginia.