Calendar of Events
August 2019
Fields Edge Farm Dinner
5:30 PM to 8:30 PM
Sat, Aug 24, 2019
Venue:
Chateau Morrisette Winery and Restaurant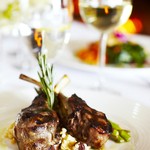 Join us for a farm fresh meal at the the Field's Edge Farm Dinner to be held the night of Saturday August the 24th. There will be wine and beverage pairings with each course with a focus on food and farm.
$95 per person including tax and gratuity.