TOP
Discovery Lunches - Africa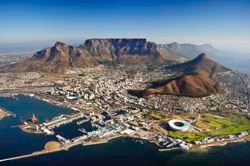 Join us Thursday, November 3 at noon for a special luncheon program featuring experts on African travel presenting one of the world's greatest adventures and enjoy African style foods prepared by Chateau Morrisette's own Culinary Team. Space is limited. $31.00 per person. Reservations and pre-payment required. Non-refundable.
The Menu
Frikkadel- South African spiced meatballs
Bunny Chow- Curried vegetables in loaf bread (very popular street food)
Amadumbe- Mashed Sweet Potatoes with crushed peanuts and honey
Grilled Boerewors (house made sausage with coriander, allspice, black pepper, nutmeg and clove)
Chakalaka (spicy tomato and bean relish accompaniment)
Includes 2 glasses of wine with your meal.

The Program
South Africa has it all! Whether you're seeking a Big Five safari experience, cosmopolitan cities, a rainbow nation of richly diverse cultures, or spectacular scenery.
Tanzania delivers an exceptional safari experience within its game parks and private reserves. Here wildebeest stampede across the Serengeti plains during their annual migration and baobabs dwarf the herds of elephants that feed beneath them in Tarangire National Park. Explore Ngorongoro Crater, a UNESCO World Heritage Site and the world's largest free-standing caldera.
Kenya has long been a top destination for safari seekers. Showcasing a wealth of wildlife, each ecologically diverse game park has its own allure. Breathtaking landscapes, endless plains and unrivalled game viewing year round, the Masai Mara, is where huge herds of wildebeest and other herbivores make their way during the annual Great Migration