CHATEAU MORRISETTE
WINERY AND RESTAURANT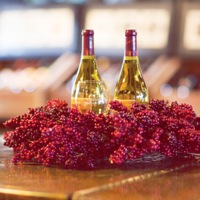 The Holidays are upon us and we hope you can join us here at the winery. The fireplaces are lit, there's food on the stove, and some wine for every glass. Our Holiday Wine Sale begins November 25th and runs through the month of December. You will save 20% off bottles and 30% off cases of our wines. Our Blog offers a number of ideas for holiday gifts if you're looking for just the right purchase for someone special on your Christmas list.
When you visit us, enjoy the rustic elegance of the Chateau Morrisette Restaurant or take in one of our Black Dog Music Festivals or other special events. Savor the view, ranked among the top restaurant views in America. Sip some wine by one of our fireplaces, on our restaurant terrace, or in our winery courtyard.
Relax and enjoy. Chateau Morrisette is open year round. Find us along the Blue Ridge Parkway in Floyd, Virginia. We welcome you and thank you for supporting Chateau Morrisette.
December note: the Blue Ridge Parkway is closed north of Roanoke, between milepost 112.2 and 121.2. We recommend checking current Parkway closure status throughout winter before coming to see us. See our alternate directions for when the Parkway is closed.