CHATEAU MORRISETTE
WINERY AND RESTAURANT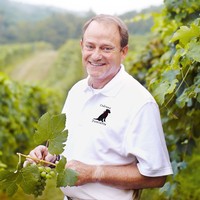 I'm David Morrisette, Founder and President of Chateau Morrisette. I invite you to shop our diverse selection of wines here on our website or while visiting the Tasting Room of our Virginia winery, or perhaps at a retail outlet near you.
When you visit us, enjoy the rustic elegance of the Chateau Morrisette Restaurant or take in one of our Black Dog Music Festivals or other special events. Savor the view, ranked among the top restaurant views in America. Sip some wine by one of our fireplaces, on our restaurant terrace, or in our winery courtyard.
Relax and enjoy. Chateau Morrisette is open year round. Find us along the Blue Ridge Parkway in Floyd, Virginia. We welcome you and thank you for supporting Chateau Morrisette.
It's fall! Get our winemaker's glimpse of harvest season here at Chateau Morrisette.