The Black Dog Blog
Chateau Morrisette is among the oldest and largest wineries in Virginia. Previous to the Covid-19 pandemic we also operated an award-winning restaurant with a 95% recommendation rate on OpenTable. With fresh vintages, flavors, and events at the winery, restaurant, vineyard, and festival field throughout the year, we will keep you abreast of all the great happenings and the people who make up Chateau Morrisette Winery and Restaurant in this blog and through our Facebook, Instagram, Twitter, and Pinterest sites.

The Vineyard Manager Steve VanSutphin and I just visited with some of our nearby growers to check on how the vines are progressing this year. We are lucky to work with such experienced and quality growers. Here are a few of them!

John Ayers is located in Patrick County and has been growing for us for many years. This year we will be getting some Vidal Blanc from his vineyard. If you like our varietal 2015 Vidal Blanc, much of the fruit was from Ayers' Orchard and Vineyard.

Nelson Stanley and his wife Elsie of Stanburn Winery are wonderful growers and some of the kindest people you'll ever have the opportunity to meet. They are located in Stuart, VA and are growing Chambourcin, Cabernet Franc, and Traminette for us this year.






Mary Simmons is an extremely talented and passionate grower out of Ararat, VA. We will be getting a portion of our Cabernet Franc, Merlot, Chardonnel, and Petit Manseng from her at Spring Branch Vineyard.


Savoring the Experience of Slow Food
The Blue Ridge unfolds vibrantly in the spring, and Chateau Morrisette Winery and Restaurant renews with the same vibrancy. With fresh vintages from the cellar and fresh dishes from the kitchen, the winery and restaurant that have grown and flourished in Floyd County's southern corner for over thirty years greet 2016 in full bloom. The winery's Vin Gris rosé was the first vintage off the bottling line in 2016, and bottling is now in full swing, with twenty-two wines currently on offer at their mountaintop tasting room.
Having started as a local single estate winery, it's only natural that Chateau Morrisette has embraced the budding farm to table movement in its restaurant offerings.
Farm-to-Table Begins in the Ground
Matt Sanders, Head Gardener for Chateau Morrisette, in close collaboration with Executive Chef Cooper Brunk, says that plans for this year's kitchen and estate gardens represent an evolutionary step from previous years.
"The estate garden is a half acre under active cultivation within the full acre plot," says Sanders. "There are no synthetic applications to the garden aside from fertilizer. We use both organic mulches and plastic sheeting to prevent erosion and suppress weeds, which we complement with timed cultivation techniques to limit soil loss." The gardener, marking his second year in the lead role with estate crop production, says that a year round approach brings benefits to the main growing season. "Cover crops rotated into fallow space – including buckwheat, millet, and winter rye – condition the soil and support fertility, and daikon radishes help pull nutrients back up that have leached downward in the soil, to be used by following years' crops."
The estate garden is effectively protected by a ten foot tall deer fence that would be the envy of most local gardeners, but neither the estate garden nor the kitchen garden are immune to a pest well known to Appalachian growers: "Flea beetles typically don't kill our greens, but they can affect the leaf presentation, which is important on the plate," says Sanders. "We can usually limit their effects to tolerable limits with extensive use of row covers. Even though the botanical controls we use like neem or pyrethrins break down quickly without residue, we still like to use them only when necessary." Sander's holistic approach in planning the garden embraces not only what goes into the soil, but the destination of the produce that comes out: Chateau Morrisette Restaurant's tables.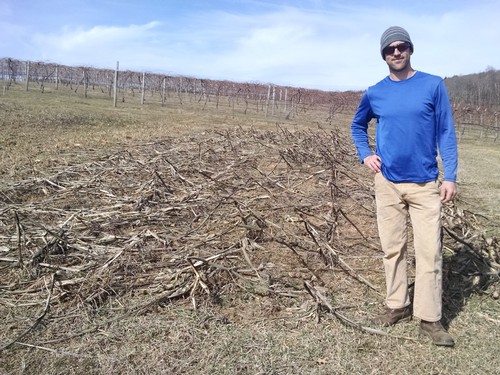 Let the Dish Lead the Planting
Sanders is supporting Chef Cooper's intent to "let the dish lead the planting" by planting a greater variety of crops, with more successional plantings. This will keep ingredients and menus fresh throughout the season and provide manageable amounts for the kitchen to staff to work with, though Sanders notes that previous years' surpluses haven't been wasted: "We sold corn and tomatoes locally and still managed to have some left over for local food banks."
While there will be some bulk staples grown that the restaurant will make frequent use of – onions, potatoes, winter squash, and leeks – the broader variety is evident in the gardener's notebook: early spring carrots, radishes, turnips, broccoli, cabbage, leading into later plantings including beets, kale, purple mizuna, and micro greens.
Chef Cooper is excited to introduce to the estate garden a crop that has only recently begun to be cultivated anywhere: kalette, a traditionally bred (non-GMO) cross of kale and Brussels sprouts. The plant grows tall and produces florets like Brussels sprouts, but instead of having tiny heads, the florets yield loose tufts of leaves. Brunk notes the flavor is less piquant than Brussels sprouts but still richer than kale. Such a cross of flavors reflects the hybrid approach that the chef is bringing to the Restaurant at Chateau Morrisette.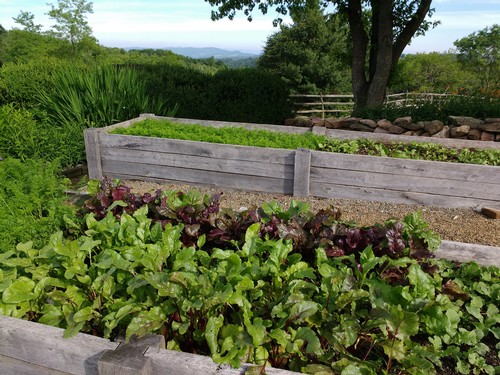 Appalachian-French Fusion
Chef Cooper joined Chateau Morrisette in October last year, bringing training in classical French cuisine from his graduation with highest honors from the Culinary School of the Rockies and experience in fine restaurants in France, Colorado and Tennessee. A past "Best Menu" winner for the Flavors of Nashville competition, he is the author of a specialty cookbook as well. Previously, he served as chef instructor, private chef, and executive chef and was restaurant owner of Cooper's on Porter in Nashville.
Brunk says his first menus at Chateau Morrisette "were both training menus for the kitchen staff and transition menus for the restaurant's loyal patrons." Such a transition was necessary, he says, so that his classical French influences could be sampled and appreciated without leaping too far from the more purely American Southern style the restaurant had been known for. Using estate grown, local, and regional ingredients in his custom French dishes, Chef Cooper creates a style he says might best be described as "Appalachian-French fusion."
Brunk is eager to point out that while American Southern cuisine traces lineage from the French Provençal style, with both deeply shaped by fresh, seasonal ingredients, his new menu, introduced in April, "really takes the menu up a notch" in creating a full range of French cuisine, from Provençal to haute. Such an array embodies the Chateau Morrisette identity of rustic elegance, with dishes like the crawfish ragout showing off the more rustic influences, while "the beurre blanc sauce, served with tenderloin, and the foie gras fondue, are definitely dishes in the more refined French haute (high) style."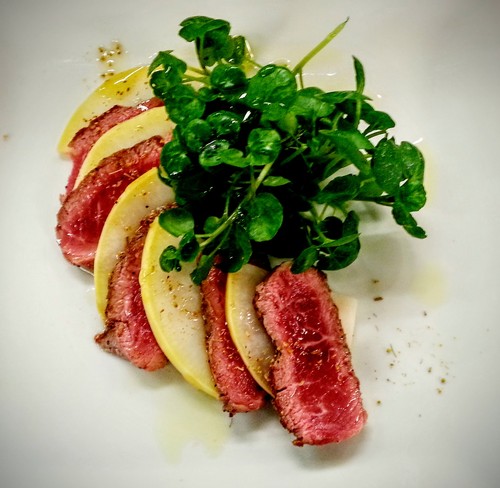 Inspiring Positive Vibes and Passion for Flavor
High style leaves plenty of room for a human touch in Brunk's kitchen. He's pleased to note that in his time here, he's seen a refreshed kitchen crew building into a cohesive team. "There's a positive feel in the kitchen, and those good moods translate to the food that comes to the table." The connections among staff, guests, the foods prepared and shared, and the land that nurtures the ingredients are essential to this Appalachian-French fusion. Chef Cooper sees such connections throughout Chateau Morrisette Winery and Restaurant, and offers as an example seeing kitchen staff like sous chef Rick Caviness committed to honing their craft in the kitchen as well as lending a hand in the estate and kitchen gardens. Brunk observes, "It inspires passion to take care of your ingredients when you pull them out of the ground yourself."

Brian Smyth hosted Lindee Katdare and her cameraman in the cellar at Chateau Morrisette. They sampled a couple of foods prepared by Chef Cooper Brunk and talked about the intricacies of pairing wine with food. You can see the entire interview here.

Chateau Morrisette
2015 Petit Manseng
Bottled: January 2016
Winemaker's notes: April 2016
An intensely aromatic nose of tropical fruits such as pineapple and mango combine with the sweet, floral smell of honeysuckle in this fine wine. The Petit Manseng grape is consistently high in acid which naturally lends itself to the medium sweet style of this wine.
While Petit Manseng is not as well-known as other white Vitis vinifera grapes, it performs immaculately in Virginia's climate. It is traditionally grown in southwest France and generally is made into a dessert style wine. The fruit in this bottle was a winemaker's dream to work with. As harvest approaches our growers sample their vineyards and we taste and analyze the fruit in order to make a picking decision. The main factors we are considering are flavor, sweetness, acidity, upcoming weather and associated damage. As flavor and sugar go up, acidity typically drops off. This didn't happen with this wine; it ripened beautifully and the weather cooperated. It was grown by skilled viticulturists, picked at the optimal flavor ripeness, fermented cool and slow in stainless steel, and proudly crafted by our winery team.
Petit Manseng's high acidity makes it a perfect choice for many types of cuisine. This combined with its medium sweetness lends itself particularly well to a dish like Thai green curry or a strong cheese like gorgonzola.
Serving recommendations: 50-55°F

Mountain Adventure Weekend, June 4 and 5, encourages Chateau Morrisette patrons to enjoy the wilder side of Floyd County, with the Vine Wined 5k trail run benefiting Floyd Humane Society, skeet shooting in the Nancy Morrisette Festival Field, kayaking on the Little River with On the Water of Floyd, and horseback riding through the vineyard with Ride-A-Rescue. Shannon talks with Paul VanWagoner of ESPN about the weekend.

Ripped from the headlines!

Trump Wine Is Built on Acres of Lies
The GOP frontrunner's claim that he owns 'the largest winery on the East Coast' is not true when it comes down to the amount of wine he makes.
Read the entire article - click here.

We all recognize "the dog" while walking through the grocery store and can't help but wish that we were spending the afternoon at one of the prettiest wineries in Virginia, Chateau Morrisette! Since first crafting wine in 1978, Chateau Morrisette has made a name for themselves through their involvement in the community and their dedication to excellence. Whether you prefer red, white, sweet, or dry they have the perfect bottle just for you. If you're celebrating, they have extra-dry sparkling wine for that too!
READ THE ENTIRE ARTICLE: CLICK HERE.
Thanks to Beck Media Group for including Chateau Morrisette!

FLOYD, Va., May 4, 2016 /PRNewswire/ -- Virginia's Chateau Morrisette Winery announces its newest wines, including the release of its first-ever Petit Manseng (2015), made from a rare French grape that's thriving in Virginia wine-making country. As well, this spring is a time of renaissance for the winery, which announces its new Founders Club wine club, latest award-winning wines, and The Restaurant at Chateau Morrisette's innovative new cuisine - Appalachian French Fusion - a gourmand's delight.
Chateau Morrisette's Enologist and Winemaker Brian Smyth's extensive knowledge of regional wines paired with his technical prowess made a Petit Manseng (2015) a natural evolution for the winery, which is known for its light sweet wines. Also, four new vintages debut this spring: Cabernet Sauvignon (2013), Vidal Blanc (2015), Viognier (2015) and Vin Gris (2015).
"We continue to improve the caliber of our wines, which are performing well in prestigious international competitions, even against much pricier vintages," commented Smyth. At the most recent San Francisco Chronicle Wine Competition, VirginiaGovernor's Cup, and Finger Lakes International Wine Competition, the winery received a total of 16 awards for its wines, including for Our Dog Blue (2015), Chardonnay Reserve (2013), and its debut Petit Manseng, which won a Silver at the Finger Lakes International Wine Competition.
Via the winery's new website, visitors can sign up for the new Founders Club wine club to receive four bottles or a case of wine every quarter at a discount. Wine can be shipped to members' homes, or they can attend a quarterly pick up party at the winery, enjoying a convivial event with free wine tastings and special foods prepared for the occasion. "Members of the Founders Club can choose to follow a 'founder' of Chateau Morrisette, and receive sweet wines, classic wines, vintage reds or mix and match on their own," remarked Smyth.
Under Chef Cooper Brunk, the Restaurant at Chateau Morrisette has evolved its signature menu to reflect what he calls Appalachian French Fusion. The elegance of traditional French fare is recast with regional flavors and made with fresh, local produce, meats and cheeses. "As part of our seasonally-changing menu, we now offer unique wine pairings for each entrée, which enhance the flavor of the meal," said Brunk.
Located at Milepost 171.5 on the Blue Ridge Parkway in Floyd County, V.A., Chateau Morrisette welcomes visitors year round for wine tastings, including private Elite Tastings, and special events such as Mountain Adventure Weekend (June 3 to 5), and Sunday Sounds, free live music in the courtyard from June through October.

Here is the Link to the PR Newswire Feature: PRNEWSWIRE

What an awesome designation from the Charlotte Observer. We have many Wine Club members from the Charlotte area and we're only 2.5 hours away, so we see a lot of visitors from the Queen City too. This makes being named one of the top ten don't miss spots by the Charlotte Observer even better. Here is what they said:

"One of Virginia's oldest wineries, Chateau Morrisette is a bit of a secret outside the region. But the wine's good and the bistro and live music series (www.thedogs.com) make a stop even more worthwhile."

Read the whole article here: Charlotte Observer


Norma Meyer recently visited Chateau Morrisette and wrote a nice segment about her entire visit to the Blue Ridge Parkway region near Roanoke, Virginia. She is a travel writer and contributor to the Creators Syndicate. Here is what she had to say about Chateau Morrisette:

"Those favoring fermented grapes and pooches over hooch should head to Chateau Morrisette winery, where the Black Dog red blend is "well bred" and the owners' late black Lab, Hans, graces wine labels and souvenirs. (We're told he was great at lapping up wine spills.) The winery's lauded restaurant is dogged in epicurean details (pomegranate Merlot salad dressing, Chardonnay tomato jam) and provides an intoxicating mountain view."
You can read the entire article and learn more about the region, including Roanoke, VA, Patrick County, Floyd County and Franklin County.

Read https://www.creators.com/read/travel-and-adventure/04/16/big-fun-in-virginias-blue-ridge-mountains
You know you want to
Sign Up For Our Newsletter
Keep up to date on the latest wine releases, events, and promotions.