The Black Dog Blog
Chateau Morrisette is among the oldest and largest wineries in Virginia. Previous to the Covid-19 pandemic we also operated an award-winning restaurant with a 95% recommendation rate on OpenTable. With fresh vintages, flavors, and events at the winery, restaurant, vineyard, and festival field throughout the year, we will keep you abreast of all the great happenings and the people who make up Chateau Morrisette Winery and Restaurant in this blog and through our Facebook, Instagram, Twitter, and Pinterest sites.

Château Morrisette Winery Announces
Harvest With the Dogs: A Hands-On Vineyard Experience
Floyd, VA, August 3, 2016 – Chateau Morrisette Winery will offer an immersive vineyard experience for the first time on September 24, 2016. The program is designed to engage wine enthusiasts in the process of harvesting grapes and making wine, providing participants with both education and hands-on training during a half-day session.
Guests may choose to participate in either a morning of afternoon experience. It begins with an informational briefing from the Vineyard Manager, Steve VanSutphin. "I will cover viticultural topics including planting, pruning, trellising, canopy and soil management, to name a few," VanSutphin said. Participants will learn standard harvest techniques and will be provided with clippers and a grape lug to try their hand at the traditional harvest.
Once the harvest is complete, the grapes will be transported to the cellar crush pad for processing. Participants will meet with the Winemaker, Brian Smyth and learn all about the crushing process. The grapes will be pressed and turned into juice. "While time will not allow us to actually begin the fermenting process, I will discuss how that process works once the juice is made," said Smyth. Each guest will take home a bottle of juice from the day's harvest.
As with any harvest, this vineyard experience will take place rain or shine. Guests should come prepared with proper shoes and clothing. The cost of the program is $70 per person and includes presentations, equipment, lunch in the vineyard and souvenir items to take home. The program is offered at 10:00 AM or at 1:00 PM. Reservations are required and tickets may be purchased on the website at www.TheDogs.com. Participation is limited to 34 guests during each session.

For tickets and additional information, click here Harvest With The Dogs: A Hands-On Vineyard Experience at Chateau Morrisette Winery
About Château Morrisette
Château Morrisette has retail distribution throughout Virginia, North Carolina, West Virginia, Tennessee, Georgia, South Carolina and Kentucky. The winery and restaurant is located at milepost 171.5 on the Blue Ridge Parkway in beautiful Floyd County, Virginia. For more information, visit www.thedogs.com, call (540) 593-2865, or follow us on Facebook.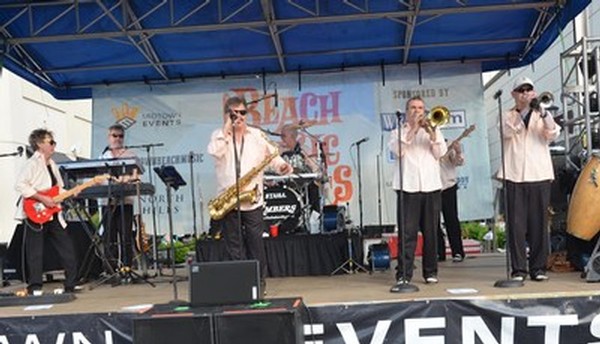 The Embers boast numerous albums and single releases that span decades and all the crazes continuing to exhibit top quality showmanship, musicianship and professionalism. Having been inducted into the South Carolina Rhythm and Blues Hall of Fame and most recently the South Carolina Beach Music Hall of Fame, The Embers are honored to carry the moniker of North Carolina's Official Ambassadors of Music. This group has traveled the country and the world and have performed for every event imaginable from the highest dignitaries to the hottest back yard frat parties. The Embers were also honored to travel throughout South Korea to perform their Christmas special 'Christmas with the Embers' on American Military bases for America's troops in December of 2007 and 2008. The Embers were awarded Military Coins of Excellence for their distinguished service.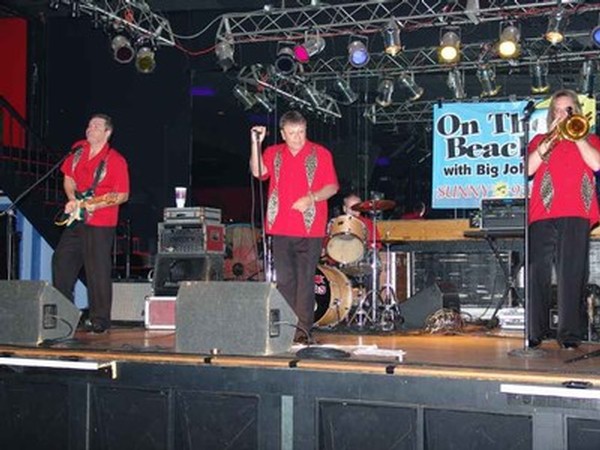 This combination of experience and longevity has allowed THE FANTASTIC SHAKERS to possess a level of versatility few other groups can match. With five lead vocalists and up to three horns, they can perform almost any style of music from up-tempo dance and rock to the smooth easy listening for the more subdued occasions. The music is GREAT but what sets THE FANTASTIC SHAKERS apart is the personality of the group. From start to finish every performance becomes a PARTY! The fun starts at the first note and doesn't stop until the last. A performance by THE FANTASTIC SHAKERS is not just a party, it is an EVENT!
The Black Dog Beach Music Festival takes place on August 13, 2016 at Chateau Morrisette Winery and Restaurant's Festival Field. Advance tickets are $20 and they sell for $30 at the gate. Admission includes all day wine tastings, a souvenir wine glass, entertainment and free parking. Well behaved pets on a leash and children of all ages are welcome at the event. Food, wine, beer and arts are all offered for sale. For more information, visit THEDOGS.COM

Natalie Soucie, host of Day Time Blue Ridge on WSLS 10 in Roanoke, Virginia visited Chateau Morrisette and spoke with our Events Director, Sally Truslow to learn all about The Black Dog Jazz Festival on July 9, 2016. Sally told her about the musical artists performing for the day, including saxophonist Grace Kelly, swing music by Wally West's Little Big Band, and the Mike Floyd Jazz Trio. Click here to view the 4 minute segment that ran on Wednesday, July 6th. VIEW VIDEO

Mark Squires reviews Chateau Morrisette's 2015 Petit Manseng for Wine Advocate.
The 2015 Petit Manseng actually has 10% Chardonel and 3% Viognier added. It comes in with 32 grams per liter of residual sugar and 13% alcohol. This was not here in time for our large focus article on Petit Manseng (April 2016), but as always, coverage is ongoing. The debut release for this brand, this is a nice first effort in a drier style. Only modestly concentrated, mingling a touch of grapefruit with peach, this is a tight and focused wine on first pour, but it does open and become more expressive with air. It also tails off a bit on the finish at that point. It always tastes great, though. This is a great style to use as a food wine with some cheeses, but it is tasty enough, light enough and fresh enough so that it will work better on its own in summer heat.
Rating: 87 points
Price: $29
Drink Date: 2015 - 2022
Reviewed by: Mark Squires
Date tasted: 13th Apr 2016
Source: 225, The Wine Advocate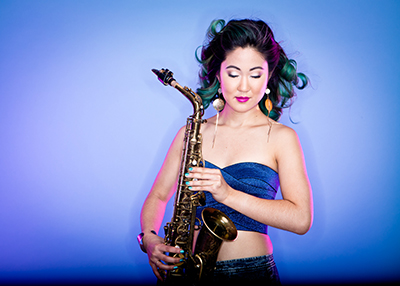 Come out and enjoy high energy performances by nationally known vocalist and saxophonist Grace Kelly along with swing, big band, and dance jazz from the Wally West Little Big Band, and one of Floyd's favorites, The Mike Mitchell Jazz Band (video).
Headliner Grace Kelly just received her 7th nomination to DownBeat magazine's critic's poll for alto sax rising stars, this year taking the top spot. Here's what jazz lovers have to say about Ms Kelly:

"Kelly champions accessibility without sacrificing style." – Village Voice
"charismatic and immensely talented…all the chops in the world" – Downbeat Magazine
"As everybody knows, she is a remarkably mature player" – David Sanborn
"Jazz innovator … Making jazz young" – Billboard
Admission includes all day wine tastings, on site parking and entertainment. Beer, wine, food, and crafts are offered for sale. $20 advance tickets until July 8; $30 at the gate. See more details at the Jazz Festival ticketing page.

We're pleased to announce this year's performers for Sunday Sounds, free music for your listening pleasure while you sip on the winery courtyard. Enjoy our eclectic array of Americana artists, with jazz every first Sunday! Performers may change; stay current with our calendar.
6/26 Tim Pfeiffer: folk / blues
7/3 Front Porch Swing: jazz
7/10 Nostalgic but Cool: rock, country, 60s
7/17 RagTop: folk rock / blues
7/24 The Sigmon Stringers: bluegrass
7/31 American Roots: Americana
8/7 Lew Woodall: jazz
8/14 Zuzu Welsh Band: rock, blues, country
8/21 Shades of Blue: Americana
8/28 Larry Wishon: southern rock
9/4 Bob Peckman Jazz Trio: jazz
9/11 Cory Campbell: Americana
9/18 Jim Lord: Americana
9/25 Melissa McSherry: Americana
10/2 Virginia Blue Band: jazz
10/9 Pat Anderson: Americana
10/16 Mac Traynham duo: Blue Ridge old time
10/23 Rusty Seesaws: folk-punk, bluegrass
10/30 Indian Run Stringband: Americana

Chateau Morrisette
2015 Viognier

Bottled: February 2015
Winemaker's notes: May 2016
Our 2015 Viognier offers melon and apricot on the nose which is complimented by a rich palate reminiscent of honeysuckle and peaches. The Viognier fruit used to make this wine was grown in Tyro, VA. The fruit was whole cluster pressed to minimize skin contact in order to reduce the astringent character Viognier can suffer from. After cold settling, the wine was inoculated in tank and subsequently transferred to barrel for fermentation. After fermentation, the wine was racked and continued to age in barrel until December 2015.
Pair with grilled seafood topped with peach salsa and you won't be disappointed. Enjoy now or lay down for 3-5 years.
Serving recommendations: 50-55°F

Laboratory specifications:
Alcohol:
13.0%
pH:
3.52
Titratable acidity:
6.2 g/L
Residual sugars:
0.3%

FOR IMMEDIATE RELEASE
Chateau Morrisette Winery Announces Summer 2016 Music Events
Floyd, V.A., June 2, 2016 – Located along Virginia's scenic Blue Ridge Parkway, Chateau Morrisette Winery announces its signature summer music festivals, the Black Dog Jazz Festival and Black Dog Beach Music Festival, and free Sunday Sounds in the courtyard, which includes a variety of music through October.
Summer Events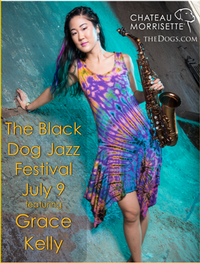 Black Dog Jazz Festival, July 9, noon – 5 p.m.
Featuring vibrant saxophone prodigy Grace Kelly, the Black Dog Jazz Festival includes swing music from Wally West Little Band, and jazz from Mike Mitchell Jazz Band. The event takes place at Nancy Morrisette Festival Field, and tickets are $20 in advance and $30 at the gate. Admission includes all day wine tastings, on-site parking and entertainment.
Black Dog Beach Music Festival, August 13, noon – 5 p.m.
Chateau Morrisette's annual Black Dog Beach Music Festival headliners are music legends The Embers featuring Craig Woolard and the Fantastic Shakers, who are celebrating their 35th anniversary. The event takes place at Nancy Morrisette Festival Field, and tickets are $20 in advance and $30 at the gate.
Nancy Morrisette Festival Field is located at 3641 Black Ridge Road in Floyd, V.A., which is less than a mile from the winery and restaurant. Both events will be held rain or shine. Dogs on a leash are welcome. No coolers or outside food or drinks are permitted. Canopies, umbrellas and chairs are recommended. Outside alcohol is prohibited on premises per Alcohol Beverage Control.
The Crooked Road presents Mountains of Music Homecoming at Chateau Morrisette, June 12, 1 p.m. – 4 p.m.

An afternoon of American Roots music with the Whitetop Mountain Band, the concert takes place on the winery courtyard and is free to the public. Bring your own seating. The Crooked Road's Mountains of Music Homecoming is an annual nine-day, region-wide celebration of the communities and the music heritage of southwestern V.A.
Sunday Sounds Music Series, June 5 – October 16, 1 p.m. – 4 p.m.
Free Sunday music in the courtyard returns this summer and fall. Relax and enjoy award-winning wines while listening to a wide variety of music every week, including Wyatt Law (June 19), Tim Pfeiffer (June 26), Front Porch Swing (July 3) and more.
Throughout the summer, the Restaurant at Chateau Morrisette is the perfect location for Sunday Brunch or celebrating any special occasion over an intimate dinner or lunch. Under Chef Cooper Brunk, the restaurant's innovative menu reflects Appalachian-French Fusion, traditional French fare with regional influences and fresh, local produce, meats and cheeses.
About Chateau Morrisette
Chateau Morrisette is a picturesque day trip from Roanoke, Charlottesville, Blacksburg, Christiansburg or the Piedmont Triad or a great weekend away from Washington, D.C., Richmond, Hampton Roads, Raleigh/Durham, Charlotte, Knoxville or Charleston, W.V. Wine tastings start at $8 per person. For more information, visit www.thedogs.com, call (540) 593-2865 or follow us on Facebook.
####

Lindee Katdare, host of Daytime Blue Ridge on WSLS TV 10 came out to Chateau Morrisette to get a preview of all the activities. She had an opportunity to shoot skeet in our vineyard and get information about all the activities, including horseback riding, the Vine Wined 10K, skeet shooting, Kayaking on the Little River with On the Water Floyd, the wild game restaurant specials, and the live music on Saturday and Sunday.

It's a 4 minute segment. Click here to view it on DAYTIME BLUE RIDGE
Details for the event can be found on the calendar at THEDOGS.COM

Chateau Morrisette recently hosted Bruce and Valerie Cadle here at the winery as part of their journey the entire length of the Blue Ridge Parkway. The couple wrote a wonderful article about their experience and took some lovely photos uring their visit.
Here's the first thing they had to say!
"Have you ever had one of those afternoons where everything is so wonderful that it is almost surreal?
That's what we enjoyed yesterday at Chateau Morrisette Restaurant! Ah, Spring had sprung—even the parking lot was a'bloom! Flowering bushes and trees greeted you everywhere! And the view—that never gets old."

Click here to read the article and view the photos of a visit to Chateau Morrisette Winery and Restaurant.
You know you want to
Sign Up For Our Newsletter
Keep up to date on the latest wine releases, events, and promotions.