The Black Dog Blog
Chateau Morrisette is among the oldest and largest wineries in Virginia. Previous to the Covid-19 pandemic we also operated an award-winning restaurant with a 95% recommendation rate on OpenTable. With fresh vintages, flavors, and events at the winery, restaurant, vineyard, and festival field throughout the year, we will keep you abreast of all the great happenings and the people who make up Chateau Morrisette Winery and Restaurant in this blog and through our Facebook, Instagram, Twitter, and Pinterest sites.

Here at Chateau Morrisette, we are in the heart of our busy harvest season. The first grapes of 2016 were a small 2.5 ton lot of Chardonel from Patrick County. In the four weeks since then, we have received, processed, and are currently fermenting all of our Petit Manseng, Viognier, Traminette, Vidal Blanc, Niagara, Concord, and part of our Cabernet Franc, Merlot, and Chambourcin. So far, we have worked with about 330 tons of grapes and there are plenty more on the way!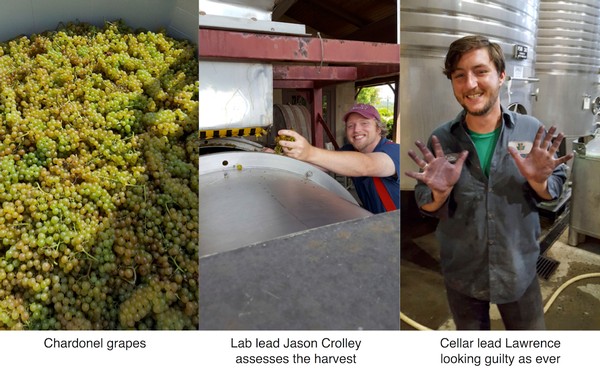 As grapes ripen, the berries soften, sugar begins to accumulate at a faster pace, acidity begins to decrease, and flavor compounds develop. When deciding when to harvest a variety, we take these factors into consideration along with upcoming weather events and the logistics of organizing a picking crew and transportation of the grapes to the winery. However, when fruit is ripe, it is all hands on deck and we work quickly to ensure fruit is harvested at the optimal time.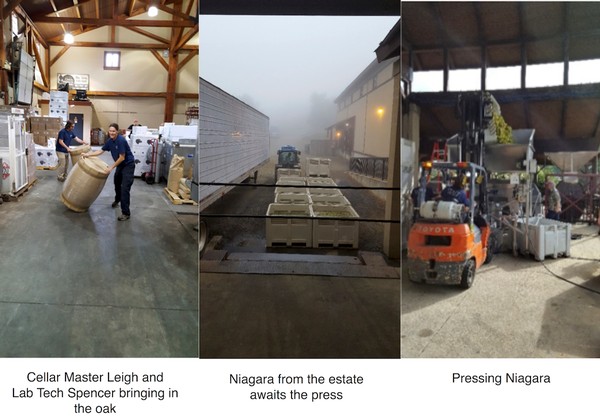 When white varieties arrive at the winery, we chill, weigh, destem, and press the berries to a white settling tank. We then chill the juice to settle all of the solids to the bottom of the tank. Subsequently, we pump off the clarified juice, warm it, adjust nutrients and sugar content, and finally inoculate it with a yeast strain specifically selected for the variety. After a tank is inoculated, there is a short period before active fermentation called lag phase where yeast are reproducing to their full biomass. After this, the yeast begin to ferment and convert sugar to heat, carbon dioxide, and alcohol. We monitor the sugar decrease and temperature to help us make decisions to manage the fermentation rate. Once sugar is depleted, the tank is considered wine and treated as such.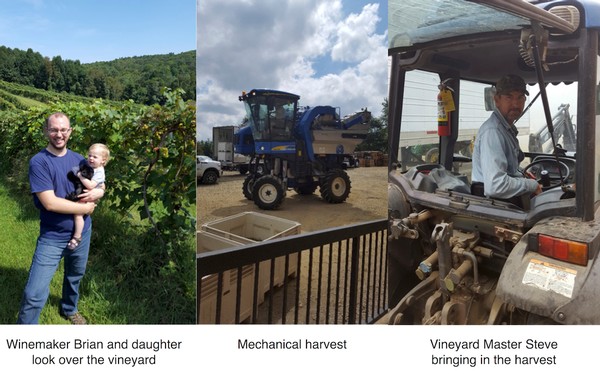 Red varieties ripen in the same manner, but are generally ready to be harvested later than the whites. When they arrive, they are handled in a different manner than the white varieties. All of the color and much of the flavor in a red wine comes from the skins. Because of this, reds are only destemmed and crushed before the juice, skins, and seeds are pumped to a red fermentation tank.
After inoculation, heat and carbon dioxide produced by fermentation begins to push berries to the top of the fermenter forming what we call a cap. This cap holds heat and, in order to homogenize temperature and extract color and flavor, we pump fermenting must (juice containing skins, seeds, and stems) from the bottom of the tank over the top to break up the cap several times each day. The way we choose to manage pump-overs and the rate of fermentation helps to determine the final style of the wine.
When a red fermentation is dry, we will drain the free flowing wine from the tank. The skins that are left still contain a significant amount of wine, so they are dug out of the tank and transferred to one of our presses. The press fraction of the wine is either blended back to the free run or kept separate for another blend.

Chef Chelsea makes all of the desserts served in the restaurant. I hand-craft each dessert using ingredients I acquire locally when ever possible. Here is my latest dessert menu saying farewell to summer fruits and hello to autum color.

Farewell Summer Sundae
Homestead Creamery Vanilla Ice Cream
Vanilla Bean Pickled Peaches • Blueberry Preserves
Gingered Whipped Cream • Caramel Croutons and Maraschino Muscadine

Brown Butter Blonde
Brown Butter Blonde with Blue Cheese Brown Sugar Crumble Muscadine, Fig and Walnut Conserve
Rosemary-Caramel Bisque
Sweet & Sour Floyd County Pears

Dark Chocolate Chess Bar
Dark Chocolate Chess Bar
Homestead Creamery Vanilla Ice Cream
Sea Salt & Cracked Black Pepper "Magic Shell"
Roasted White Chocolate
Balsamic "Raisinette" Bark
All selections are $8 per serving

The latest dessert offerings may always be viewed on the website: DESSERT MENU

The Culinary Team at Chateau Morrisette is proud to announce a new fall menu including estate grown produce as well as other regionally acquired meats, vegetables and herbs. The two chefs, Mitch Sheppard and Ricky Caviness worked closely with the gardner, Matt Saunders, to determine late-summer and early fall plantings that could be used on the menu throughout the rest of the year. We are all about the local and the fresh foods for our guests. It's something we would like to be known for.

The menu is consistent throughout the day with the small plates and salads. During lunch, there are a number of cafe style items available along with a selection of entrees served in lunch-time portions. At night, the menu gets kicked up to a delicious fine-dining menu with a selection of beef, chicken, fish, and pasta. Guests enjoy tablecloth service during the dinner hours. And of course, each item on the menu includes a recommendation for a wine to try with that dish.

Here are a few examples of what you will find on the Chateau Morrisette Restaurant menu. You can view the entire menu on the website by clicking here. VIEW MENU
LUNCH CAFE MENU SAMPLE
BURGER 8oz. house-ground beef patty, changes daily $13 Pair with The Black Dog®
CHICKEN Rosemary and thyme grilled chicken sandwich, with beer mustard, spinach, crispy onions, and gruyère on a pretzel roll $12 Pair with 2015 Vidal Blanc
BACON Candied house bacon, mixed lettuces, local tomatoes, and roasted pepper cheese spread on toasted wheat (MV) $13 Pair with 2015 Petit Manseng
QUICHE Changes daily. $12 Pair with Our Dog Blue®
MUSHROOMS Roasted mushrooms, fennel pepperonata, on naan topped with fontina and parmesan cheese (V) Omnivores may add salami $13 Pair with 2014 Nouveau Chien
TURKEY Black pepper and local honey roasted turkey, apple butter, house bacon, kitchen garden greens, caramelized shallots, and cheddar on toasted wheat. $12 Pair with 2014 Chardonnay
PORK Braised and smoked pulled pork, bread and butter pickles, southern slaw, fermented hot sauce, brioche bun $12 Pair with Sweet Mountain Apple
DINNER MENU ENTREE SAMPLES
STEAK Grilled ribeye of beef with buttermilk whipped yukons, wildflower honey and mustard roasted brussels sprouts, marrow jus (GF)
$33 Pair with 2013 Merlot
SHRIMP AND GRITS Wild-caught shrimp and grits, with tasso, andouille, and tomato pan sauce $27 Pair with Our Dog Blue®
SCALLOPS Seared sea scallops, roasted shallots and snap beans, estate Silverqueen corn risotto, preserved tomato chimichurri
$32 Pair with 2014 Chardonnay

Fall and Winter Events
Sunday Sounds Music Series, Through October 30, 1 p.m. – 4 p.m.
Relax and savor a beautiful Sunday afternoon in the courtyard with free Americana-inspired music, award-winning Chateau Morrisette wines and majestic views of the Blue Ridge Mountains. The winery's eclectic performers include Melissa Mcsherry (September 25), Virginia Blue Band (October 2), Pat Anderson (October 9), Mac Traynham Duo (October 16) and Indian Run Stringband (October 30).
Harvest with the Dogs Vineyard Experience, September 24, two sessions
The Harvest with the Dogs Vineyard Experience is a fun, half-day, hands-on Chateau Morrisette grape harvesting experience. The event includes a viticulture overview, grape harvest and winemaking sessions, and a gourmet box lunch with wine in the vineyard. Included in the $70 per person admission fee are a free tasting, souvenir t-shirt and juice pressing. Reservations are required, and space is limited.
All October, All Week: Autumn Lunch
During peak foliage season, enjoy the crisp mountain air and rich tapestry of fall colors while savoring an intimate brunch, lunch or dinner at the Restaurant at Chateau Morrisette. During October, the restaurant opens for lunch seven days a week: 11 a.m. to 2 p.m., Monday through Thursday, and 11 a.m. to 5 p.m., Friday to Sunday. The restaurant's unique Appalachian-French Fusion menu blends traditional French fare with regional favorites, and fresh, local produce, meats and artisanal cheeses. Reservations are suggested.
Annual Chef's Dinner, November 12, 6 p.m. – 8 p.m.
The Restaurant at Chateau Morrisette culinary team presents a sumptuous multi-course menu to accompany the release of the winery's 2014 Chambourcin and 2014 Cabernet Franc. The Chef's Dinner menu and pricing will be available October 15.
Annual Christmas Tree Lighting, November 26, 4 p.m. – 6 p.m.
Join Chateau Morrisette's traditional Christmas Tree lighting in the winery courtyard. Enjoy festivities, hot drinks and picturesque mountain setting.
Black Dog Christmas Weekends, December 3, 4, 10 and 11, 11 a.m. – 4 p.m.
During the winery's highly-anticipated Black Dog Christmas Weekends, guests are welcomed with decked halls, complimentary tastings and up to 30 percent off wines as well as discounts on gift shop items. It's the perfect way to celebrate the holiday season and hand-select special gifts for family, friends and colleagues.
New Year's Eve Dinner, 6 p.m. – 9 p.m.
An annual winery tradition, the New Year's Eve Dinner is a gourmand's delight featuring a multi-course meal and wine pairing. Menu, pricing and reservations are available December 10.
About Chateau Morrisette
Chateau Morrisette is a picturesque day trip from Roanoke, Charlottesville, Blacksburg, Christiansburg or the Piedmont Triad or a great weekend away from Washington, D.C., Richmond, Hampton Roads, Raleigh/Durham, Charlotte, Knoxville or Charleston, W.V. Wine tastings start at $8 per person. For more information, visit www.thedogs.com, call (540) 593-2865 or follow us on Facebook.
via PRN Newswire

CLICK HERE TO WATCH NEWS SEGMENT.
FLOYD (WSLS 10) – When it comes to the Virginia wine industry, the glass is half full. Virginia wine and cider sales reached a new record high as w [WINE] ine sales increased by 2 percent from last year and nearly 26 percent from five years ago.
Meanwhile, cider sales saw an impressive 200 percent growth within the last year.
Last year, Virginia wineries sold more than a half million cases; 10 percent of which were made at Chateau Morrisette.
Keith Toler, Director of Marketing at Chateau Morrisette says the trend reflected in their business.
"We also see growth here at Chateau Morrisette, so we knew we were part of that trend," Toler said.
[Three new flavors of cider launch this weekend.]
Three new flavors of cider launch this weekend.
Brian Smyth is behind all 29 flavors of wine there.
He said the Virginia wine industry has changed since he left the U.S. to train as a winemaker.
"When I left, there were just under 200 wineries. Now there is just under 300, which is a huge increase in just a short number of years," Smyth said.
He says with more competition, comes better wine and new opportunities to stand out.
"For us at Chateau Morrisette, that means that we are trying to diversify our products."
They have the capabilities, so he says it only made sense to start making one of the most in-demand drinks.
"The growth in the cider industry, as well as the craft beer industry, has just been explosive across the country," Toler said.
The cider business is doing so well in fact, that Chateau Morrisette has decided to incorporate it into their business. This weekend, they are launching their first line of cider.
[CIDER] The line includes three flavors, one regular and two inspired by current wines.
"You see what's happening right here in our region with new breweries coming in, new cideries coming in so we wanted to be part of that. We wanted to be part of that growth and part of that excitement. And that's why we decided to test the waters with ciders," Toler said.
We got an exclusive look at the first batch of ciderworks.
Ultimately, it will be up to the customers this weekend if these recipes will make the cut for mass distributions.

Chateau Morrisette Winery hosts an open-air end-of-Summer celebration in the tradition of harvest festivals by serving select wines, traditional German festival beers and a craft Deschutes IPA with delicious grilled bratwurst and spectacular views of the Blue Ridge on Saturday, September 10 from noon to 5p.
The winery courtyard has limited seating in and around the listening and dance tent, so plan to bring camp chairs to enjoy the Dancing Chicken Band, who'll be playing pop, country, and reggae to suit whatever your dance style may be!
Admission is free. Beers including hefe wiezen, Oktoberfestbier, and IPA styles, wines to complement the grilled goodies, and other foods to accompany the brats available for purchase.

This one was fun. We are winemakers. That means for most of the wines we make, our ingredient list includes grapes, yeast, sugar, and a few other additives we use in tiny amounts. Then, there were ciders! We were tasked with making three different flavors of cider and it was a blast! We decided from the onset to use all Virginia grown apples and real spices you are familiar with and can pronounce (except Cardamom perhaps, but if you've never had it, you should try it). We worked with Wades Orchards in Woolwine, VA; Silver Creek Orchards in Tyro, VA; and Murray's Cider Co. in Roanoke, VA to grow the apples and press them to juice as our grape presses are not suited to processing apples. Next, we brought our freshly pressed juice to our winery in Floyd, VA where we fermented humble apple juice into incredible, delicious hard apple cider.

The barrel-aged cider was fermented and aged in barrel and its pure, clean, understated simplicity speaks for itself. I think you will agree.
And then, there were the flavors. We started with Chai Spiced cider. Our lab is typically full of complicated equipment and

chemicals we use to analyze grapes and wines. However, when we were working on cider, we brought in whole vanilla beans, whole cardamom pods, whole cloves, whole peppercorns, cinnamon sticks, and ginger juice to meticulously trial our own blend of Chai until it was everything we hoped it would be. At this stage, we made a small batch of Chai Spiced cider and subjected the beta blend to the ultimate test—our scrupulous wives… They were unequivocally impressed with the cider, which gave us the poise to confidently move forward commercially.

Next, was the third cider. We wanted to make something original, yet approachable. We started playing with the idea of adding our own Cherry Wine to the apple cider and, while we liked it, it wasn't interesting. It was too close to the Cherry Wine, so went back to the drawing board and almost threw out the idea altogether. Then, we had a flash of inspiration. What if we could elevate the Cherry cider to something more with just a simple, novel use of ginger? Preliminary trials were promising. Subsequent trials were more than promising. You get the concentrated flavors and aromas of cherry and apple with just enough ginger to intrigue your palate with the flavor, but not enough to get the heat ginger can bring in excess. We moved forward with the idea and the final product is something that all of us at the winery are all especially proud of.
Currently, this is a small-scale release to trial the different flavors we've developed in the tasting room before we scale up to broader distribution. If you like these and want us to keep making them, you have to let us know! If you haven't tried them yet, come to the winery, try them, and please tell the associate pouring for you which cider is your favorite (all three is an acceptable answer). Ciders will only be tasted on certain days at certain times. Please check the website for more information.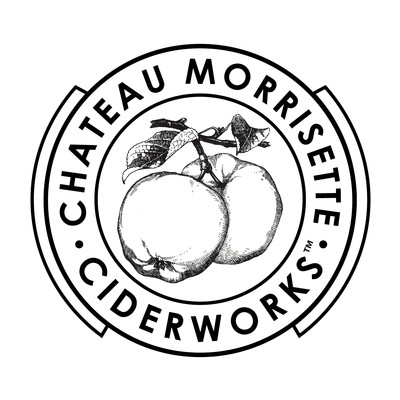 Posted: Tuesday, June 21, 2016 5:13 pm
By Yann Ranaivo yann.ranaivo@roanoke.com 381-1661
After more than three decades of offering wines, Chateau Morrisette plans to soon add cider and eventually craft beer to its palette.
The family-owned Chateau, located south of Floyd off the Blue Ridge Parkway, is slated to begin serving its own three ciders in August in an effort to meet growing interest in craft beverages.
The winery, a regional wine tasting destination since it opened in 1982, has also filed for a beer license with the Virginia Department of Alcoholic Beverage Control as part of long-term plans to establish its own brewery.
"We've seen the growth and popularity of cider and craft beer. Growth in those products have been exponential over the past couple of years," said Chateau spokesman Keith Toler.
Much of the growing interest in craft beverages is being pushed by millennials — a roughly defined demographic group of adults aged between 20 and 40 years old — "who want to experience new products, new tastes and new flavors," Toler said.
"Honestly, we feel that if someone enjoys cider, they might move to sweet wines and upgrade their palate to higher-end wines," he said.
Chateau began considering a brewery operation last year, but the infrastructure to make and sell beer is still another one to two years away, Toler said.
"It hasn't been on the front burner. The cider opportunity appeared, so we decided to go with the cider route first," he said. But "you see the popularity of craft beer now, and we just felt it was something we needed to look at."
The winery's beer license application, which is still pending, was filed in February 2015.
It created a company called Chateau Morrisette Cider Works to represent its cider operations, and it plans to start its offerings with 3,200 12-ounce bottles of each kind of cider: a cherry ginger cider, a chai cider and barrel-aged dry cider, each with an alcohol content of no higher than 7 percent.
The ciders will be made with apples picked from the Silver Creek Orchards in Nelson County.
Chateau will exclusively sell and sample its ciders on site before determining if it wants to roll the beverages out on a much larger scale. Toler said the winery is in discussions about potential cider distribution.
Although the ciders themselves will be made at the winery, the bottling and carbonating will occur at Chaos Mountain Brewing in Franklin County.
The number of operating breweries in the U.S. grew by 15 percent in 2015 to 4,269 breweries, according to the latest report from the Brewers Association, a trade group that represents small and independent American craft brewers. The group described that number of breweries as "the most at any time in American history."
The Brewers Association also described the South as one of the fastest growing regions, noting Virginia as among the four states that each saw a net of increase of more than 20 breweries.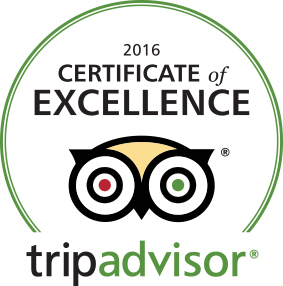 Chateau Morrisette's Winery and Tasting Room have again earned TripAdvisor's Certificate of Excellence. TripAdvisor gives a Certificate of Excellence to accommodations, attractions and restaurants that consistently earn great reviews from travelers.
A review highlighted by TripAdvisor for August noted,
Nestled away in the lush western Virginia countryside is Chateau Morisette Vinery. We discovered their wine about ten years ago and finally got to see the source. The friendly welcoming staff greets you and treats everyone as valued guests. A large variety of wines are offered to sample and purchase. You can take a detailed tour of the facility as well. We really enjoyed the entire experience and plan to make it a regular part of our itinerary when traveling on the Blue Ridge Parkway in Virginia. It is well worth the time.
Chateau Morrisette's tasting room is open year round excepting Thanksgiving, Christmas Eve, Christmas Day, and New Year's Day. Hours are Sunday 11a - 5p, Monday through Thursday 10a - 5p, and Friday and Saturday 10a - 6p.

Thanks for the video to Christy, our shipping manager. Keep your eye on the bottle with the paw print ribbon!
You know you want to
Sign Up For Our Newsletter
Keep up to date on the latest wine releases, events, and promotions.