February 22, 2018 | Chateau Morrisette History and Interesting Facts, Press Releases | Keith Toler
Chateau Morrisette Turns 40 in 2018

CHATEAU MORRISETTE CELEBRATES 40TH ANNIVERSARY
One of Virginia's oldest and largest wineries, Chateau Morrisette marks its 40th anniversary beginning in 2018. The 40th anniversary logo has been developed and plans are underway to commemorate the milestone throughout the year, including a commemorative wine glass, wine label, and a special anniversary party.
The winery's anniversary is a part of Virginia's winemaking history which can be traced back to 1609 and the Jamestown Settlement. Later, both Thomas Jefferson and George Washington's attempts to establish a viable crop met with failure. In 1873, a crop of Native American grapes met with great success at the Vienna World's Fair, but it was not until Chateau Morrisette and five other wineries opened in the 1970s did Virginia truly begin producing and marketing wines.
In 1978, Chateau Morrisette was known as Woolwine Winery. Started by William and Nancy Morrisette, their son David became the first wine maker. In 1981, the family adopted the name Chateau Morrisette and moved the winery to its current location along the Blue Ridge Parkway in Floyd County, Virginia. In 1983, the family was instrumental in securing the Rocky Knob AVA, Virginia's first designated American Viticultural Area. In 1985, Chateau Morrisette began wholesale distribution, partnering with Blue Ridge Beverage in Salem, Virginia, to place its Virginia wines on store shelves throughout Southwestern Virginia. By 1999, Chateau Morrisette expanded its production facilities to 32,000 sq. feet and a tank capacity of 130,000 gallons.
Today, forty years since its inception, Chateau Morrisette is still owned and operated by the Morrisette family. David Morrisette is no longer the winemaker but now serves as the President and CEO. His children are now working in various capacities at the winery, making Chateau Morrisette a third generation Virginia winery. Distribution has expanded from humble beginnings in southwestern Virginia to include retail outlets in seven states and direct-to-consumer shipments to customers in over thirty states. Commercial wine production has grown from 2,000 gallons in 1982 to over 130,000 gallons today. Chateau Morrisette is poised to continue its growth well into the next forty years.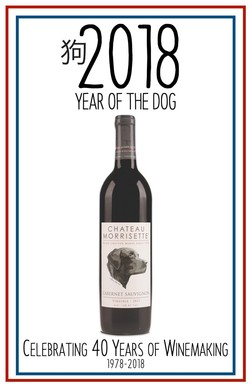 Comments
Commenting has been turned off.
You know you want to
Sign Up For Our Newsletter
Keep up to date on the latest wine releases, events, and promotions.