June 2, 2016 | Press Releases | Keith Toler
Chateau Morrisette Announces 2016 Summer Music Events
FOR IMMEDIATE RELEASE
Chateau Morrisette Winery Announces Summer 2016 Music Events
Floyd, V.A., June 2, 2016 – Located along Virginia's scenic Blue Ridge Parkway, Chateau Morrisette Winery announces its signature summer music festivals, the Black Dog Jazz Festival and Black Dog Beach Music Festival, and free Sunday Sounds in the courtyard, which includes a variety of music through October.
Summer Events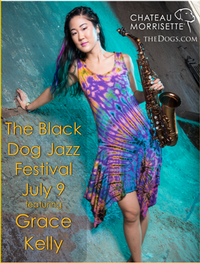 Black Dog Jazz Festival, July 9, noon – 5 p.m.
Featuring vibrant saxophone prodigy Grace Kelly, the Black Dog Jazz Festival includes swing music from Wally West Little Band, and jazz from Mike Mitchell Jazz Band. The event takes place at Nancy Morrisette Festival Field, and tickets are $20 in advance and $30 at the gate. Admission includes all day wine tastings, on-site parking and entertainment.
Black Dog Beach Music Festival, August 13, noon – 5 p.m.
Chateau Morrisette's annual Black Dog Beach Music Festival headliners are music legends The Embers featuring Craig Woolard and the Fantastic Shakers, who are celebrating their 35th anniversary. The event takes place at Nancy Morrisette Festival Field, and tickets are $20 in advance and $30 at the gate.
Nancy Morrisette Festival Field is located at 3641 Black Ridge Road in Floyd, V.A., which is less than a mile from the winery and restaurant. Both events will be held rain or shine. Dogs on a leash are welcome. No coolers or outside food or drinks are permitted. Canopies, umbrellas and chairs are recommended. Outside alcohol is prohibited on premises per Alcohol Beverage Control.
The Crooked Road presents Mountains of Music Homecoming at Chateau Morrisette, June 12, 1 p.m. – 4 p.m.

An afternoon of American Roots music with the Whitetop Mountain Band, the concert takes place on the winery courtyard and is free to the public. Bring your own seating. The Crooked Road's Mountains of Music Homecoming is an annual nine-day, region-wide celebration of the communities and the music heritage of southwestern V.A.
Sunday Sounds Music Series, June 5 – October 16, 1 p.m. – 4 p.m.
Free Sunday music in the courtyard returns this summer and fall. Relax and enjoy award-winning wines while listening to a wide variety of music every week, including Wyatt Law (June 19), Tim Pfeiffer (June 26), Front Porch Swing (July 3) and more.
Throughout the summer, the Restaurant at Chateau Morrisette is the perfect location for Sunday Brunch or celebrating any special occasion over an intimate dinner or lunch. Under Chef Cooper Brunk, the restaurant's innovative menu reflects Appalachian-French Fusion, traditional French fare with regional influences and fresh, local produce, meats and cheeses.
About Chateau Morrisette
Chateau Morrisette is a picturesque day trip from Roanoke, Charlottesville, Blacksburg, Christiansburg or the Piedmont Triad or a great weekend away from Washington, D.C., Richmond, Hampton Roads, Raleigh/Durham, Charlotte, Knoxville or Charleston, W.V. Wine tastings start at $8 per person. For more information, visit www.thedogs.com, call (540) 593-2865 or follow us on Facebook.
####
Comments
Commenting has been turned off.
You know you want to
Sign Up For Our Newsletter
Keep up to date on the latest wine releases, events, and promotions.