TOP
Harvest With The Dogs: A Vineyard Experience Saturday afternoon
Afternoon Session Saturday 9/22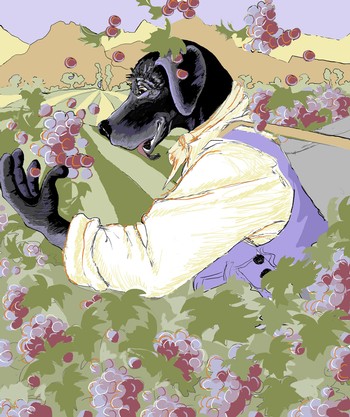 Saturday, September 22, have fun with an afternoon Harvest Experience. Orient to the vineyard with our Vineyard Master, enjoy a gourmet picnic lunch with wine in the vineyard, get the feel of vine clippers and grape lug in a 45-minute harvest experience, get an overview of winemaking with our Winemaker, and take home a Chateau Morrisette Dog t-shirt and great memories!
Wear sturdy shoes and appropriate clothing to work outdoors in the vineyard. Please plan on arriving by 12:45p, as wagons to the Vineyard depart promptly at 1p. Your itinerary for the day is:
1:00 PM Wagon Ride to the Vineyard
1:20 PM Orientation with Vineyard Manager Steve VanSutphin and Lunch with Wine in the Vineyard
2:00 PM Grape Picking
2:45 PM Clean Up Break and Harvest Count
3:00 PM Return to the Cellar for Processing Tour with Winemaker Jason Crolley
4:00 PM Get your Harvest Survival Gifts and
Enjoy Your Evening!

The Harvest With The Dogs Vineyard Experience happens rain or shine and is non-refundable.
Reserve the morning session instead.