TOP
Dry White Sampler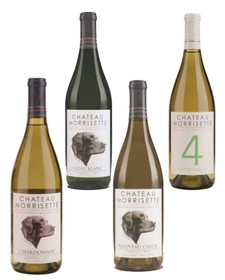 Chateau Morrisette Kennel Packs are the perfect choice whether you are buying for the wine connoisseur or the wine novice. Great way to decide which is your favorite before purchasing a whole case. A complimentary gift enclosure with your personal message can be included when shipping as a gift.
Includes 4 Dry White Wines
Chardonnay
Aroma: Pear, apple, cut flowers.
Palate: Creamy, apple, citrus.
Finish: Bright and crisp. Steel fermented sur lie.
Pair: Lemon chicken, sautéed spinach, collard greens, fresh camembert.
Nouveau Chien
Aroma: Fruit, citrus.
Palate: Moderately full and smooth.
Finish: Smooth, lengthy. Serve cool, bit cold.
Pair: Shellfish, grilled ocean fish, roasted pork, medium to hard cheeses.
Our Dog Blue
Aroma: Melon, citrus, apricots, flowers.
Palate: Sweet, firm acidity.
Finish: Soft. Semi-sweet blend of Riesling, Traminette, Vidal Blanc. Serve chilled.
Pair: Fruits, cheeses, seafood, spicy food.

Vidal Blanc
Aroma: Citrus, apple.
Palate: Pear, melon, pineapple.
Finish: Clean, acidic, grapefruit, lime.
Pair: Grilled or roasted poultry and seafood.